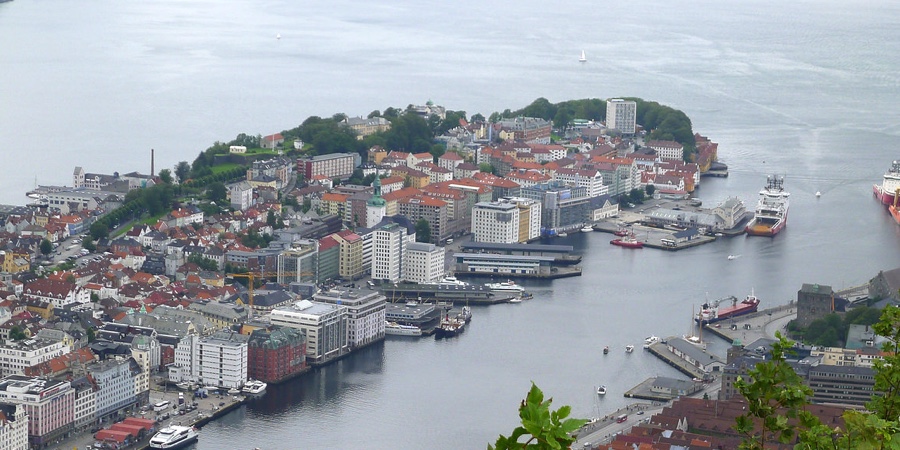 Bergen, Norway's second largest city, has a different atmosphere to Oslo due to its location as the gateway to Fjord Norway.
Bergen has a population of 266,000, although nearly 400,000 people, approaching 10% of the population, live in the Greater Bergen region.
Tourism and the maritime industries dominate the area, with 16,000 students at the University of Bergen contributing to a diverse population.
Areas of Bergen
Bergen's compact city centre is a buzz of industry, commerce and culture, so accommodation options are limited. A few minutes wander to the south is the University of Bergen area of Nygårdshøyden, where many of its students live and play.
Northern Suburbs
Behind Bryggen on the north-east side of the city centre is Fjellsiden, probably Bergen's most desirable area where large family homes dominate. North of here you find Sandviken, a traditional neighbourhood with views across the fjord. Further north is Breiviken, popular with students at the nearby NHH (Economics School).
Southern Suburbs
Because of the geography of the area, many of Bergen's suburbs lie to the south of the city, and this is where the majority of expats live too.
A short hop over the main bridge and you will find Damsgård and Gyldenpris, offering probabluy the cheapest housing you'll find close to the city centre. If proximity to the international school is of importance, consider Sletten or Landas. Both areas are on the Bergen Light Rail line, along with Fantoft, further away from the city.
Fyllingsdalen is a large residential area to the south-west of the city, but well connected via a tunnel. It's a popular suburb due to the many schools, churches, shopping centres and other local amenities. Large apartment blocks make up much of the housing in the area.
Public Transport in Bergen
Getting around Bergen's city centre on foot is fairly straightforward, however most residents live in the suburbs and will need to use public transport on a daily basis. The city has one light rail line, Bybanen, which is in the process of being extended all the way to the airport. There is also an extensive bus network.
Passengers are allowed to carry luggage on board the bus and light rail up to a maximum weight of 20kg. Prams, wheelchairs and skis can be brought on board at no charge, as long as there is sufficient space available.
For more information, the public transport operator Skyss has a comprehensive English language website.
Major Events in Bergen
Bergen hosts a rich variety of cultural events throughout the year, from music and film festivals to . The biggest of all them all is the vast arts and culture program of Bergen International Festival.
Find out more about major events in Bergen.
From the Blog
Here are the latest posts about Bergen from the Life in Norway blog.