At the end of June every year, Oslo hoists the rainbow flag in honour of Skeive Dager, the LGBT Pride festival. This year there's a twist, as the travelling brand that is EuroPride takes over, making the festival bigger than ever before. To give you a flavour of what to expect, here is a selection of photos from Skeive Dager 2011: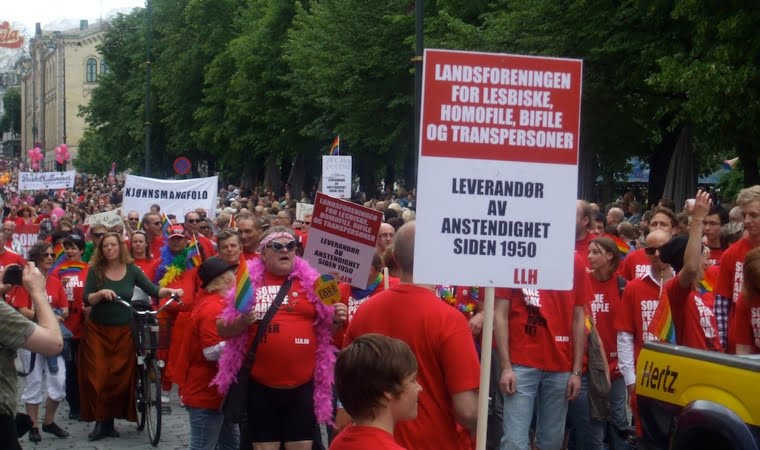 For me, Pride events are always a bit confusing: are they are a party, or are they political? In the UK, most Pride events are almost exclusively geared towards party these days. Here in Norway there are political rallies and debates, but the party still seems to dominate.
Although I won't be going myself this year (too busy here in T-Town right now!), here is what you've got to look forward to down in Oslo:
Pride Park
The centre of the festival right in front of City Hall. Expect concerts, shows, exhibitions, rallies, community stalls, music, dancing, a ladies corner, and of course, lashings of coffee and beer! The busiest day at Pride Park will be Saturday, straight after the Pride Parade. Which brings me nicely on to…
Pride Parade
The highlight for many festival goers is the main parade through the streets of Oslo. This year it will be held this Saturday, 28 June from 1pm. Expect colour, camp and a whole load of laughs as the parade travels from Grønland into the city centre along Grensen, turning down onto Karl Johans gate, passing directly in front of Stortinget (the Norwegian Parliament) before arriving at the Pride Park area.
Pride House
The arena for political debates at the Museum of Cultural History on Frederiks gate. Most of these have already taken place as attention now shifts from the serious part of the festival into the fun, but some events remain scheduled for tomorrow.
A whole bunch of other events are taking place all over the city, including a celebration of EuroPride at the Nobel Peace Centre next to the Pride Park. For the full programme, click here.
Supporting LGBT Rights
Fair play to the American and British Embassies in Oslo, who are showing their support this week in very visible ways!