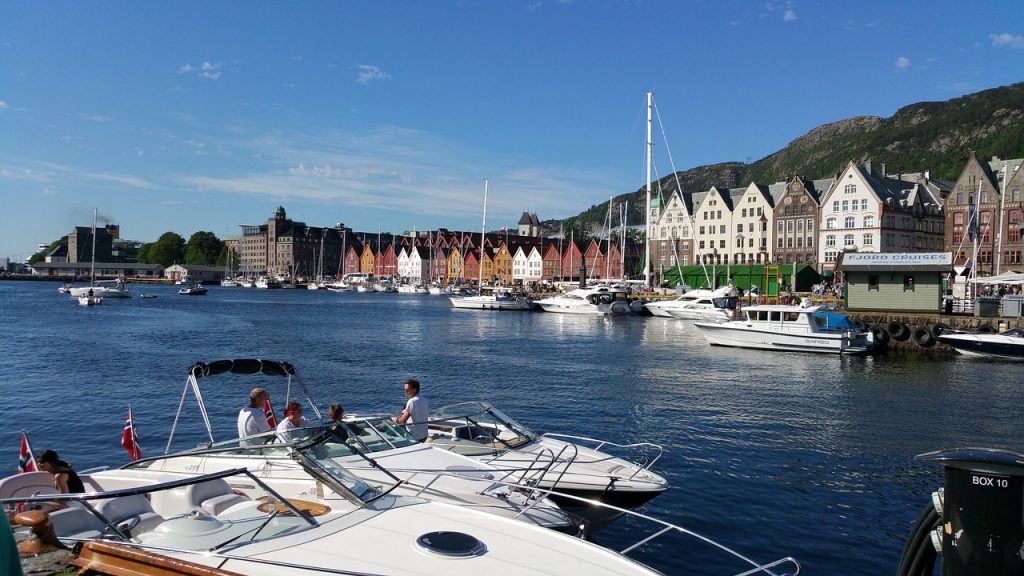 My latest visit to Bergen coincided with Bergenfest and nearly the entire hotel capacity of the city was booked up. A huge tusen takk then to the First Hotel Marin for finding me a room at short notice!
Location
Pretty much spot-on for a couple of days in Bergen. The hotel is situated just behind Bryggen and just a few minutes walk from many of the other tourist attractions such as the fish market, Fløibanen fenicular railway, and the old fortress. Although there's many tourist trap restaurants nearby, there's also some cheaper options, such as a tandoori across the road, a tapas restaurant next door, and the always reliable Zupperia.
Hotels in central locations, especially those within old buildings, tend to be cramped but that's not the case here. The newly-remodelled lobby (opened just a few days ago!) is spacious and welcoming, as are the corridors throughout the hotel.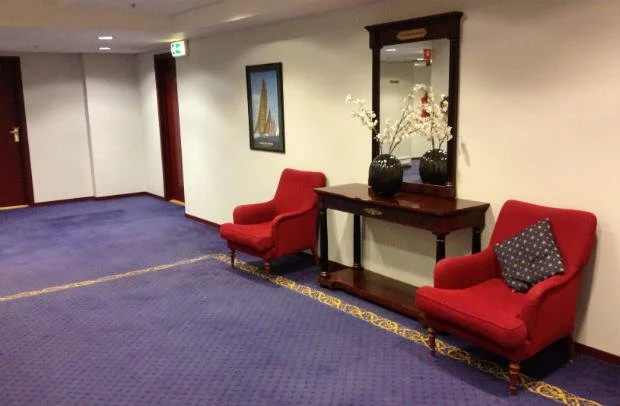 Rooms
The hotel rooms are undergoing refurbishment – here's some snaps of the new rooms to give you an idea of the style:
I had one of the older rooms yet to be refurbished but I was more than happy with it. It was spacious with a gorgeous wooden floor, two easy chairs, a large comfortable bed, good-sized desk, and a good quality TV with more channels than I've come to expect from a Norwegian hotel. Tea and coffee making facilities were provided along with a minibar selection.
Although the window overlooked a feeder road to Bryggen, I only heard noise during the day, bar the odd squawk from a bird (they must get really confused in the summer!)
On that note, the curtains were good enough to block out the midsummer light, allowing me to get two restful nights of sleep.
The bathroom came with heated floor and a powerful shower-over-bath, with the standard complimentary toiletries from the First Hotel chain.
Breakfast
In a country as expensive as Norway it's always nice to be able to fill up on a decent breakfast in the mornings. As you can see from this selection of photographs, I did just that!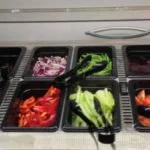 As in most Norwegian hotels the cold selection was better than the hot, although that didn't stop me tucking into bacon, sausage and beans one morning 😉 The cold selection was fresh and of a good quality, especially the bread and hams.
I ate early both mornings and the breakfast room was quiet. In the lift there was a useful chart showing when the quietest times for breakfast tend to be – worth paying attention to if you're staying when the hotel is full.
Other facilities
The wifi access was fast all over the hotel, no complains there. I had seen a gym advertised on the website but saw no reference to it in the information booklet in the room. A quick call to reception and I discovered the gym is located in the basement, requiring an access card from reception to use.
It's very small with a treadmill, bike, cross-trainer and some weights, but there is also a sauna to relax in afterwards. That's a nice touch, and something I can't remember seeing in any other mid-range city hotel in Norway.
Busy, but you wouldn't know it
The hotel was full during my stay but it was difficult to tell. The reception was always well-staffed, the breakfast room quiet and efficient, and never a "rushed" feeling at any time.
This was the second time I stayed in a First Hotel and just as in Ålesund, I was really impressed and can highly recommend a stay. I note the chain has struck a deal with Thon Hotels, so it will be interesting to see what comes of that.
Disclosure: I received a preferential rate for my stay at the First Hotel Marin. However, all hotel reviews on Life in Norway are independent and free of any influence from the hotel management.