If asked to name Norway's most attractive place, I would bet my house (if I owned one) on you not coming up with these five:
Mandal, Vest-Agder
Jessheim, Akershus
Holmestrand, Vestfold
Kongsberg, Buskerud
Svolvær, Nordland
But that's exactly what the expert jury judging Norway's "most attractive place 2014" came up with. Of course, in any such competition it's important to understand the criteria, especially in a country like Norway where, let's be honest, pretty much everywhere can be considered "attractive".
Here are some snippets from the criteria:
This annual award will highlight and honor local authorities and others who have shown a willingness and ability to create a vibrant and attractive place to live, work, do business and visit.

…to become more attractive by creating good city qualities physically through interesting architecture, good engineering and urban planning measures that create well-being.

…the planning process is efficient and provides a direction and quality of what is to be built in the future, and how the municipality collaborates with private and voluntary.
So rather than natural beauty, this award is for smart urban planning.
The winner of the 2014 award was the former silver mining town Kongsberg.
Introducing Kongsberg
"I moved here in 1979, moved to Italy in '84 and came back in '86, moved to USA in '89 and came back in '92, and now I have finally understood it. This is the place to be", says local resident (and fellow expat) Peter Story.
He continues:
"Kongsberg offers a fantastic combination of world class high technology companies, a safe small town environment for bringing up children, great outdoor possibilities (its own alpine ski centre, miles of ski tracks, forests and lakes just outside the back door, above tree line mountains half an hour away), an hour by train or bus to Oslo, an hour to the coast, a new cultural centre on the way. I'm not leaving again!"
Here's what Kongsberg looks like, courtesy of Flickr: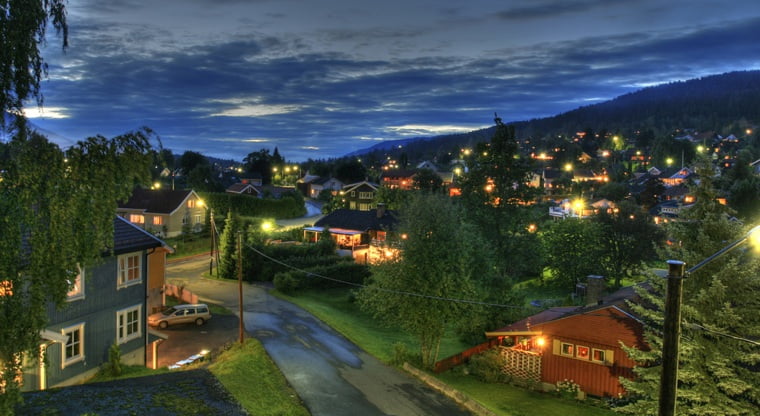 But why exactly did Kongsberg win?
Jan Tore Sanner, Minister of Local Government, said the following as he handed over the NOK 250,000 prize:
"I have been here many times. Kongsberg is characterized by diversity: an urban life, an industry characterized by high technology, volunteerism, culture and sports. A lot happens here. Kongsberg's exciting to be in and visit."
"Volunteering creates life in the city and gives people ownership of the action, for the people in the city are the city itself."
According to local newspaper Laagendalsposten, the minister also praised the thought behind the use of materials in the streets and some of the planned green spaces during a walkabout of the town.
I've never been to Kongsberg. Perhaps I should pay it a visit?
—
Photo credits: Wikipedia, Andreas Åkre Solberg, zen whisk, Jeremy Sharp, Glenn Thomas Hvidsten.