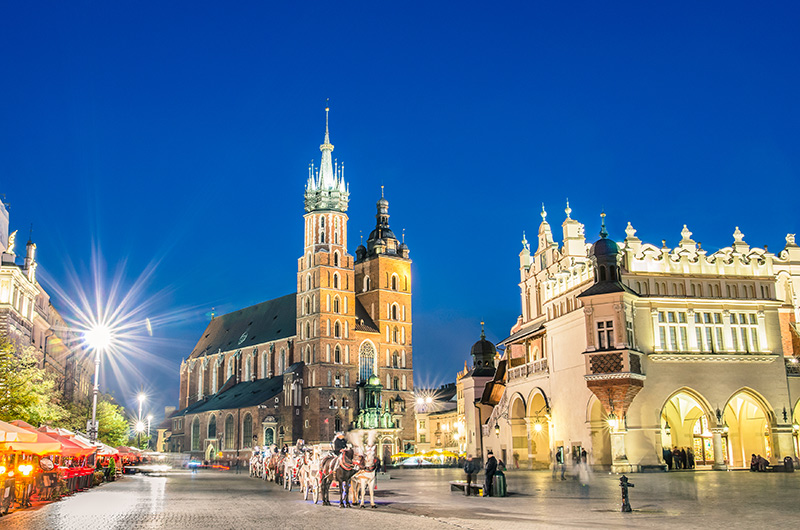 Budget airline Wizz Air has announced five new routes between cities in Norway and Kraków in the south of Poland.
European low-cost carrier Wizz Air is to launch direct flights to/from Kraków from five Norwegian cities. Residents of Bergen, Haugesund, Stavanger, Tromsø and Trondheim will be able to enjoy the new routes from the summer of 2020.
Wizz Air already operates flights to Gdańsk from many Norwegian airports, plus a handful between Norway and other countries including Austria, Latvia and Lithuania.
"We are very pleased with this reinforcement of the route offer between Poland and Norway. Recently, we have seen that the number of travellers from Poland has increased. Now we have an opportunity to adapt to the increased demand," said Avinor's Jasper Spruit.
The five new routes
First to launch will be the Trondheim to Kraków service. Starting on 2 July, the service will operate three times per week on Tuesdays, Thursdays and Saturdays. The same frequency and flight days will apply to the Bergen and Stavanger services, both set to start on 1 August.
Read more: SAS Launch Stavanger to Manchester Route
Wizz Air will operate services to both Tromsø and Haugesund twice per week. To/from Tromsø on Wednesdays and Sundays starting 2 August, and to/from Haugesund on Mondays and Fridays from 3 August. Flight times are yet to be confirmed.
Why visit Kraków?
Considered by many to be Poland's cultural capital, Kraków has been in the spotlight ever since it became European Capital of Culture in the year 2000. There's plenty to see for fans of culture and history, not least in the 28 museums.
The city is also well known for Rynek Główny, the market square at its heart. One of Europe's largest medieval town squares, there's always something going on here. The Basilica of the Virgin Mary is a must-see for its stunning interior and views rom the clock tower.
Of course, it's impossible to talk about Kraków without mentioning World War II. Nazis used the city as a base of operations and the infamous Auschwitz is a bus ride away. Back in the city, the Jewish Quarter is now home to history tours by day, and pop-up restaurants, food trucks and nightlife when the sun goes down.
Wizz Air betting big on Poland
The carrier only began operations in Kraków earlier this year, and currently operates to and from Kiev Zhulyany and London Luton. But next summer's launch of the new Norway routes is part of a big expansion in Poland. The airline will launch a total of 15 new routes from Gdańsk, Kraków and Warsaw.
It will also increase weekly frequencies on its most popular services, adding a total of 24 weekly flights to its Polish schedule.