In a few days, Norway comes together to celebrate syttende mai (17th of May), the anniversary of the signing of the Norwegian constitution.
Although Norway didn't become fully independent until 1905, the Eidsvoll agreement of 1814 was nevertheless a pivotal moment in Norway's history, declaring Norway independent from Denmark. Just a few months later an independent union with Sweden began, so celebrations to mark the constitution were muted for years to come.
These days, syttende mai is an inclusive national celebration with children, not military, at its centre. My first celebration happened just days after I moved to Norway three years ago, so I felt like I was crashing a party:
Norwegians are fiercely proud of their nation and you can't turn a corner on the 17th of May without seeing hundreds of Norwegian flags. It's a real shame we can't make more of St. George's Day in England, where the sight of a St. George's cross makes many people think, rightly or wrongly, of either football hooligans or racists.
These days I'm much more comfortable with the idea of joining in the celebrations. It's great to watch the numerous children's parades, the smiles on people's faces, multiple generations mingling together, and of course, it's the perfect excuse to eat ice cream in the morning!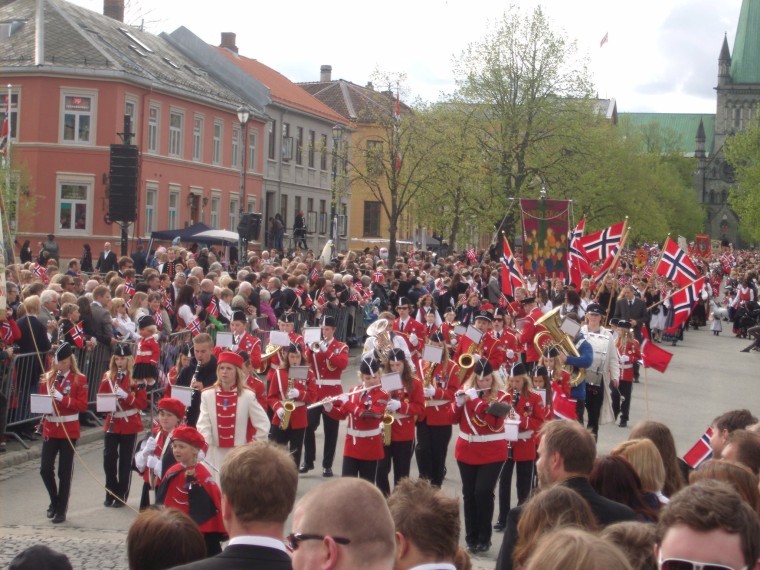 Happy 200th Birthday, Norway!
As I hinted at earlier, this year's festival takes on special meaning. It's the 200th year since the constitution was signed. Norwegians all around the world (not to mention us expats living in Norway!) will come together to mark the ocassion. According to the Norwegian Embassy in the USA, the bicentennial celebrations will shed light on:
Norway's historical and international role in the development of democracy and law.
Issues concerning human rights, freedom of speech, gender and equality. The Norwegian Constitution was groundbreaking in these respects, and in spite of several revisions, the original document is still largely in use today.
Smaller nations' right to independence with respect to the influence of major countries whose decisions and actions have ramifications far beyond their own borders. The constitution was a symbol of independence from Norway's neighboring countries.
This year my parents will be joining us here in Trondheim. My mum is thrilled as this kind of festival is right up her alley!
Within all towns and cities in Norway, parades will be held in the morning. From the famous parade on the streets of Oslo featuring the Royal Family, to the tiny outposts such as Ny-Ålesund on Svalbard, the morning of the 17th of May is a unique experience wherever you are… even if you aren't in Norway.
Celebrations around the world
It should come as no surprise to learn of the various events held around the USA, given the number of Americans with Norwegian heritage. Minnesota's Norway House hosts a kids cross-country fun run, while the Sons of Norway network has events all across the States from Concord, North Carolina to Sun City, Arizona. Elsewhere, Vancouver's Scandinavian Community Centre presents an afternoon and evening program for all the family, while London's Southwark Park is the focus within the UK.
Alternative events in Norway
Tradition rules on syttende mai in Norway, but even so, other events are gaining popularity. If you're after something fun for the family, check out the car-free family event at Grønland with a fun fair, entertainment, market stalls, great food, and more. For more adult-oriented entertainment, the Oslo Comedy Club hosts English language stand-up on the 16th and 17th.
What will you be doing to celebrate?