This week I went somewhere totally new, in every sense of the word. Not only was it my first visit to the Middle East, the furthest east I've travelled (and after checking a map, the furthest south, too) and my first trip on a 787 Dreamliner, Qatar itself is basically new too.
The capital city Doha bears almost no resemblance to its former self just a few years ago. Elsewhere in the tiny country, entire new cities are under construction, along with 12 football stadiums either built from scratch or significantly expanded.
Read more: Visa-Free Travel to Qatar
Work on an entirely new rail network has begun, alongside countless hotels, offices, residential areas, museums… the list is endless.
Facts about Qatar
You may not know a lot about Qatar, the small thumb-shaped peninsular jutting out from Saudi Arabia. I didn't! But here's what I know now.
It was a British protectorate until it gained independence in 1971 – Qatar still uses British plug sockets!
World's third largest natural gas reserves
Oil reserves in excess of 25 billion barrels
Al Jazeera news network is owned by the Government of Qatar
The population is over 2 million, but less than 300,000 of these are Qatari nationals
A GDP per capita of over $100,000, the highest in the world
There's a 6-hour direct flight from Oslo to Doha 6 days a week
Exploring Doha
The first thing you notice about Doha, the only thing you can possibly notice, is the dominance of the car. It instantly felt like an American city. Noone walks anywhere, partly by design and partly because it's too hot. Even in early April the temperature was an uncomfortable 31C (88F). I wouldn't like to visit in the five-month long summer where the mercury hovers around 45C (113F) and sometimes even higher. This dominance of the car leads to some of the worst traffic I've experienced anywhere. Don't expect to get anywhere fast!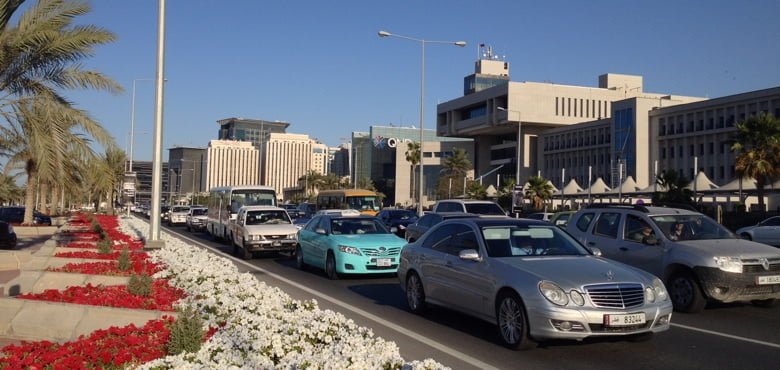 As I was on a working trip there wasn't a lot of time for me to discover the tourist sites, but there aren't many of them anyway. A new museum of Islamic art has opened (see the picture above, behind the boat) and a new city museum is under construction (surprise!) that looks more like a spaceship.
What I didn't see was many public spaces, outside of the Souq Waqif marketplace and the Corniche, Doha's waterfront promenade.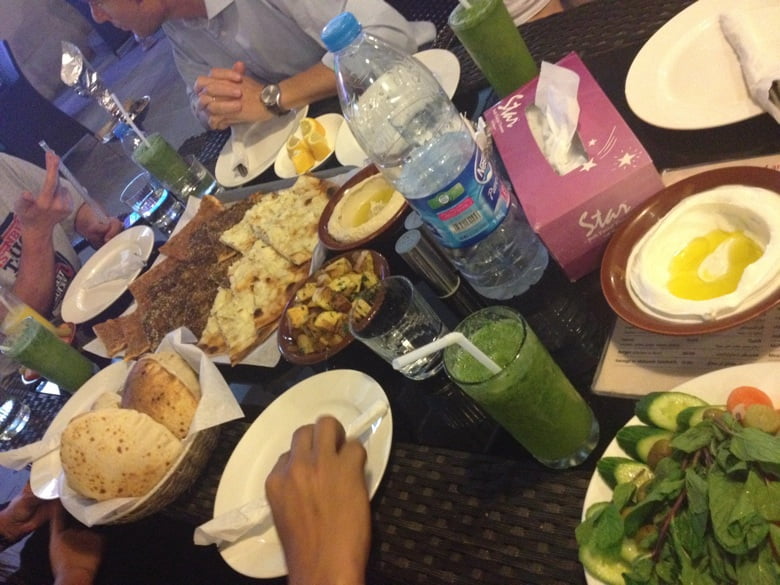 All the meals we had were communal affairs, basically a ton of food was brought to the table and we all just dived in. Breads, salads, yoghurt, and of course… lashings of hummus! The lack of alcohol wasn't an issue as every restaurant offered a range of super-fresh juices – the green concoction above is lemon and mint – delicious.
Alcohol and work trips don't tend to mix very well anyway 🙂
Outside Doha
Desert!
Seriously, there isn't much else. Around 80% of the population live in the Doha urban area, with just a couple of other centres of population, mostly still being built or expanded. To the north and south of the peninsula is the oil and gas industry.
My trip to Qatar was an eye-opener.
Many westerners, especially Americans, think the Arab world is the polar opposite of theirs. Of course, there are huge differences, not least in freedoms, human rights and politics, but the reality is money talks. Shopping malls are the number one pastime, Qataris employ others to do all the manual labour (Latin Americans in Los Angeles anyone?), and air-conditioned cars whisk people from building to building.
We're closer than I ever expected.