If you're forced or choosing to work from home, Scandic Hotels offers an interesting option for you. Their new workspace concept could make working from home much more attractive for employees – and employers.
Have you been working from home for most of this year? You're not alone! I know plenty of people here in Norway who have been unable to work from their office since mid-March.
While things are slowly returning to normal, we could be seeing the start of a permanent change in working life. The reason? Money, of course!
Many businesses that had to close their expensive offices for several months saw no or little drop in productivity. With that in mind, I wouldn't be surprised if more home-working is a trend that's here to stay.
But not everyone has suitable space or equipment to work productively at home. Working from a sofa bed in a tiny hybel is fine for a week or two. But over months, and especially years, it could lead to serious health concerns.
Homeworking in a hotel
One of the biggest hotel chains in northern Europe has come up with an interesting solution. Although marketed as coworking, Scandic Hotels' new concept is not coworking at all. Rather, it's rented desk space aimed at freelancers and those working from home.
"People are looking for more modern working solutions and we're seeing a growing demand for workspaces closer to home or on the go from guests and corporate clients. With our 270 hotels in six markets, we can offer flexible, inspiring and cost-saving workspaces, regardless of where you're based," Scandic CEO Jens Mathiesen told Inside Flyer.
The workspaces are available in 270 Scandic hotels across Norway, Sweden, Denmark, Finland, Germany and Poland. Each hotel will offer workspaces ranging from relaxed seating in lounges or lobbies through to more traditional desks in quiet areas, depending on your needs.
The concept offers 24/7 access, wireless internet access, free tea, coffee and water, and access to printing facilities. Participants also get a 10% discount on food and drink from the hotel. Meeting rooms are also available at a discounted rate, but are subject to availability. Coworking seating areas are not reserved, but a workspace is always guaranteed.
"Guests have been working from our hotel lobbies for many years and have appreciated the dynamic and creative environment that Scandic has to offer. Now we're taking the next step by enabling access to a workspace in our hotels including more quiet areas and meeting rooms by the hour, as well as coffee and refreshments," adds Mathiesen.
Launch pricing
During September and October, Scandic is launching the new concept with a 50% discount. In Norway, access is available for just NOK 999, discounted from the standard NOK 1,999.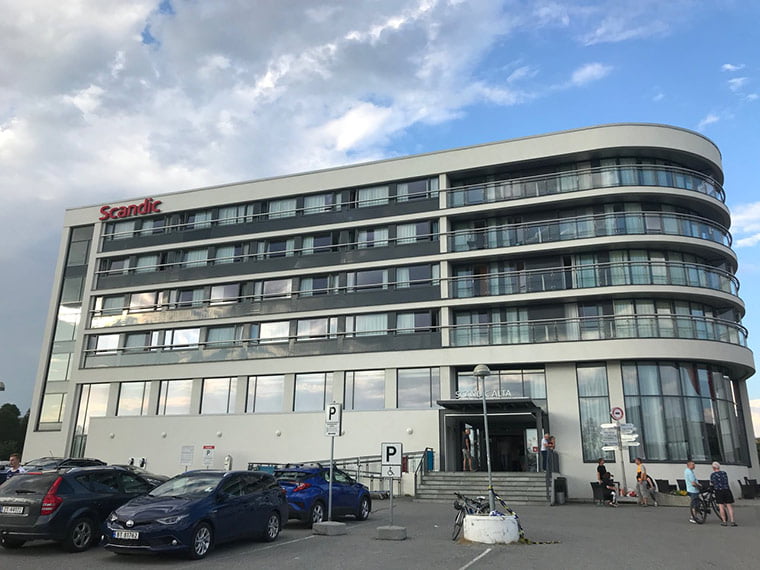 Weekly access is available for NOK 399, a discount on the standard price of NOK 799. If you just want to try out the concept, a day pass can be yours for just NOK 99. The usual price from November onwards will be NOK 199.
The hotel chain is also offering the concept to businesses looking to add flexible working spaces to their facilities. Prices for that service are negotiable.
Of course, launching such a concept while many people are forced to work from home for health reasons may seem strange! But this isn't a solution just for the health crisis.
That being said, the 'Stay Safe at Scandic' program helps to make this an option for those currently looking for an alternative workspace. The program includes clear markings in the shared spaces to ensure social distancing, the provision of hand disinfectant, and increased cleaning frequency of public areas.
Pros and cons of the Scandic concept
Although I'm yet to try out the concept for myself (I am already a member of Work-Work!), I see some likely pros and cons.
The monthly access pricing is competitive with "proper" coworking spaces, especially during the launch period. However, the networking you get at such places is unlikely to be the same in a hotel environment.
I also see a benefit for those working from home who may struggle with their internet connection. If you have to attend an all-day virtual conference, then a NOK 99 daily pass is great value for a good internet connection and comfortable environment. However, it's only really worthwhile if there is a Scandic hotel within easy reach of you.
It's also an attractive option for business travellers, although I've never had a problem in working from a guest room when travelling.
Will you try out the new workspace concept?