I finished up early at work today and took the t-bane into central Oslo, so I could spend a couple of hours walking around. Yes, my foot is feeling better! I'm still hobbling a little, but it's more the calf muscles hurting now rather than the foot itself, as I've been walking so differently all week. Still, the glorious day was too good to waste by going straight back to the flat 🙂
I headed for a shopping centre called Byporten right in central Oslo to look for the Norwegian version of Lush. I met a lovely girl called Helen whose Mum runs the company which owns both Lush stores in Norway. She'd spent five years in London and had met a lot of the people at the Lush factory in Poole so we had a good natter. I didn't buy anything as Andrew had sent me packing with a whole load of new products to try out – thank you! But I'm sure I will do soon, even though the prices were around double that of the UK. I also found a nice menswear shop called milesperhour, sort of like a better quality TopMan / H&M.
Then I took a stroll around the ferry port and around to Aker Brygge, partly to get my bearings and partly to enjoy the sunshine. Here's how bright and sunny it was…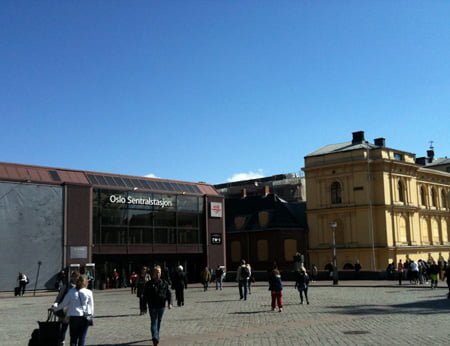 Roll on the weekend, where I'm REALLY going to get out and explore!