Everyone here is gearing up for tomorrow's 17.mai celebrations, Norway's Constitution Day. In the morning I shall join Wendy and Dave for a traditional champagne breakfast then make my way into the city to join in the fun.
In Oslo there's a big children's parade up towards the Palace where the King greets everyone with a wave. God Save the King! Errr… anyway, everyone dresses up really smart and there's a lot of flag waving, look:
One of Norway's more intriguing traditions is called Russ, which culminates tomorrow.
Russ is a graduate from Norway's Sixth Form, easily spotted as they wear coloured overalls for two weeks during which they celebrate before (yes, before!) their final exams and subsequent departure for university. Here's how to spot Russ: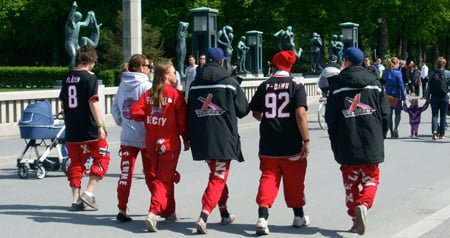 I am going to try to take lots of pictures and maybe some video tomorrow to get across the atmosphere of the day. I am not too sure what to expect, so watch this space.