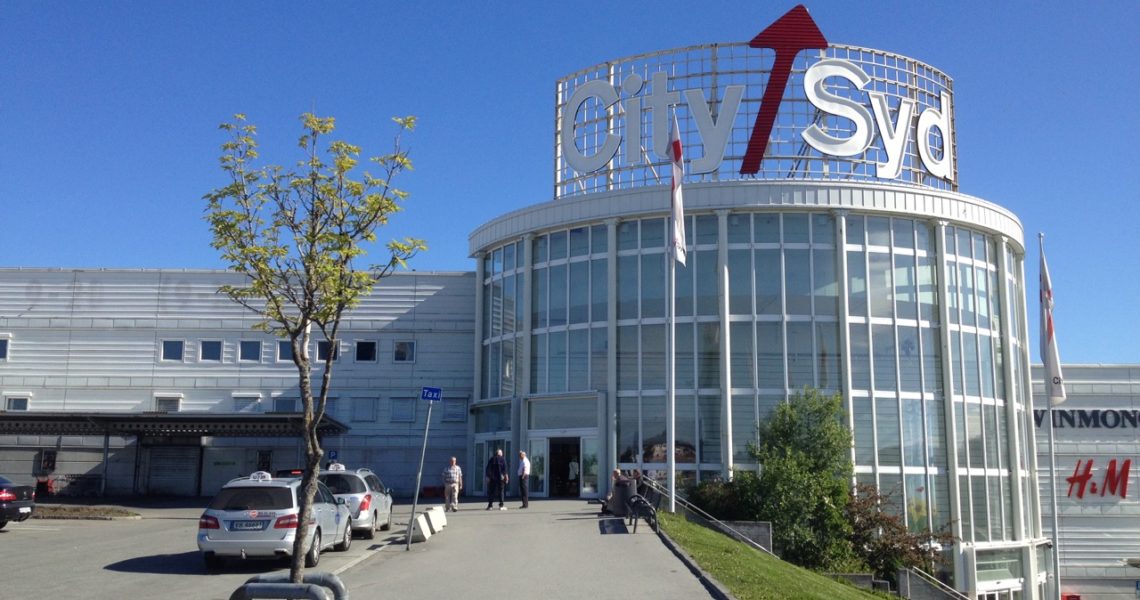 The main shopping centre for southern Trondheim.
City Syd is the biggest mall in Tiller, the commercial centre of southern Trondheim. At a total floor space of more than 40,000m2, City Syd has one of the best selection of stores in the city and offers a vast amount of free parking. The recent addition of a third floor mezzanine has expanded the selection further along with a couple of new restaurants.
A large Coop Obs! takes up one entire side of the mall. Here you'll find a large supermarket including a deli counter, homewares, clothing, toys, and a sports equipment store. Some of the other 73 stores in the mall include Clas Ohlson, Ark and Norli bookstores, Cubus, H&M, Dressmann, Jack & Jones, Volt, Boys of Europe, and Søstrene Grene.
The centre also has a good choice of places to eat. For coffee or a light bite, Vårt Lille Kaffehus (formerly Wayne's Coffee), Jordbærpikene and Rosenborg Bakeri are on hand. For something more substantial, choose between Egon, Burger King, Sabura (who offer a sushi buffet) and the Coop cafe. Just outside the centre by one of the bus stops is Asia House, which offers a range of Chinese-style meals including an affordable lunch deal.
The centre management has worked with the CommONEnergy project to develop smart renovation strategies and solutions to reduce their environmental impact. The implementation of a monitoring system for the ventilation as well as sky lights and automatic window openings ensure the perfect conditions for people's shopping experience.
Natural ventilation combined with control of the air handling unit ensures better indoor environment control with reduced consumption. To allow better lighting conditions and reduce overheating, the skylight is completed with a modular roof structure, letting daylight in, even in the winter!
An added benefit of shopping at City Syd is that several other shopping malls are within easy walking distance. Close by are the Tiller Torget and StorM shopping centres, along with extra-large stores from the likes of Europris (discount store), XXL (sports), Lefdal (electronics), Staples (office supplies), and Biltema (cars, tools, home etc).
Practical matters
City Syd is easy to spot from the main E6 highway south of Trondheim. To reach the centre by public transport, take bus routes 9, 38 or 46 from the city centre. Bus number 43, the local Tiller service, also serves City Syd. Although there is no train station serving the mall, Heimdal train station is about 2km away, and can be reached by a 25-minute walk or hopping on bus number 9.
The centre is open from 9am to 9pm every weekday, which is slightly earlier and later than most other malls in the city. On Saturdays the opening hours are typically one hour shorter, 9am-8pm. And of course, in keeping with Norwegian regulations, the shopping centre is closed on Sundays.
There is one exception though. In recent years, the centre has opened its doors for a few hours every Sunday in December, in the run up to Christmas. Check their website (Norwegian only) for the latest information.