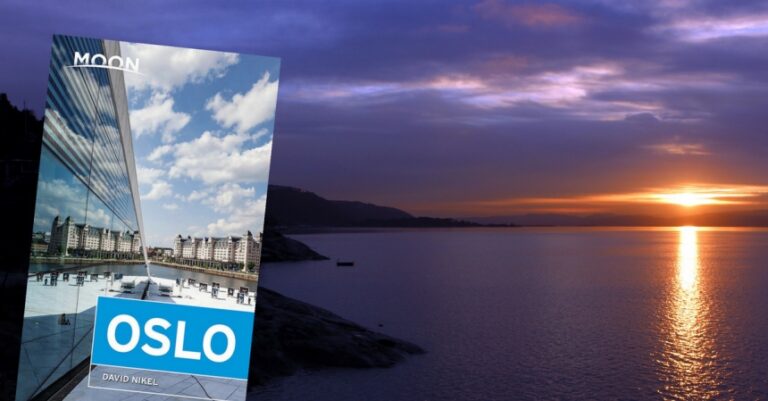 Travel writer and Trondheim resident David Nikel shares his expert perspective on Norway's best, guiding you on a memorable and unique experience around this very special corner of Scandinavia.
One of Europe's fastest growing cities, Oslo offers visitors a perfect mixture of art, culture, and wilderness. Discover Norway's vibrant capital with Moon Oslo.
Strategic itineraries for any budget or timeline, from three days in the city to island-hopping in the Oslofjord, plus day trips to Frederikstad and Lillehammer. Expert advice from expat-turned-local David Nikel on when to go, where to stay, and how to get around.
"I've lived in Norway since 2011 and have spent much of that time travelling the length and breadth of this outstanding country, visiting far flung places, meeting the locals, and working out the best travel itineraries for my friends and family. I'm so happy that I can now share that knowledge with a much wider audience with the launch of the Moon guidebooks." – David Nikel, author
Order Moon Oslo:
Amazon
Barnes & Noble
Indigo (CA)
Tanum (NO)
A little taster
Twenty-first century Oslo is a city transformed. For decades, travelers would head straight for the mountains or the fjords, but the Oslo of today is a cosmopolitan European capital with world-class architecture, art, and museums. Were it not for Norway's stunning natural environment, three days in Oslo would satisfy most travelers.
That's because the city is intrinsically linked to nature, surrounded on all sides by forest and fjord. Spend an entire weekend break in Oslo or tag on this three-day itinerary to a longer tour and you will not leave disappointed.
Should the weather be good, consider replacing any of these choices with a day trip to Drøbak, a delightful fishing village on the Oslofjord, or to Fredrikstad to wander the streets of one of northern Europe's best-preserved fortified districts.
To conserve your budget, make the most of your hotel's breakfast buffet and plan to eat light for lunch. Many hotels offer the opportunity to compose a packed lunch from the breakfast buffet (additional charge) or just grab some fruit and snacks from a supermarket.
Day 1: Art and the Waterfront. A visit to the epic National Gallery affords the opportunity to see some of Edvard Munch's most famous works with none of the crowds you might expect. Take a leisurely lunch in one of the excellent waterside restaurants on the Aker Brygge wharf, or grab a quick bite from a coffee shop and head instead to the Astrup Fearnley Museum of Modern Art at the nearby Tjuvholmen development.
In the afternoon, explore the buildings that inspired the castle in Disney's Frozen at Akershus Fortress, before completing your tour of the waterfront with a stroll on the roof of Oslo Opera House. The nearby Oslo Central Station and Jernbanetorget public square offer several options for dinner.
Want to see my recommendations for days two and three? You know what to do!
Order Moon Oslo:
Amazon
Barnes & Noble
Indigo (CA)
Tanum (NO)