With dramatic, imposing beauty everywhere you look, Norway's Lofoten islands are like nowhere else on earth. Here's everything you need to know about this paradise of the north.
Located far north of the Arctic Circle, Lofoten is a place where mother nature reminds you who's in charge. The granite mountains hide many surprises.
From idyllic fishing villages to remarkable beaches that seem so out of place in Arctic Norway, the Norwegian islands of Lofoten have it all.
In this post, I've done my absolute best to gather up everything you need to know about what has to be my favourite place in all of Scandinavia, if not the world. Ready? Let's go.
Lofoten Islands Photography
They say a picture speaks a thousand words. Nowhere is that more true than these remarkable islands! Watch this short video for some highlights:
Where are the Lofoten islands?
The Lofoten islands are easy to spot on a map. The islands stick out from one of the narrowest sections of Norway far into the frigid Norwegian Sea. The biggest settlement, Svolvær, lies at 68°14′ latitude. That's as far north as the Coronation Gulf in Nunavut, Canada.
The islands are connected by bridges and the E10 road that runs the length of the archipelago. The main islands are Austvågøy, Vestvågøy, Flakstadøy and Moskenesøy.
Værøy and Røst are sometimes included in a wider definition of Lofoten as a district, although they are many miles away from the main archipelago.
Why visit the Lofoten Islands?
Oh my, where to begin!? Crystal clear water, remarkable sandy beaches, incredible peaks of granite that look as if they were drawn by children, hiking trails galore, sea kayaking, fishing… do I have to go on?
I do? Okay! Let's dive into a few of these things in more detail…
Hiking
From spectacular panoramic viewpoints to remote beaches, few places on earth provide such a grand natural stage for hiking enthusiasts. Whether you want to stroll along a beach or tackle some of the most challenging hikes in Scandinavia, there's a hike for you on these islands.
The westernmost island, Moskenesøy, offers the most famous trails with several adventure companies and walking guides based in and around Reine.
Many of the best beaches in this part of Norway can only be reached on foot, rewarding those willing to make the hike with some of the country's beaches all to themselves. Yet some fabulous finds are right by the side of the road.
Photography
The ever-changing weather of Lofoten creates fascinating lighting opportunities for professional photographers and selfie-seeking amateurs alike.
An increasing number of people are discovering the magic of the islands and are choosing to base themselves on the islands for weeks at a time in order to get the best shots and even 4k video projects.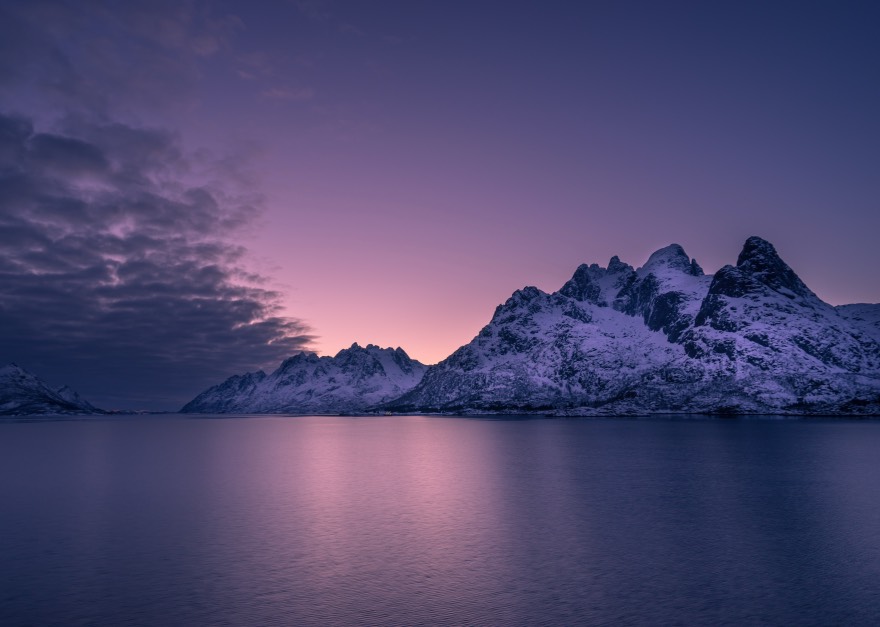 A quick word for the amateurs, though! As tempting as it may be, don't make the mistake of focusing too much on your gadgets. Few can ever hope to capture the true beauty of the islands on film, so be sure to look up and record the memories with your own eyes, too!
Art and creativity
The creative spark of the islands isn't just limited to photography. If you're suffering from writers block or blank canvas syndrome, this could be just the place for you to rediscover your muse!
Painters have been coming to the islands for the light and natural scenery since the 19th-century. Today you'll find galleries, glass-blowers, ceramic artists, jewellery makers, sculptors, and many other kinds of artist running their own workshops.
In Svolvær, Kunstnerhuset provides a temporary home and studio space for artists working with paint, graphics, and many other kinds of art.
Northern lights
While Tromsø and Alta steal the headlines for aurora spotting in Norway, the lack of artificial light makes the Lofoten islands an intriguing alternative. The only downside is that their coastal location often means cloud cover is higher than in Tromsø and Alta.
With that in mind, I don't recommend a trip here if your number one goal is to see the northern lights. But the islands are still an incredible place to visit, so split your time between here and Tromsø and you'll get the best of both worlds!
Still, that doesn't stop photographers and aurora hunters coming to Lofoten in their droves hoping for a glimpse of the tricky lady. Several tour companies sell trips from Svolvær, but truth be told if you have a car and access to a couple of apps, you'll do just as fine on your own. Just remember, if it's cloudy, don't bother venturing out.
Read more: Northern lights travel guide
Surfing
The deep sea surrounding Vestvågøy island slopes off as it approaches Unstad beach, making this bay a magnet for cold water surfers. It's known in the international surfing community as one of the best spots in all of Europe to catch a wave.
The waves are at their most stable in autumn and winter, but even so this is not a place for beginners. It's also the most likely time of year to see the northern lights, creating a truly unique aurora hunting experience for all you surfers out there – weather dependent, of course!
Road trip
You don't need to be a hiker, photographer or surfer to enjoy the Lofoten islands. Simply hop in a car and take in the atmosphere.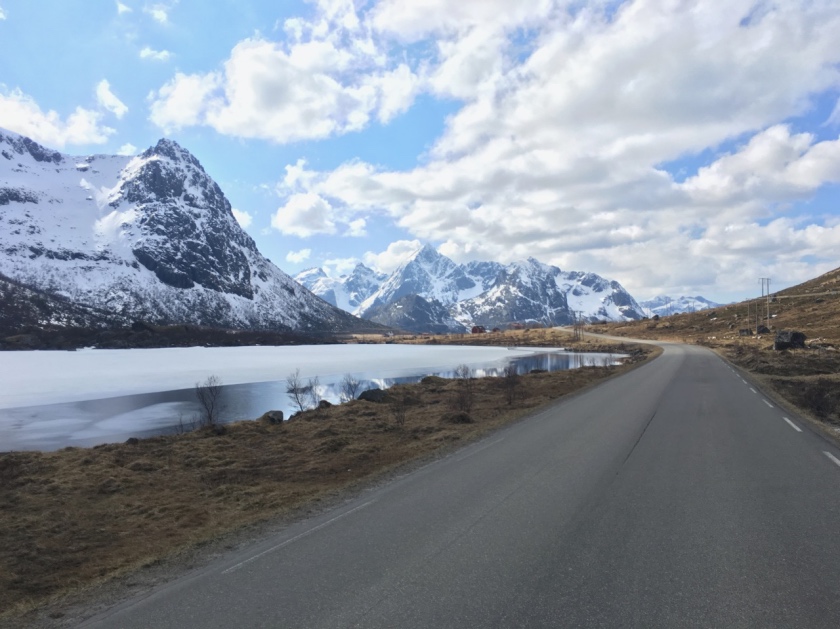 As I'll cover in much more detail later on, the E10 is the road that threads its way through the archipelago connecting the islands. The stretch from Svolvær to Å is one of Norway's designated National Scenic Routes.
Central government funding has improved the condition and facilities along these 18 roads, with the program of improvements set to continue for several years yet. This means you expect rest stops and picnic areas along with interesting architecture to complement the natural scenery.
Read more: A Lofoten road trip
The weather in Lofoten
It's hard to believe for somewhere on the same latitude as Nunavut in Canada and Murmansk in Russia, but the climate on these islands is surprisingly mild due to the Gulf Stream, the North Atlantic Current and the Norwegian Current.
So surprising in fact, that it's home to one of the biggest temperature anomalies in the world relative to latitude. I just stumbled upon a statistic that says the outlying islands Røst and Værøy are the world's northernmost places in the world that have an average temperature above freezing all year round. Nice!
Even on the main islands the winter temperatures rarely dip below freezing, while in summer anything above 16°C (60°F) is considered warm. Although snow is visible on the mountains well into the summer, actual snowfall on the low-lying ground tends to be much lighter.
As a coastal region rain is possible all year round. That said, the wettest months are September to November.
Living in Lofoten
Perhaps more so than any other Norwegians, Lofoten islanders are happiest when outdoors. And with views like this, who can blame them?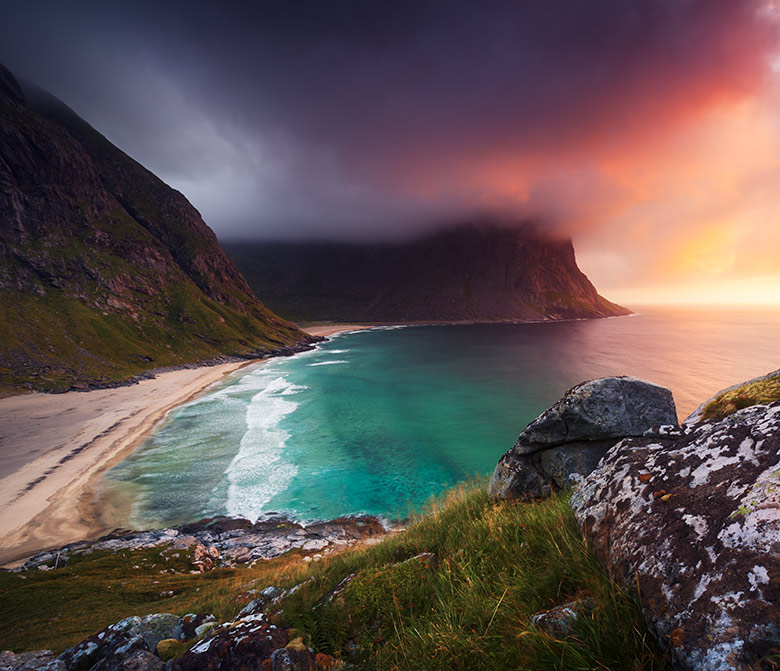 With spectacular scenery around every corner, fresh, clean air, and a low crime-rate, there's little not to like about the islands. But despite this, less than 25,000 people live here.
Of course, the realities of living anywhere are always more complex than they first appear, and that's just as true in Lofoten. Job opportunities outside fishing, tourism and the public sector are limited, while travel from the islands to the rest of Norway is slow and expensive.
The fishing industry
The reason people settled on these imposing islands in the first place isn't the spectacular scenery and certainly not the weather. It's the bountiful waters surrounding the islands. For even though tourism is increasingly important to the local population, the fishing industry still dominates.
The Vikings certainly benefited from the source of food, and in the Middle Ages Hanseatic traders based themselves in Bergen chiefly to trade goods from Europe for the dried fish of Lofoten.
Because of the distances involved, Lofoten's fishing industry developed dried fish as its speciality, a product that is still in great demand today around the world. Lofoten stockfish provides the basis for the national dish of Portugal, bacalao. I've seen Lofoten fish as far away as Brazil and Mexico!
The industry is responsible for one of the best known sights that rarely makes it into the tourist brochures. Wooden racks for drying out fish line the coastline across the islands – a constant reminder of the islands' principal economy.
Something else you'll only discover about the region when you visit is a constant fishy smell in the air for much of the year! It's something you get used to after a couple of hours… honestly.
The tourism debate
The numbers of tourists visiting Lofoten in recent years has increased significantly, so much so that it has caused problems within the local communities.
There's a limit to how well any of Lofoten's small communities can cope with even modest numbers of travellers, so any increase is instantly noticeable. Hans Fredrik Sørdal, the mayor of Flakstad municipality, told NRK: "It's challenging. In terms of tourism, we've become completely unbalanced this year."
Some hiking trails on popular routes are suffering from erosion and there have been issues around parking, congestion, and the lack of public bathroom facilities.
Expat life in Lofoten
As with the rest of Norway there are a number of foreigners who've settled in Lofoten. I spoke to one – Cody Duncan – on my podcast the Life in Norway Show. He works as a professional photographer and tour leader specialising in multi-day hikes for photographers.
Top places & sights on the Lofoten islands
It seems almost unnecessary to pick out specific places with such a spectacular natural setting, but pick them out we have!
Lofotodden National Park
An area of more than 100km in the western part of the archipelago has become Norway's latest National Park, because of the landscapes and natural habitats not found in other protected areas.
Ola Elvestuen, Norway's Minister for Climate and the Environment, said, "we have ensured that future generations will enjoy the distinctive and unique landscape with narrow, tall peaks, surrounded by open sea areas and deep fjords."
As with Norway's other National Parks, it will be permitted to use the area for outdoor activities that do not harm the environment, including hiking, fishing and hunting.
Reine
The island village Reine has arguably the most spectacular setting in all of Lofoten. The approach by car is nothing short of breathtaking. The E10 winds its way across islands and skerries for a couple of miles, with open ocean, mirror-like lakes, and granite peaks visible in every direction.
The village itself is well equipped for visitors, especially during the summer season when cafés and restaurants compete for your attention.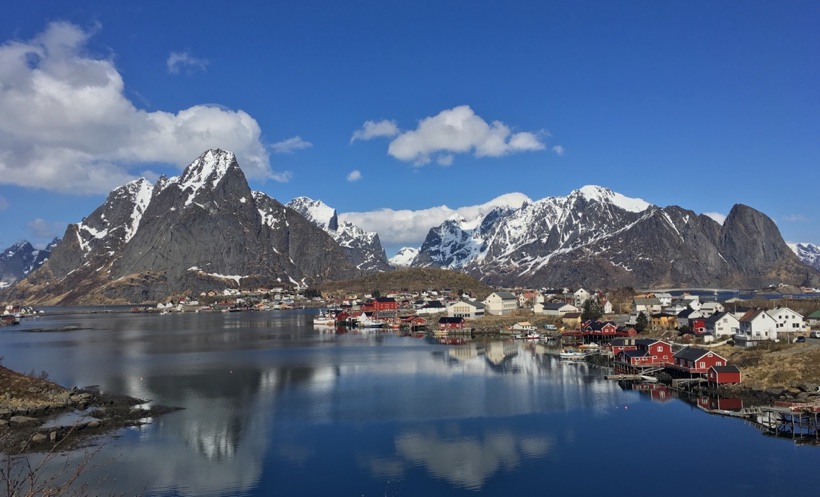 Overlooking the village, the Reinebringen mountain is a top destination for experienced hikers.
Å
Just five miles on from Reine is the end of the E10 and the village of Å, the last letter of the Norwegian alphabet. The small village serves dual purpose as a fishing village museum.
Founded by a local history group, the museum's purpose is to preserve the fishing village rather than to build anything new. The old boathouse has been converted to hold most of the museum's exhibitions, but the whole village is the real exhibition.
Svolvær
The largest city on the Lofoten islands, Svolvær remains tiny by international standards with a population of less than 5,000.
Read more: The ultimate guide to Svolvær
But as a regional centre, the town feels more dynamic than its size suggests. Here you'll find a shopping mall, clothing stores, supermarkets, a cinema, hotels, restaurants, and art galleries.
If you're looking for a wallet-friendly place to stay on the islands and you don't have your own transport, the Fast Hotel Svolvær could be exactly what you need.
Henningsvær
A village built on several tiny islands seemingly dropped into the water from the mighty Vågakallen mountain, Henningsvær is one of Lofoten's best-known places.
A beautiful setting in summer or winter, the village is a must-do on any Lofoten trip. Its home to a couple of art galleries and stunning waterside views from pretty much every spot.
Without a boat, the only way to reach Henningsvær by road. The narrow, winding route that clings to the cliffside is shared by cyclists, delivery trucks, cars, and even carefree pedestrians.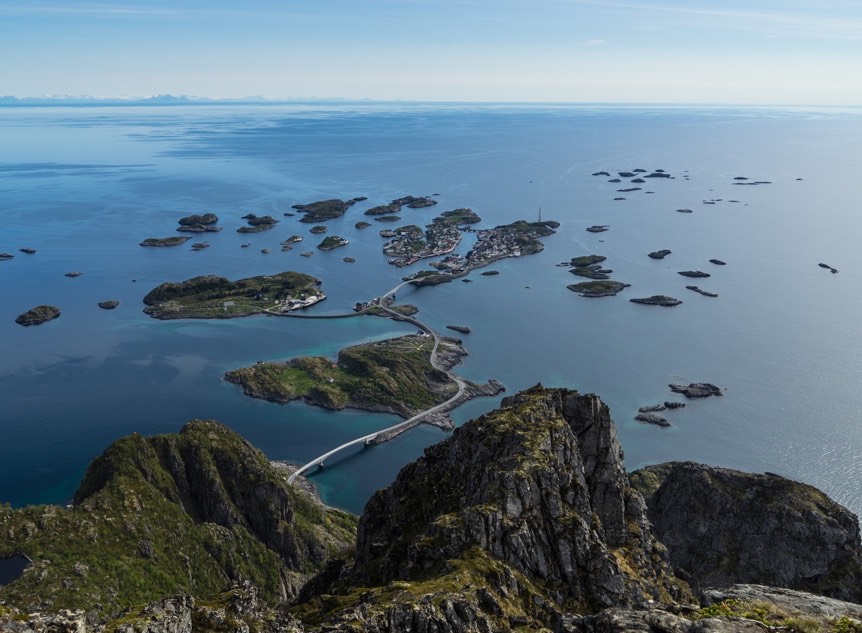 The village is also home to one of the most picturesque football pitches in the world!
Stamsund
A traditional trawl fishing village, Stamsund has a population of just 1,000 but enjoys a vibrant cultural life thanks to local theater groups and artists who have set up residence here. Daily visits from the Hurtigruten ferry means there's more to see and do here than you might expect.
Lofotr Viking Museum
Experience the Viking lifestyle at this museum built on what is believed to have been a site of great importance during the Viking era. The reconstructed longhouse atop a hill is the highlight, especially as archaeological digs indicated a chieftain's home once stood there.
During the summer, crafting activities and outdoor Viking games take place on selected days. During the evenings, the local chieftain and his wife invite guests for an authentic Viking feast complete with mead, song and storytelling around the open fire.
Wildlife
Bird and animal life in the Lofoten islands attracts wildlife enthusiasts from across the country.
A sizeable population of moose can be seen in woodland areas especially on Lille Molla, east of Svolvær. Also on the east of the islands you'll find the red fox, often foraging for food near built-up areas.
In the seas, killer whales (orcas) are found in large numbers during the autumn and winter, drawn by the shoals of herring. Minke whales, pilot whales, and seals are among the other species to call Lofoten their home.
Festivals and events
The islands have attracted artists of all kinds for years, so it's no surprise that most events lean towards the creative side of life.
International Art Festival. This month-long art festival brings artists from across the world to place their art in the context of the archipelago's dramatic surroundings. In previous years, everything from a war bunker to a fish-drying rack has been used to host exhibitions.
Chamber Music & Piano Festivals. Alternating each year, these two festivals present concerts and lectures from the highest standard of international musicians.
Country Music Festival. Leknes is northern Norway's home of country music, as each August/September locals and visitors don their cowboy boots and international and national acts play concerts and dance!
Værøy and Røst
Some include Værøy and Røst as part of Lofoten, others don't, but I have to at least give them a mention! These islands are much more remote, accessible only by a daily ferry service, or the tiny airport on Røst.
People visit Røst mainly to say they have, but also because it's one of the top locations in Europe to see the Atlantic puffin and a dazzling range of other seabirds. Around a million call the bird cliffs southwest of Røst their home.
Read more: Røst: Norway's remote island getaway
How to get to Lofoten
Getting to the Lofoten islands is half the fun! You have to choose between a high cost or a long time to get to Lofoten, something that keeps the numbers of tourists relatively low – although more on that later.
By air
There are a handful of small airports on the islands served by equally small Widerøe propellor planes. For most people, the only realistic option will be flying to Svolvær or Leknes from Bodø, from where connecting flights are available to/from Oslo.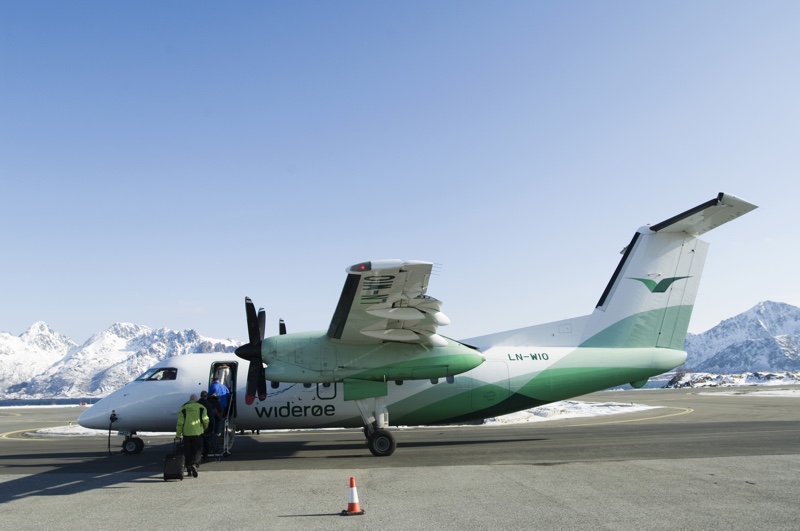 At the time of writing, Widerøe – Norway's regional airline – also runs a direct route from Oslo to Svolvær although this under threat of closure.
Harstad/Narvik airport, also known as Evenes, also has direct services from Oslo and although not on the islands, it's a 2.5 hour drive away from Svolvær by rental car. Bus connections are possible but the times are not always convenient.
By ferry
Two ferry services serve the islands from Bodø on the mainland. Which one you'll use will depend on if you have a car or not, and which end of the archipelago you are heading for. Note that the two services also leave from different parts of Bodø!
From the Hurtigruten terminal, the Bodø to Moskenes service carries cars and foot passengers 1-4 times per day depending on the season. The often rough crossing takes between 3 and 3.5 hours and is operated by Torghatten Nord. Some of these services also call at Røst/Værøy.
I'm not kidding when I say rough crossing, so if you're susceptible to sea sickness or you've never crossed an ocean on a ferry before, bring some tablets with you!
The same company also runs the passenger-only Bodø to Svolvær ferry from the dock by the bus station. The journey takes a little under 3.5 hours.
A final option is of course the Hurtigruten coastal ferry, which calls at both Svolvær and Stamsund on its way north from Bodø. However, the service is usually more expensive – and slower – than the other two options, but you might find a bargain in the off-season.
By road
The E10 National Scenic Route that runs the length of the main archipelago connects with the E6, Norway's main north-south highway, at Bjerkvik near Narvik. You can of course also cut a few hours off the driving time from the south by taking the car ferry from Bodø to Moskenes.
Driving durations in northern Norway are long, but if you've hired an RV and are taking a month to drive around the country, driving could well be an option for you.
Once you're on the islands, a car is easily the best way to get around. Speaking of which…
How to get around the Lofoten islands
By public transport
One of the biggest downsides of visiting the Lofoten islands is the public transport. While it's comfortable and generally reliable, the frequency is the biggest problem for visitors. Some routes may run just once a day or not at all on Sundays, for example.
If you are on a tight budget and have time to spare, then touring the islands by bus is absolutely possible. Just don't expect a city-like service!
By bicycle
Cycling is an increasingly popular option for seeing the best of northern Norway as it gives you extra flexibility especially if you combine it with a camping trip.
By car
But for most people who have some money but limited time, I strongly recommend renting a car to get the most out of your visit.
Car rental is possible in Bodø, Svolvær, Leknes and Moskenes. Rates and availability are typically better in Bodø, but then you'll need to factor in the cost of the return ferry trip or the fuel cost to reach the islands.
Planning a road trip
A road trip through Lofoten is surprisingly easy to navigate. There's just one main road linking all the islands together, the E10, with minor roads running to coastal villages and beaches.
The trip from Svolvær to Å is a 128-kilometer (79-mile) drive. Although the distance seems short, your actual mileage count is likely to be far in excess of this due to the various side trips described along the route.
To even come close to getting the most out of a Lofoten road trip, plan at least a couple of overnight stops, and give your itinerary plenty of padding. You'll need it.
One thing to be aware of if driving is the problem of parking. Some popular trailheads have spaces for just a handful of cars, and parking in places like Reine is now strongly monitored. Be sure to bring cash to pay for parking charges and seek out signs if you decide to park anywhere, especially in urban areas.
So, there we have it! Did you enjoy this free guide to one of my favourite places in all of Scandinavia? If so, please pass it on to a friend or share it on social media.
If you're a fan of Pinterest, please pin the post so others can find these spectacular photos too! We've got just the pin to help: