Norway's biggest city is a rapidly developing urban capital with plenty of green spaces and cultural heritage. Here's everything you need to know about living in or visiting Oslo, Norway.
Almost 12 years ago, I stepped off a plane at Oslo Airport to begin a six-month contract in the ICT industry. Little did I know I would still be living in Norway to this day, let alone making a living by writing about the country!
Although I left Oslo for Trondheim, Norway's capital city still retains a very special place in my heart. I am a regular visitor by plane or train from Trondheim, and still a fan of Vålerenga, the football and hockey teams I adopted in those first years.
We've published tons of content about Oslo over the years, but this article is designed to tie everything together. You'll find everything from facts and stats to how healthcare and housing works.
Although primarily designed as an information guide for new residents, there's also plenty of information useful to those planning to visit Oslo.
An introduction to Oslo
With a population of more than 700,000, Oslo is the largest city and capital of Norway. Oslo is not only the political, cultural and economic centre of Norway, it is also one of the biggest cities in Scandinavia.
The city of Oslo hasn't always been the capital of Norway, though. Far from it in fact. But it does have a rich history dating back to the Middle Ages. Akershus fortress is one of the best places to go to learn more about the city's history.
In recent years, Oslo has become known for its cutting-edge design and architecture, and thriving cultural scene. The city boasts a range of world-class museums, galleries and event venues. But despite its urban focus, Oslo has great access to nature with the Oslofjord in front and the Nordmarks forest behind.
Despite the Norwegian paradox, Oslo has become known as one of Europe's greenest cities. Authorities are rapidly electrifying the public transport system as part of Oslo's aim to be carbon neutral by 2050.
Where is Oslo, Norway?
Oslo is situated in the southeastern part of Norway. The city lies at the head of the Oslofjord, a long, narrow inlet that stretches almost 100 kilometers inland from the Skagerrak strait, the body of water separating Norway and Denmark.
The Oslofjord is an important waterway that connects Oslo with the North Sea. It has played a vital role in the city's development and economy over the years, providing an important trade route and a natural defence from attacks by sea.
Oslo is situated less than 100 kilometres from the Norway-Sweden border, which can easily be reached by road or rail in under two hours.
Facts about Oslo
One of the best ways to get to know a city's personality is to discover some random facts about it. Here are some facts about Oslo:
Oslo is Norway's most multicultural city by far. Of the 700,000 people who live in Oslo, 33% have an immigrant background. That means they were born in a different country, or born in Norway to immigrant parents.
The Nobel Peace Prize is awarded in Oslo. Oslo's city hall hosts the Nobel Peace Prize award ceremony every year. The recipient is selected by the Norwegian Nobel Committee, as per the wishes of Alfred Nobel. All the other Nobel Prize ceremonies take place in Stockholm.
Oslo was the European Green Capital for 2019. Norway might be one of the world's biggest producers of oil and gas, but it's putting the money to good use. Oslo is in the middle of a green revolution, something that was recognised by the European Commission in 2019.
Oslo hosted the Winter Olympics in 1952. The eyes of the sporting world fell on to Norway's capital in February 1952 as the city hosted the Winter Olympics. Almost all the events took place in and around Oslo, with alpine skiing hosted in Norefjell. Still used for athletics today, Bislett Stadium was the centrepiece of the event.
Read more: Fun Facts About Oslo
History of Oslo, Norway
As I mentioned earlier, Oslo wasn't always the capital of Norway. For 300 years it wasn't even called Oslo! Read on for an introduction to the history of Oslo.
Oslo as we know it today was founded in 1049 according to the Norse sagas, but there is evidence proving a settlement existed much earlier.
While Bergen was the biggest city in Norway, Oslo took over the role of capital in 1299 when King Haakon V took the throne. He began construction of Akershus Fortress to help defend the city.
During the time of the Scandinavian unions, Oslo lost its status as Norway was essentially ruled from Copenhagen. Following a devestating fire in 1624, King Christian IV of Denmark ordered the rebuilding of the city in a new location closer to Akershus Fortress. He named the new city Christiania, a name that would stick until 1925.
Read more: The History of Oslo
Moving to Oslo
With more than 200,000 residents who were born outside of Norway, Oslo is the first choice for many foreigners looking to start a new life in Norway. It makes sense, as there are good job opportunities and communities of people from all over the world.
When you first arrive, it's likely you'll be dealing with the service centre for foreign workers. Known as the SUA, these centres are designed to be a one-stop shop for new residents.
The SUA brings together the public services of the Police, the Norwegian Directorate of Immigration (UDI) and the Tax Administration. Guidance is offered in English and several other languages.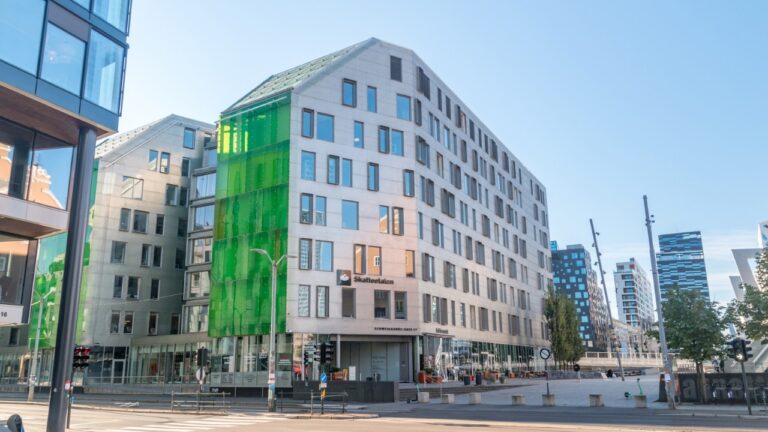 In Oslo, the SUA is co-located with the Tax Office (Skatteetaten) at Schweigaards gate 17, close to Oslo bus terminal. However, you can't just turn up. You'll need to book an appointment in advance in order to use the centre.
Living in Oslo
There is a very international feel to life in Oslo. The biggest groups of people with a non-Norwegian background living in the city of Oslo are from Pakistan (22,379), Somalia (17,110), Poland (16,207) and Sweden (11,430).
Many people assume immigration is the sole reason behind Oslo's population growth, but there are other factors too. Since 2003, the number of people with a Norwegian background living in Oslo has increased every single year.
What is it like living in Oslo? Many of my guests on the Life in Norway Show live in Oslo so they have some great insights.
Housing options in Oslo
As with all Norwegian cities, there is a diverse range of accommodation options in Oslo. These range from basement bedsits known as a hybel through to full-size detached family homes.
That being said, apartment blocks are very common throughout Oslo. Many take the form of a borettslag shared ownership model. Sharing apartments with others (kollektiv) is also common among students and young professionals.
The best option for you will depend on many factors. Availability of housing, your budget and your transportation needs are all things that will impact your decision. Here are our guides to housing in Norway.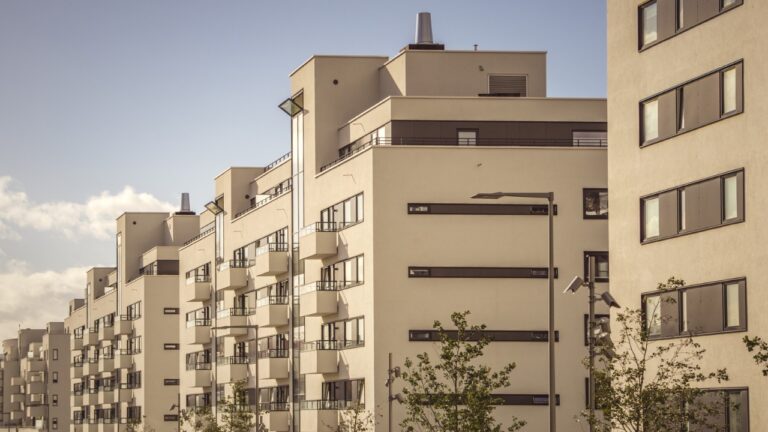 Studentsamskipnaden SiO is the welfare organisation for students in Oslo. Ensuring students are housed in affordable accommodation is one of their biggest roles. They offer housing on one-year contracts from August to July. Some of the biggest student villages are located in Kringsjå and Sogn.
A student can expect to pay between NOK 4,000 and NOK 7,000 per month for a simple room in shared accommodation.
On the private market, a room in a shared house or apartment is likely to be NOK 1,000 more. A private apartment close to the city centre will start from at least NOK 10,000 per month.
Healthcare in Oslo
Norway's healthcare system is founded on the principles of universal access, decentralisation and free choice. After you have moved to Norway, you will be allocated a GP, which will likely be part of a medical centre.
If you want to change your GP for whatever reason, it's possible to do so up to two times per year. The issue is many medical centres in good locations are full, so you may have to travel across the city to find a GP with vacancies.
Oslo University Hospital is the city's main medical centre, located in four main locations: Rikshospitalet, Ullevål, Aker and Radiumhospitalet. The hospital is Scandinavia's largest with more than 1.2 million patient treatments carried out each year.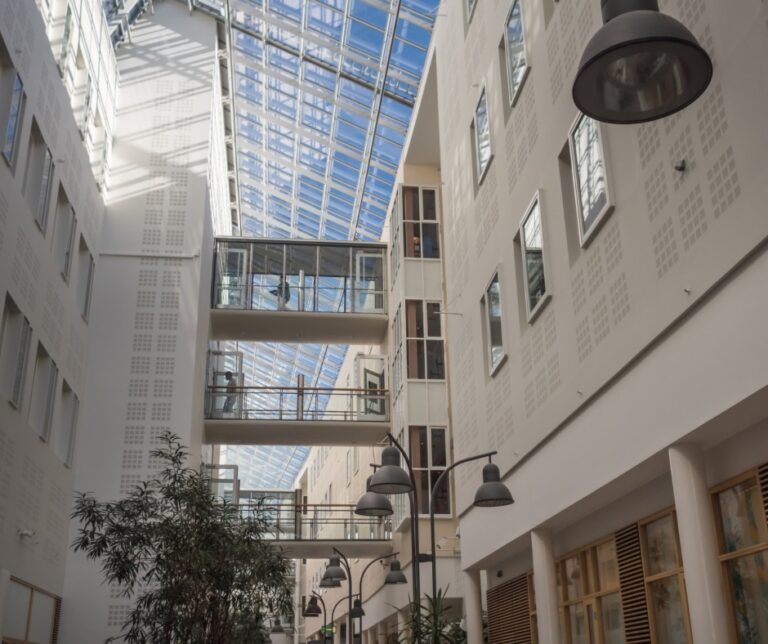 Akershus University Hospital is located in nearby Lørenskog, just outside the city's borders.
Districts of Oslo
Oslo municipality is split into 15 administrative districts: Alna, Bjerke, Frogner, Gamle Oslo, Grorud, Grünerløkka, Nordre Aker, Nordstrand, Sagene, St. Hanshaugen, Stovner, Søndre Nordstrand, Ullern, Vestre Aker and Østensjø.
Land use, healthcare and social services are among the issues administered at the local level in Oslo. Should you need to contact the social and welfare office NAV, there will be a local district office.
Some of the names (Frogner, Gamle Oslo, Grünerløkka) may be familiar to you whereas others not so much. These are just administrative names of course, and many of the city's better known areas lie within them.
For example, Frogner contains Bygdøy, Majorstuen, Homansbyen, Skillebekk and Vika, in addition to Frogner itself.
Gamle Oslo contains many well-known areas just to the east of the city centre, including Grønland, Kampen, Vålerenga, Ensjø, Etterstad and the Bispevika area that includes the new Sørenga neighbourhood.
Residents with an immigrant background live in all districts but are unevenly distributed. In the districts Stovner, Søndre Nordstrand and Alna, more than half of all residents have an immigrant background.
Working in Oslo
If you're planning to move to Oslo, you may already have a job offer or at least a job sector in mind. But perhaps you're earlier in your relocation journey and wondering what employment is available in the Norwegian capital city.
As with all Norwegian cities, the public sector is a major employer in Oslo. However, vacancies in this sector need good Norwegian language skills, something that will take many months if not years to obtain.
There are a lot of private sector vacancies in Oslo in all manner of industries. However, many freshly-graduated Norwegians from all over Norway want to find jobs in Oslo. This means competition for general vacancies is high.
On the plus side, Oslo is the base of many international companies, so English speaking vacancies are easier to come by. That being said, most Norwegians speak good or excellent English so once again, competition is high.
Many international companies such as Equinor, Aker Solutions, Telenor, ABB and many other technology businesses are based at the Fornebu business park to the southwest of the city.
There's also a lot of work available in the service industry. Jobs in tourism, restaurants and hotels are plentiful, but can be temporary or seasonal. In these sectors, foreign language skills (other than English) may be an advantage.
The University of Oslo and related research institutes are also important employers, particularly of foreign researchers. The university employs more than 7,000 faculty and staff. Approximately 22% of the academic staff and 31% of PhD candidates are from abroad.
Student life in Oslo
Oslo is one of the top destinations for students in the Nordic region. While the University of Oslo grabs the headlines, there are many more educational institutions in the city.
University of Oslo
Norway's oldest institution for research and higher education, the University of Oslo (UiO) hosts almost 28,000 students across its eight faculties:
Faculty of Humanities
Faculty of Law
Faculty of Mathematics and Natural Sciences
Faculty of Medicine
Faculty of Dentistry
Faculty of Social Sciences
Faculty of Theology
Faculty f Educational Sciences
The university also hosts specialist research centres and has a number of focus areas. These include the Centre for Studies and UiO:Nordic, a centre focused on the Nordic region and Nordic issues in an international context.
The International Student office supports foreign students undertaking full degrees and exchange students during their time in Oslo. It's located at Lucy Smiths hus at the Blindern campus.
Oslo Met
Formed in 2018, Oslo Metropolitan University (Oslo Met) teaches approximately 20,000 students. It was formerly Oslo and Akershus University College, which itself was formed following the merger of many vocational colleges over the years.
Much of the university's teaching takes place in and around the city centre at Pilestredet. Most courses are in Norwegian, although there are some international courses.
Oslo Met's faculties are:
Faculty of Health Sciences
Faculty of Education and International Studies
Faculty of Social Sciences
Faculty of Technology, Art and Design
Other institutions in Oslo
There are many other specialised higher education institutions in Oslo. The School of Sport Sciences, Kristiania University College, National Academy of Music, and Westerdals Oslo School of Arts, Communication and Technology are just a few of them.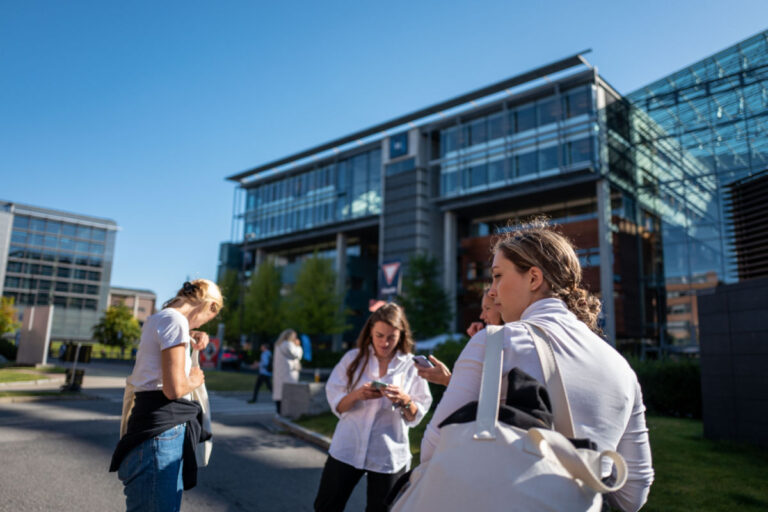 The private BI Norwegian Business School teaches around 14,000 students at its main campus in Nydalen.
Student support in Oslo
SiO student housing manages approximately 8,600 units. Although spread all across the city, there are some notable areas. Almost 2,500 students live at Kringsjå student village, with more than 1,000 each at Sogn and Bjølsen.
There are more than 450 clubs and associations for students living in Oslo. SiO oversees the associations from its office in Kristian Ottosens House at the Blindern campus.
Public transportation in Oslo
Do you need a car to live in Oslo? Not necessarily. In fact, probably not if you don't have kids. While a car is always useful, Oslo's public transport could be more than enough for you, depending on where you live, work and play.
The city has an integrated public transport system of commuter trains, metro, trams, buses and even ferries. It's all coordinated by Ruter, which is where you'll find timetables and ticketing information. The majority of people now use the Ruter smartphone app to plan their journeys and buy their tickets.
The Oslo metro, known as T-Bane in Norwegian, is a vast system of light rail lines that all meet in a shared tunnel in the city centre. It's useful for reaching the University of Oslo campus at Blindern.
Landmarks of Oslo
Whether you are a new resident or visiting the city as a tourist, Oslo's landmarks will help you get to know the city.
Oslo travel resources: Find a hotel – Car rental – Book tours
Oslo Opera House
Perhaps the most recognisable cultural building in all of Norway, Oslo Opera House is known for its architecture just as much as its performances. Designed by world-renowned Norwegian architects Snøhetta, the striking building of white marble and glass has a sloping roof that allows visitors to walk up with ease.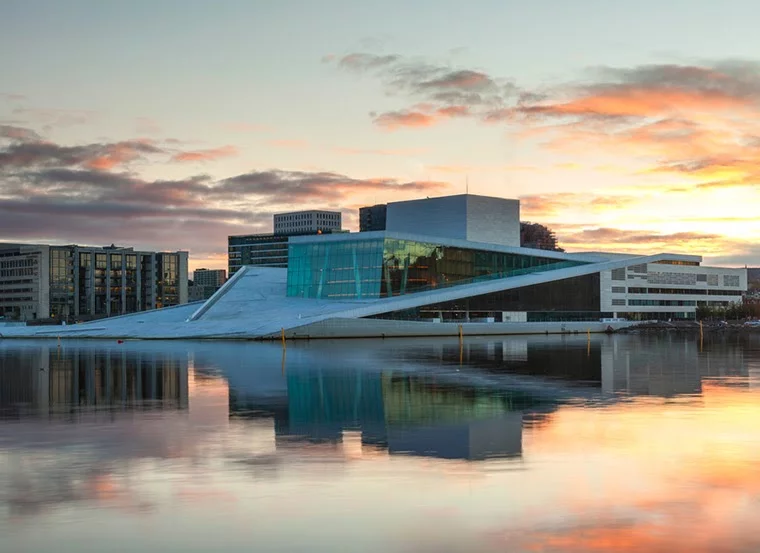 Because of this, many visitors don't enter the building itself. The light, airy foyer is worth a look for the use of wood and the backlit perforated cladding created by artist Olafur Eliasson.
Holmenkollen ski jump
Even those with no interest in winter sports should make the trip to Holmenkollen. The views across the city are reason enough. This world-class sporting attraction hosts international competitions in the winter and early spring.
Year-round, visitors clamber up the terracing either side of the jump to get a feel for what it must be like to participate. There's also a museum showcasing the history of skiing.
Akershus Fortress
With a history dating back to the 13th century, this historic castle and grounds has played an important role in the development of the city. It has served as royal residence, defensive fort, military base and even a prison.
Today the castle is still an active military site, but the grounds are a few museums are open to the public. Guided tours are available in the summer but most people simply wander the grounds to soak up the medieval atmosphere.
Royal Palace
The official residence of Norway's monarch stands at the top of Karl Johans gate, the main thoroughfare in Oslo. State events and ceremonies take place here throughout the year.
On Norway's Constitution Day, the Royal Family greet thousands of local schoolchildren from the palace balcony. Don't miss the tranquil palace gardens including the fairytale-inspired sculpture park, named after Princess Ingrid Alexandra.
Monolith at Vigeland Park
This sensational centrepiece of the city's Vigeland Sculpture Park features 121 intertwined human figures. Although the brainchild of Vigeland, the monolith needed a team of three masons who spent 14 years to complete his vision.
The park itself is an important landmark of Oslo. Entirely free to enter, Vigeland Sculpture Park is one of the most popular tourist attractions in all of Norway.
Hiking in Oslo
Capital cities are not usually renowned for their hiking, but this is Norway. If you want to quickly meet local people and make friends, strap on your hiking boots and start exploring the city's forests.
As for recommended hiking routes in Oslo, there are so many. Nordmarka forest is a good place to start. It's easy to access thanks to the T-Bane lines to Frognerseteren and Sognsvann. From both these stations, many hiking trails veer off into the forest.
What's on in Oslo
Throughout the year, Oslo plays host to major festivals and events, including many that celebrate the diverse, international population of the city.
There is something for everyone in Oslo, including sports events, music festivals, cultural celebrations and food festivals. Notable events include Øya Festival, the Norway Cup, Oslo Pride, Bislett Games and the Mela Festival.
Read more: What's on in Oslo
Weather in Oslo
As a former host of the Winter Olympics, Oslo is known as a winter city but the weather isn't usually as cold as you would expect. In winter, expect average highs of around freezing, perhaps slightly below. It does get colder at night, of course.
In the summer, average highs reach 19-23C although temperatures can exceed 30C. While Oslo isn't a wet city compared to the towns on the west coast, rainfall can occur at any time of the year so you shouldn't bet on long, dry spells in the summer.
Read more: Weather in Oslo
Sport in Oslo
Thanks to the world-class facilities at Holmenkollen, cross-country skiing and ski jumping are important sports in the city. A short distance away on the T-Bane, Oslo Winter Park offers downhill skiing.
Oslo is home to Vålerenga, one of Norway's biggest football clubs but one which has struggled for success on the pitch in the last decade.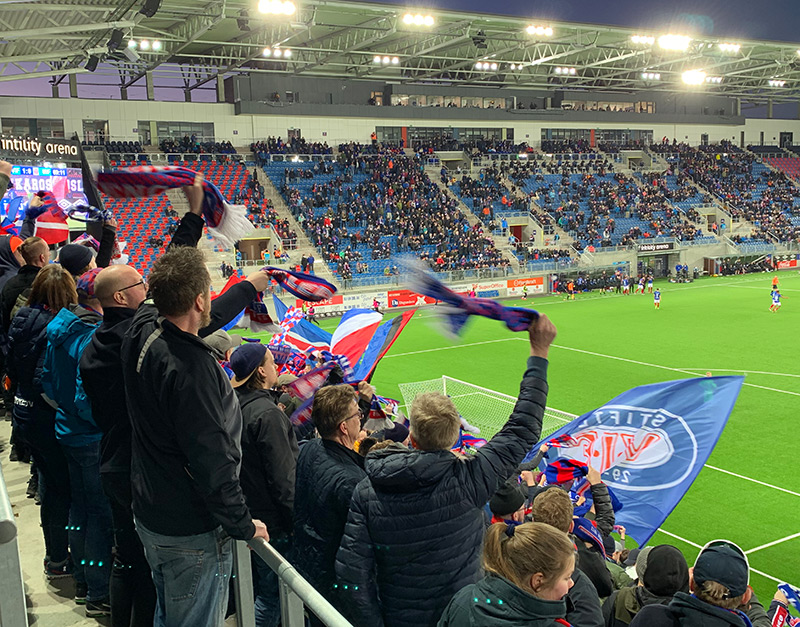 Playing their home games at the 16.556-capacity Intility Area, Vålerenga last won the Norwegian Premier League (Eliteserien) in 2005 and the Norwegian Cup in 2008. Vålerenga also has a women's football team in the Premier League (Toppserien) that has enjoyed more success in recent years.
Two other women's clubs from Oslo play in Toppserien: Lyn and Røa. Meanwhile in the men's game, KFUM Oslo and Skeid are two city football clubs playing in the second tier.
The Vålerenga ice hockey team play at the 5,300-capacity Nye Jordal Amfi and are one of the best teams in Norway. Other ice hockey teams in the city include Manglerud Star and Grüner, with Furuset and Hasle-Løren playing in the second tier.
Handball is a popular sport throughout Norway. Aker represent Oslo in the women's league league, while Bækkelaget play in the men's elite league.
Oslo travel tips
Many visitors to Oslo plan to begin a Norwegian road trip or are perhaps visiting the city on a cruise ship. No matter how long you're in Oslo for, there are plenty of things to do to keep you occupied.
Oslo travel resources: Find a hotel – Car rental – Book tours
We covered several in the section on Oslo landmarks above, including the Opera House, Vigeland Sculpture Park and the Royal Palace. Other things to do include the fantastic Oslo museums including the new National Museum and Munch Museum.
If you're short on time, consider booking a guided tour. This will take away stress from deciding what to do and getting around. You'll get a good experience no matter which one you choose.
As much as there is to see and do in Norway's capital city, there are so many more great places within easy reach by bus, train, or car. Consider one of the many day trips from Oslo if you are planning an extended stay.
Where to stay in Oslo
There is a more choice of accommodation at all price points in and around Oslo than any other Norwegian city. Whether you're looking for luxury hotels or budget rooms, there will be something for you. We recommend searching and booking with Booking.com.
At the highest end, Grand Hotel offers a touch of historic luxury in a fantastic location. There are also several options for airport hotels if you want somewhere to stay right after you arrive or the night before you leave.