Boasting a wonderful Arctic setting, a rich cultural scene and a range of thrilling outdoor adventures, Tromsø is a top destination in Northern Norway. Here's everything you need to know about living in or visiting Tromsø, Norway.
Situated almost 400 km above the Arctic circle, Tromsø is a city unlike any other in Norway. Often referred to as the "gateway to the Arctic," the city is known for its picturesque surroundings, vibrant cultural life, and opportunities to witness the awe-inspiring northern lights.
Whether you're a student, professional, or retiree, this complete guide will help you navigate the city and all it has to offer. But this guide isn't just for those considering a move to Tromsø.
I'll also touch on plenty of information useful to those planning a trip to this northern city. Let's get going!
An introduction to Tromsø
Tromsø is the largest city in Northern Norway, with a population of around 77,000. That makes it roughly equivalent to the size of Redding, California, or Taunton in the United Kingdom.
The city is a popular tourist destination, especially during the winter months. It's then that visitors flock to experience the Northern Lights and participate in various Arctic adventures. Tromsø is also a hub for scientific research, with a strong focus on the Arctic environment and climate change.
Tromsø resources: Find a hotel – Car rental – Book tours
Tromsø has an international airport that offers multiple daily flights to Oslo and other Norwegian cities, along with connections to several European destinations. There are no direct train lines to Tromsø, but buses and ferries provide alternative means of transportation.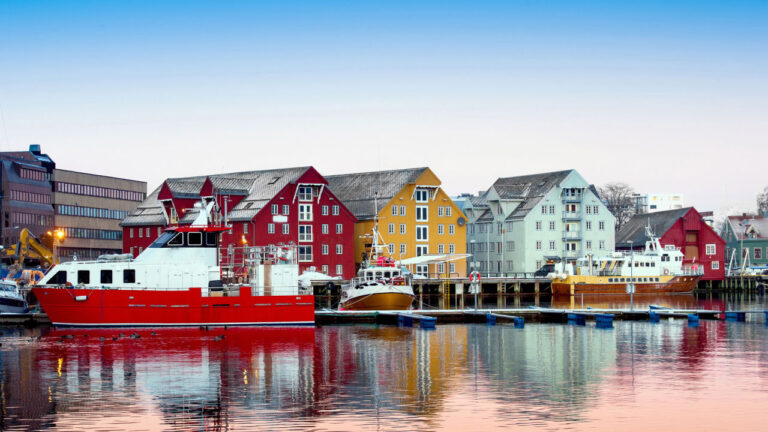 Tromsø's history dates back to the Viking Age and has strong ties to the indigenous Sámi people. The city has long been a centre for fishing and Arctic exploration, with a modern economy that revolves around tourism, research, and education.
Where is Tromsø, Norway?
Tromsø is located in the far north of Norway, to the north of the Arctic Circle. It is the capital of Troms og Finnmark, Norway's northernmost county, and the biggest city north of the Arctic circle in Norway.
The city is situated on the island of Tromsøya, surrounded by fjords and mountains. Its unique location makes it an ideal base for exploring the Arctic wilderness and experiencing the region's natural wonders, including the northern lights and the midnight sun.
Fascinating facts about Tromsø
To get a better understanding of the city's character, here are some interesting facts about Tromsø:
Tromsø experiences the polar night and midnight sun. From 18 May to 26 July, Tromsø experiences the midnight sun, where the sun does not set at night. The opposite phenomenon happens in the weeks either side of late December, when the sun does not rise.
There is a Botanical Garden in Tromsø. The world's northernmost botanical garden is a short walk from the university. Unsurprisingly, it is an Arctic–Alpine Botanic Garden with Arctic and alpine plants from across the northern hemisphere.
People lived in Tromsø during the Viking Age. In the late 9th century, the Norse chieftain Ohthere is believed to have inhabited the southernmost part of what is today Tromsø municipality. There were also Sami people living farther north.
Read more fascinating facts about Tromsø here.
History of Tromsø, Norway
Sami people have lived around the Tromsø area for hundreds of years. It's also believed settlement took place in the region during the Viking Age.
Tromsø was officially established as a city in 1794 and quickly grew into a centre of Arctic trade, with fishing and whaling being the primary industries. Its strategic location and emerging industries attracted merchants from Russia, Finland and other European nations.
Tromsø then played a crucial role as a base for Arctic expeditions in the 19th and early 20th centuries. Famous Norwegian polar explorers like Roald Amundsen and Fridtjof Nansen were regular visitors to Tromsø.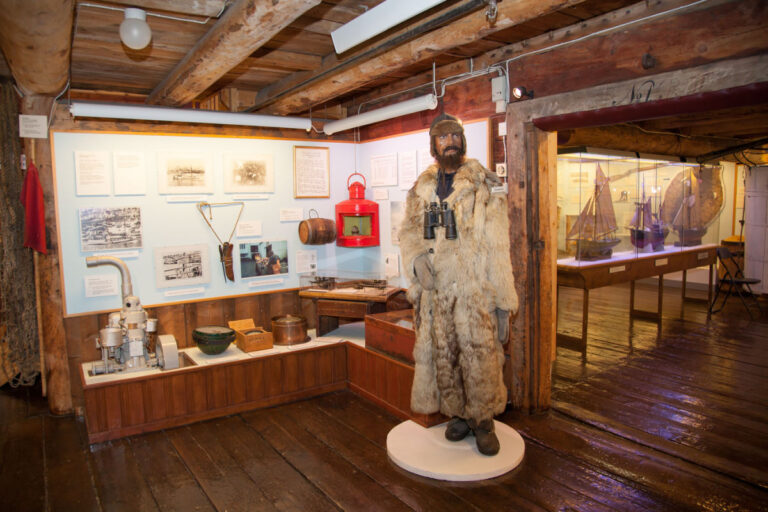 During World War II, Tromsø was a strategic location for the Allies and served as a base for the Norwegian resistance. The city was heavily bombed by the Germans, resulting in significant damage to the city's infrastructure and the loss of many lives.
After the war, Tromsø experienced a period of rapid growth, fuelled by the development of the fishing and energy industries.
Tromsø's strong links with Sami culture further enrich its history, as the city has long been a meeting place for the Sami people to trade and celebrate. This enduring connection has solidified Tromsø's reputation as a vital centre for Arctic culture and history.
Moving to Tromsø
Have you decided to move to Tromsø? You will need to deal with multiple public bodies including the Police, the Norwegian Directorate of Immigration (UDI) and the Tax Administration.
In bigger cities, the service centre for foreign workers (SUA) provides a one-stop shop for new residents who need to deal with multiple public bodies. Unfortunately, there isn't one in Tromsø, so you'll need to deal with the authorities separately.
In Tromsø, Skatteetaten (the Norwegian Tax Administration) is located at Hjalmar Johansens gate 21. You'll need to go here to report a move to Norway and apply for a tax deduction card. However, you can't just turn up. You'll need to book an appointment in advance.
The Police station is located at Stakkevollvegen 9. Once again you'll need to book an appointment for all matters pertaining to immigration. You do this with UDI.
Living in Tromsø
Tromsø municipality is home to a surprising number of foreign-born residents among its population of 78,000 people. The overall population is forecast to grow to 80,747 by 2030 and 84,849 by 2050.
As of March 2023, Tromsø's foreign population makes up 16.4% of the municipality, and is made up of people from 138 nations.
The biggest single group of foreign-born residents come from Poland, with approximately 1,188 people. There are also significant numbers from Germany, Sweden, Somalia, Eritrea, Lithuania and the Philippines.
Want to listen to some local insights? One of the earliest episodes of the Life in Norway Show featured a German woman in Tromsø and her experiences of living in the city. Listen to the show here.
Housing options in Tromsø
As with all Norwegian cities, there is a diverse range of accommodation options in Tromsø. These range from basement bedsits known as a hybel through to full-size detached family homes.
The best option for you will depend on housing availability in the area in which you choose to live (more on this later), your transportation needs and your budget. Here are our guides to housing in Norway.
The Norwegian Arctic Student Welfare Organisation (Samskipnaden) manages student accommodation in the city.
A student can expect to pay between NOK 4,000 and NOK 6,000 per month for a simple room in shared accommodation. On the private market, a room in a shared house or apartment is likely to be NOK 1,000 more. A private apartment close to the city centre will start from around NOK 9,000 per month.
Healthcare in Tromsø
The Norwegian healthcare system is founded on the principles of universal access, decentralisation and free choice of provider. When you first move to Norway, you will be allocated a general practitioner. This is likely to be in a medical centre with multiple doctors.
What if your GP isn't suitable, for whatever reason? You're able to switch your primary physician up to twice per year, provided the medical centre of your choice has vacancies. Many operate waiting lists.
The main hospital for much of Northern Norway is located in Tromsø. University Hospital of North Norway (UNN) is located on Tromsøya island, a little north of the city centre close to the university campus.
Districts of Tromsø
In Tromsø, neighborhoods often overlap each other as there are no clearly defined administrative boundaries. Generally though, the municipality splits into three: Tromsø island, Fastlandet (land to the east of Tromsø island) and Kvaløya (the island to the west of Tromsø island).
Neighbourhoods on Tromsø island include the city centre (sentrum), Bjerkaker, Borgtun, Breivika, Stakkevollan, Skattøra and Hamna, although there are many more. On Fastlandet, Tromsdalen is the best known area as it's home to the Arctic cathedral and the Fjellheisen cable car.
Working in Tromsø
If you're planning to move to Northern Norway, you likely already have a job offer or at least a job in mind. But perhaps you're earlier in your relocation journey and wondering what options there are in and around Tromsø.
There's good news and bad news. Firstly Tromsø's small size means permanent jobs are often hard to come by. However, there are two things on the flip side.
Firstly, seasonal tourism jobs are available and companies will often employ foreigners in these positions. Secondly, as a regional capital there are lots of public sector jobs that wouldn't otherwise exist in a town of this size. That being said, fluent Norwegian will be required for the majority of these.
Important industries in Tromsø include tourism and the maritime industry. The Port of Tromsø is a busy maritime hub and is a popular cruise ship destination.
Formerly the University of Tromsø, the Arctic University of Norway and its related research institutes are important employers, especially of foreign researchers.
Student life in Tromsø
Many international students are drawn to Tromsø for the experience of living in the Arctic for a year or more.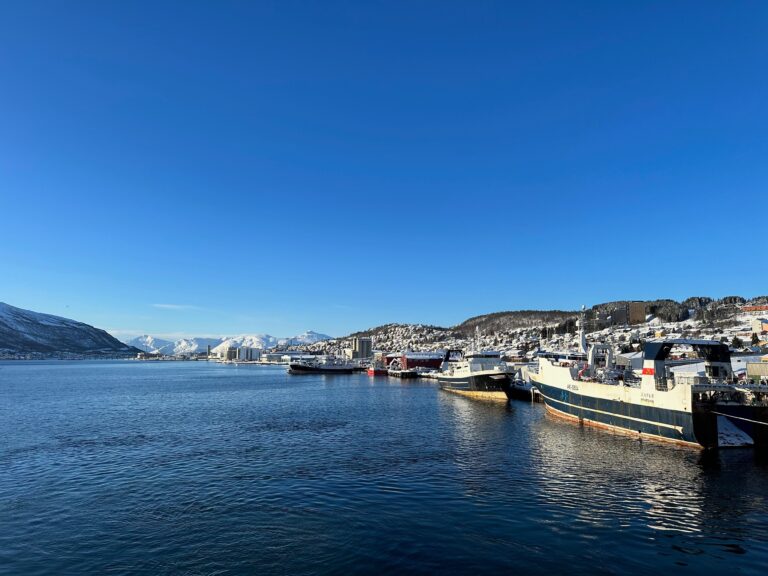 The Arctic University of Norway offers Master-level courses in many Arctic-related subjects including biology, geosciences, indigenous studies, and marine biotechnology. But the university also offers many other courses including fine arts, maths, English language, and even peace and conflict transformation.
If you are a student in Tromsø, the Norwegian Arctic Student Welfare Organisation Samskipnaden is a must. They help you find housing, run cafes and coffee shops, and coordinate many student societies to help you have fun and make new friends.
Public transportation in Tromsø
Do you need a car to live in Tromsø? Not necessarily, although it does help. Depending on where you live, public transportation could be a good solution for you in Tromsø for many of your daily needs.
The regional council runs the bus system under the name Fylkestrafikk. At the time of writing, a bus ticket for one zone (covering Tromsø) costs NOK 39 when bought in advance. There is also an off-peak ticket for just NOK 25 valid at certain times of the day. A monthly pass for Tromsø costs NOK 550.
If you live in Tromsø, downloading the Fylkestrafikk app is a must. On it, you can plan your journey, check live bus departure/arrival times, and pay for your tickets.
Landmarks of Tromsø
Whether you're a new resident or visiting the city as a tourist, Tromsø's landmarks are important for getting to know the city.
Arctic Cathedral
One of the most famous buildings in the north of Norway, the Arctic Cathedral is actually officially known as Tromsdalen church. The iconic architecture has stood on the waterfront of Tromsdalen facing the city of Tromsø since 1965.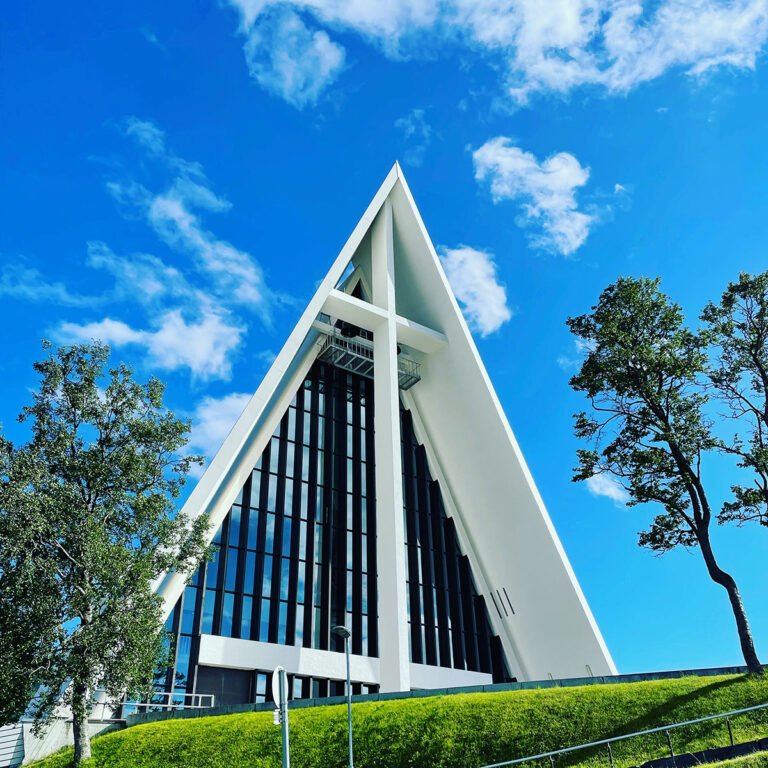 The church is a major tourist attraction for Tromsø, with regular excursions organised from the coastal voyage vessels and cruise ships. That's especially so in the summer, when midnight sun concerts are hosted inside the church.
Tromsø cable car
The view from Storsteinen mountain ledge has become famous thanks to the city's Fjellheisen cable car.
The year-round view (weather permitting!) from Storsteinen is wonderful but the winter version is breathtaking, even for a country blessed with so much natural beauty as Norway. Deep blue, ice-cold fjords contrast with the snow-capped peaks stretching out to the horizon creating a scarcely believable winter panorama.
The cable car, which travels from 50 meters above sea level up to 421 meters in just four minutes, is a must-do while in Tromsø.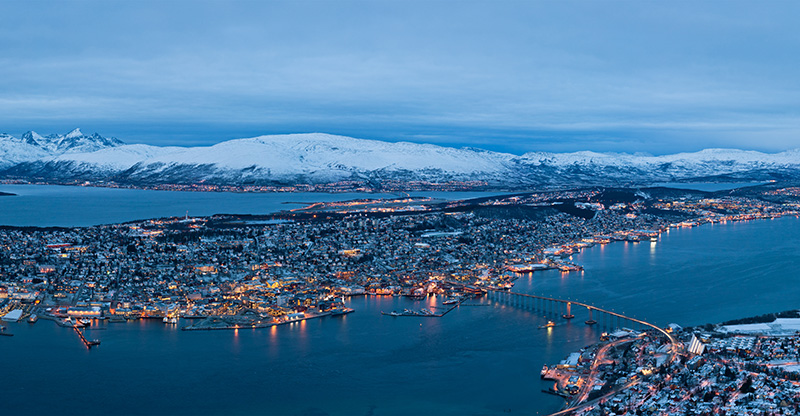 After the brief four-minute trip, the majority of visitors promptly make their way to the main viewing platform to take in the stunning vistas of the city and its natural environment.
Keep an eye out for cruise ships entering the harbour, as well as planes either landing or taking off from the airport runway. It's situated on the opposite side of Tromsø island.
What's on in Tromsø
It might be a small place, but you'll be surprised how much goes on in Tromsø. As a regional capital and the largest city for hundreds of miles around, Tromsø hosts many cultural events throughout the year.
Tromsø International Film Festival attracts film lovers from all over Europe, while Sami Week showcases the indigenous Arctic people in the heart of the city. Popular festivals include Insomnia, Rakettnatt, Bukta, and Tromsø Jazz festival.
During the summer, people again travel from all over Europe to Tromsø to participate in the Midnight Sun Marathon. Shorter races take place in the winter.
Weather in Tromsø
It's no surprise that Tromsø, located in the Arctic, is not a warm weather destination. But, interestingly, the summer season can still bring some extremely hot days.
The city and its immediate vicinity have a boreal climate characterised by short summers and winter temperatures that are only just cold enough to meet the criteria.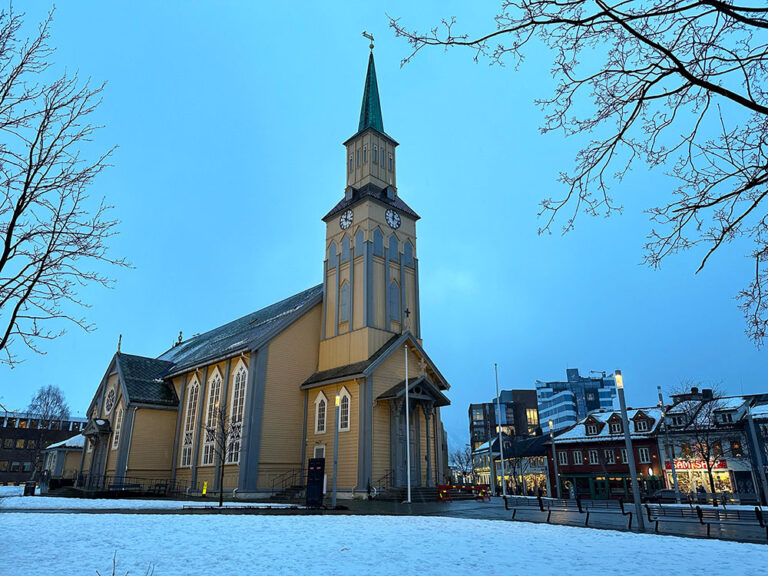 However, Tromsø stands out from other places at a similar latitude due to its distinct precipitation pattern and lack of permafrost. Despite sitting at 69.4 degrees north, it also exhibits characteristics of an oceanic climate, particularly in the winter season.
Thanks to the ice-free Norwegian Sea and western winds, the area receives milder temperatures that moderate Tromsø's climate, resulting in much milder weather than is typically expected for its latitude.
To learn more about what to expect season-by-season, check out our article all about the weather in Tromsø.
Sport in Tromsø
Tromsø is home to Tromsø IL, a club that more often that not in recent years plays in the Norwegian Eliteserien. When they do, they are the world's northernmost top flight football club.
Founded in 1920, the club play their home games at the 6,687-capacity Alfheim Stadion. The club recently announced it would rename the stadium to the Romssa Arena to reflect the city's Sami heritage.
Hiking, running, cycling and skiing are important sporting activities in and around Tromsø. Tromsø Midnight Sun Marathon is arranged every year in June. Basketball, volleyball and ice hockey are among the other sports played in Tromsø.
Tromsø travel tips
Many visitors to Tromsø use the city as a base for exploring the best of Northern Norway. It's a terrific place to see the northern lights or to pass through on a summer road trip to the north cape.
Tromsø resources: Find a hotel – Car rental – Book tours
The city's port is also popular with cruise ships and the coastal voyage. No matter how long you're in Tromsø for, there are plenty of things to see and do to keep you busy.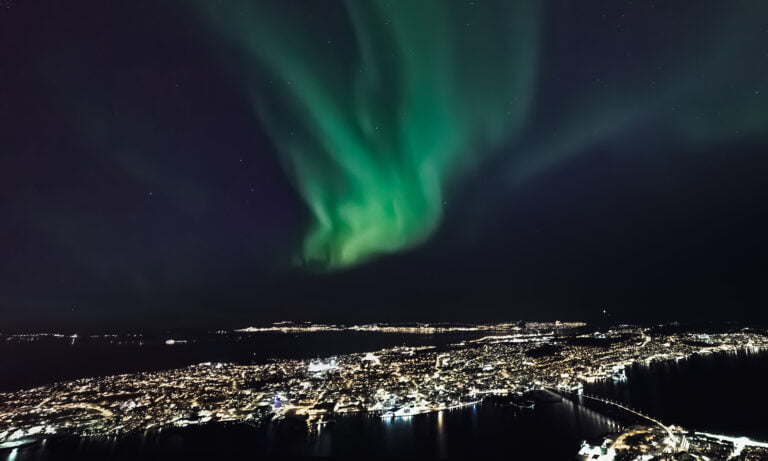 We covered several things to see and do above in the Tromsø landmarks section, including the Arctic cathedral and Tromsø cable car. Other things to see include Tromsø's wooden cathedral, the Arctic-Alpine botanical garden, and a range of fascinating museums.
If you are just passing through Tromsø. you may not have a great deal of spare time. If so, consider booking yourself on to a tour. Whether it's a walking tour of downtown or a northern lights safari, this will take away the stress and you'll benefit from a local's expertise.
How to see the northern lights in Tromsø
Tromsø was the first place I saw a decent northern lights display and the place I've seen them most often. It's always the first place I suggest when anyone asks me where to go.
While the city itself isn't optimal due to the city lights, Tromsø makes a wonderful base for exploring the region and finding those super dark spots. That being said, I've seen the lights many times from the city centre.
If you've never seen the lights before, I recommend booking a tour. For more tips, check out this full guide on how to see the northern lights in Tromsø.
Where to stay in Tromsø
There is a good range of accommodation in and around Tromsø, from luxury hotels on the waterfront to budget hotels and hostels. My preference is the Radisson Blu Tromsø, due to its waterfront location, neighbouring pub and pizzeria, and easy access to public transport in the city.
If you just want a place to rest your head, budget hotels include the Enter City and the Smarthotel Tromsø.
I hope you enjoyed this introduction to Tromsø. If you have any questions about the city, feel free to ask in the comments below.