Famous for its status as an oil capital, engaging Viking history, and charming coastline, Stavanger is a Norwegian city that should be on everyone's radar. Here's everything you need to know about living in or visiting the city.
When I first moved to Norway, I knew next to nothing about Stavanger. That soon changed when I realised the city was a hub for Norway's oil and gas industry, with a big international population.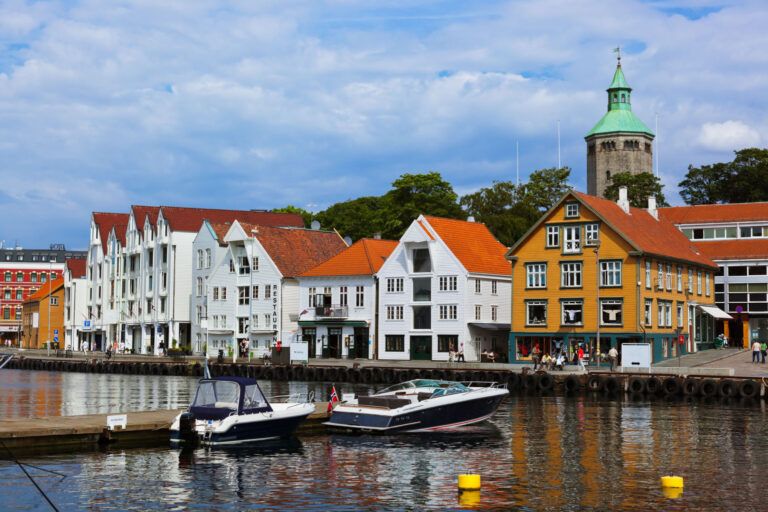 Whether you're a student, professional or retiree, this complete guide will help you navigate the city and all it has to offer. But I won't just focus on relocation information.
After several work visits, I also realised how popular the city was with international tourists. As a popular cruise ship port–especially with bigger ships–and some of Norway's most famous hiking trails within a day trip, Stavanger is a destination of choice for many different types of tourist.
Stavanger perfectly marries the charm of a small town with the amenities and attractions of a bustling city, making it an intriguing destination to live or visit.
An introduction to Stavanger
Stavanger, Norway's fourth-largest city, is a hub of approximately 146,000 residents. In comparison to the UK, Stavanger's population is similar to that of Cambridge, while in the US, it is roughly equivalent to Gainesville, Florida.
Intriguingly, Stavanger is not only a vibrant city but also a gateway to some of Norway's most beautiful landscapes and outdoor adventures.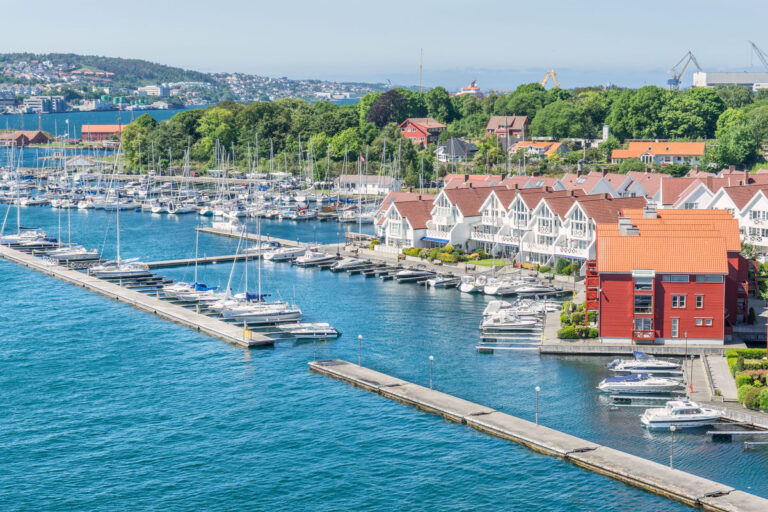 It offers easy access to the famous Lysefjord, home to renowned natural landmarks like the Pulpit Rock and Kjeragbolten. The city's coastal location means it boasts a lively port, buzzing with recreational boats and commercial ships alike.
Accessibility is a strength for Stavanger. Its well-connected airport operates numerous daily flights to and from Oslo and several other European destinations. For a scenic journey, one could opt for the train from Oslo or Bergen/Trondheim (via Oslo), meandering through picturesque landscapes before finally arriving in this dynamic city.
Stavanger resources: Find a hotel – Car rental – Book tours
Stavanger's rich tapestry of history stretches back to the age of the Vikings. Its growth and prosperity are deeply intertwined with maritime pursuits, from fishing to shipping.
However, the discovery of oil in the North Sea during the late 20th century was a game-changer, transforming Stavanger into Norway's oil capital. This marked a period of rapid economic growth and population increase, which, in turn, helped Stavanger evolve into the multicultural and vibrant city it is today.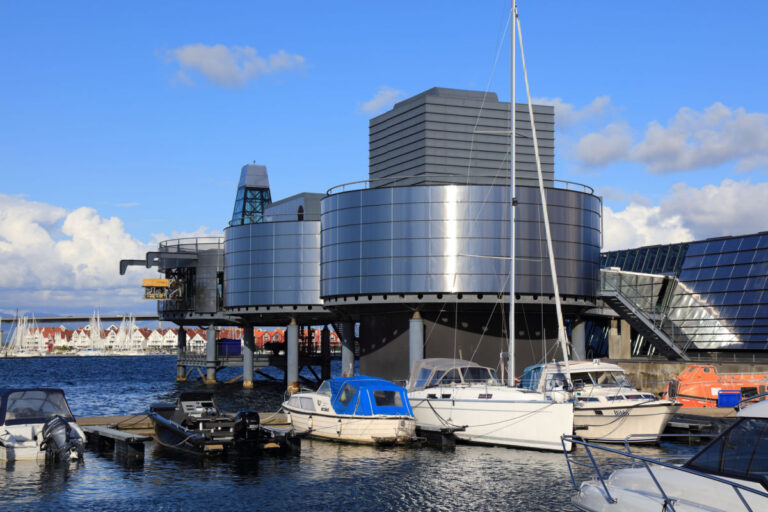 Oil, however, isn't Stavanger's only claim to fame. The city is also rich in culture, hosting the annual Stavanger International Jazz Festival and the Stavanger Symphony Orchestra.
A walk through the city will reveal a blend of modern architecture and historic areas like Gamle Stavanger, where cobblestone streets are lined with 18th-century wooden houses.
Where is Stavanger, Norway?
Stavanger is situated on the southwest coast of Norway, nestled between Bergen and Kristiansand. It is approximately 300 kilometres from Oslo, when one measures the distance in a straight line across the mountains of Norway.
The city is the administrative centre of Rogaland county, a region known for its diverse landscapes that range from sandy beaches to rugged mountains.
Stavanger is also a key access point to the stunning Norwegian fjords. The city is within a short drive or ferry trip from the Lysefjord, one of the most notable fjords in the country.
Fascinating facts about Stavanger
One of the best ways to quickly become familiar with a city is to discover some random facts and figures about it.
Of the population of 146,267 (as of Q1 2023), approximately 20% were born outside of Norway. A further 4.5% are Norwegian-born children to foreign-born parents.
Our list of Stavanger facts includes the founding of the city and its early development through to the discovery of oil and subsequent creation of Norway's energy capital, and so much more.
History of Stavanger, Norway
The history of Stavanger is one of vibrant expansion and transformation, marked by seafaring traditions, religious importance, and a thriving oil industry.
Settlement in the area dates back to the Iron Age, but it was officially founded in 1125 when Stavanger Cathedral (Stavanger domkirke) was completed. Bishop Reinald of Winchester was instrumental in this process, and the city soon became an important religious centre.
Before this, the area was noteworthy for the Battle of Hafrsfjord in 872, the moment when Norway was united into a single kingdom for the first time. Today, a monument of three towering swords stands proudly in commemoration.
The city's location on the southwestern coast facilitated growth as a hub for fishing and shipping. This maritime tradition was essential to Stavanger's identity, with its canning industry becoming particularly important during the 19th century. The city was often referred to as the "canned fish capital" of Norway due to its thriving sardine canning factories.
In the late 1960s, everything changed. The discovery of oil in the North Sea marked a turning point in the history of the city–and the entire country. Stavanger quickly transformed itself into the oil capital of Norway, attracting international companies and employees, all contributing significantly to Norway's economic growth.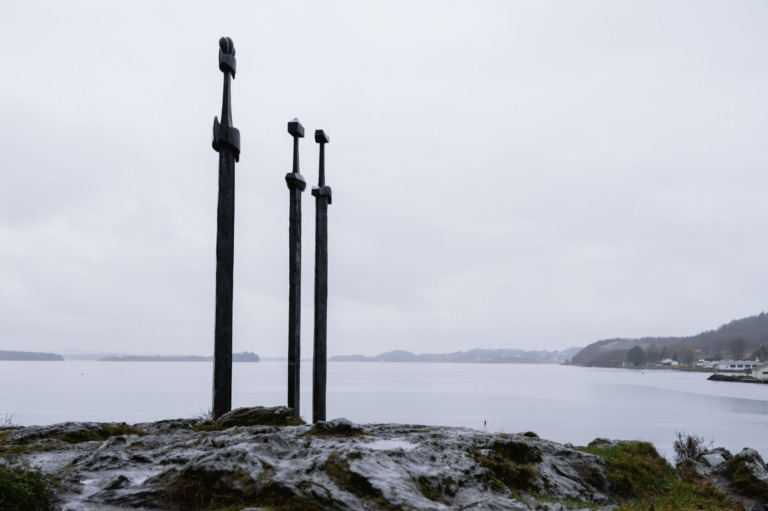 Stavanger's role during World War II was also noteworthy due to its strategic coastal location. Sola Airport, today the principal airport for Stavanger, was a critical airfield during the conflict.
Moving to Stavanger
Are you curious about relocation? Perhaps you've been offered a job in Stavanger, you have family links there, or the region simply seems attractive. First things first, check out this article about the reasons one of our writers moved to Stavanger.
The first port of call for newcomers will almost certainly be the service centre for foreign workers. Known as the SUA, such centres are a one-stop shop for new residents to deal with the relevant authorities.
SUA brings together the public services of the Police, the Norwegian Directorate of Immigration (UDI) and the Tax Administration. Guidance is offered in English and several other languages.
In Stavanger, the SUA is co-located at Lagårdsveien 46. However, as with all the other SUAs, you cannot just turn up. You'll need to book an appointment in advance, but that's simple enough to do online.
Living in Stavanger
If you do move to Stavanger, you're unlikely to feel alone. The city is home to more than 30,000 foreign-born residents among its population of almost 150,000 people. The overall population is forecast to grow to 149,946 by 2030 and 158,003 by 2050.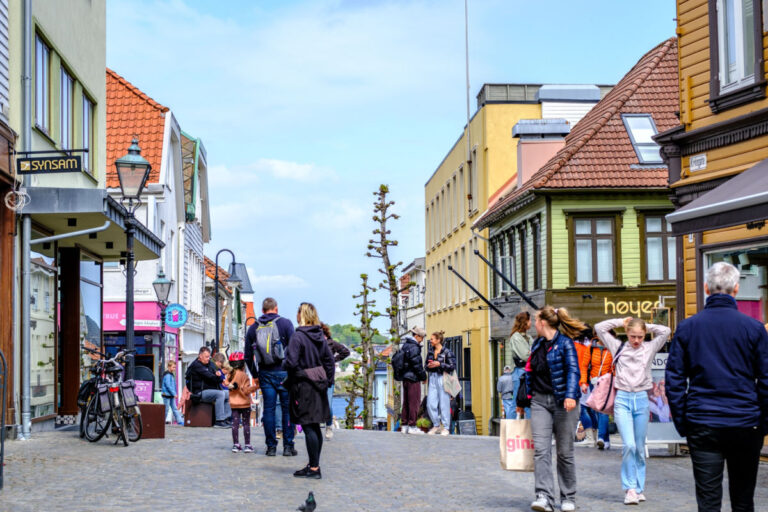 The biggest single group of foreign-born residents come from Poland, with approximately 3,100 people. There are also groups of more than 1,000 people from the United Kingdom and Germany.
Other common nationalities include Syria, Ukraine, Denmark, Sweden, India, Romania, Lithuania, and France.
Housing options in Stavanger
As with all Norwegian cities, there is a diverse range of accommodation options in Stavanger. These range from basement bedsits known as a hybel through to full-size detached family homes.
The best option for you will depend on housing availability in the area in which you choose to live (more on this later), your transportation needs and your budget. Here are our guides to housing in Norway.
Are you a student? If you are about to start a degree or exchange programme at the University of Stavanger, you're eligible to apply for student housing through SiS Housing. More on this later.
Healthcare in Bergen
Norway's healthcare system is founded on the principles of universal access, decentralisation and free choice of provider. When you first move to Norway, you will be allocated a GP. Your GP serves as your primary interaction point with the healthcare system.
If you're unhappy with your GP, you do have the right to choose a different one. As long as your preferred GP or medical centre has vacancies, you can move your registration. It's possible to do this twice per year, and is free of charge.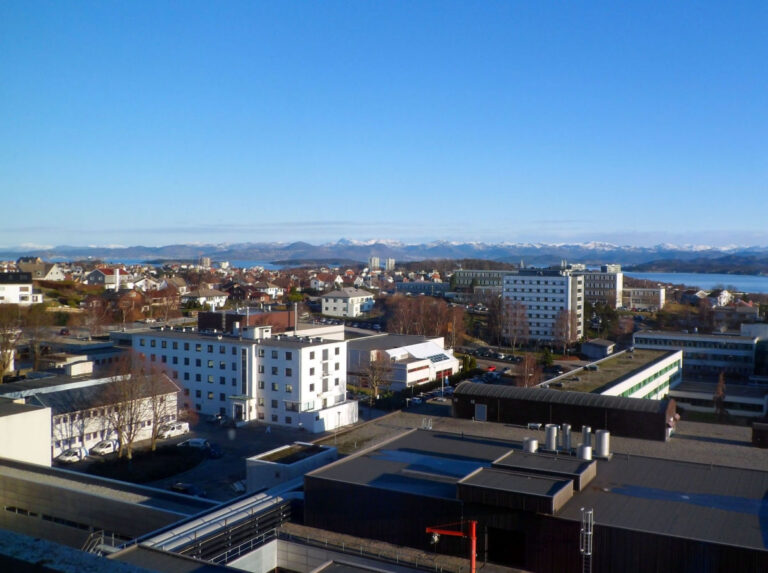 With more than 7,500 employees, Stavanger Universitetssjukehus (Stavanger University Hospital) is one of Norway's biggest hospitals.
Although the main hospital is situated in Stavanger, there are several clinics and medical centres associated with the hospital elsewhere.
Districts of Stavanger
Stavanger municipality splits the city into the following seven districts: Hundvåg, Taste, Eiganes and Våland, Madla, Storhaug, Hillevåg, and Hinna. Which of these you live in will effect where you get certain public services from, including the welfare office.
Stavanger resources: Find a hotel – Car rental – Book tours
The city centre is split between the district of Eiganes and Våland, and the district of Storhaug. The former contains Gamle Stavanger, while the latter includes much of the centre's shopping area. Forus business park is in the district of Hinna.
Working in Stavanger
If you're considering a move to Stavanger, you might already have a job lined up or at least a particular industry in mind. However, if you're still in the early stages of your relocation planning, you might be curious about the employment opportunities available in the city.
Like in all Norwegian cities, the public sector is a significant employer in Stavanger. However, securing a job in this sector usually requires proficiency in the Norwegian language, which can take several months or even years to acquire.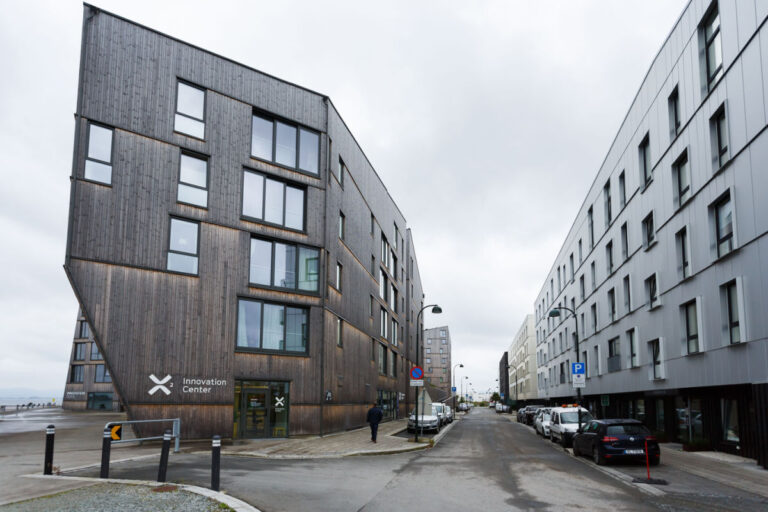 Stavanger is known as the oil capital of Norway, with the petroleum industry playing a crucial role in the city's economy. Major international energy companies, including Equinor (formerly Statoil), have their headquarters here. The city is also home to the Norwegian Petroleum Directorate and the Petroleum Safety Authority Norway.
The Port of Stavanger is a significant maritime hub, serving both commercial and passenger vessels. It's also a popular destination for cruise ships touring the beautiful Norwegian fjords.
The University of Stavanger and its associated research institutions are also key employers in the city. The university employs over 3,000 faculty and staff, and it's particularly known for its research and education in the fields of energy and petroleum.
A significant number of its academic staff and postgraduate students come from outside Norway, contributing to the city's diverse and international character.
Student life in Stavanger
The University of Stavanger (UiS) is a dynamic and innovative institution that hosts over 12,000 students across its four faculties:
Faculty of Science and Technology
Faculty of Arts and Education
Faculty of Social Sciences
Faculty of Health Sciences
The International Office at UiS provides critical support for international students and staff. They offer a variety of seminars on topics ranging from understanding the Norwegian tax system to orientation courses for new employees.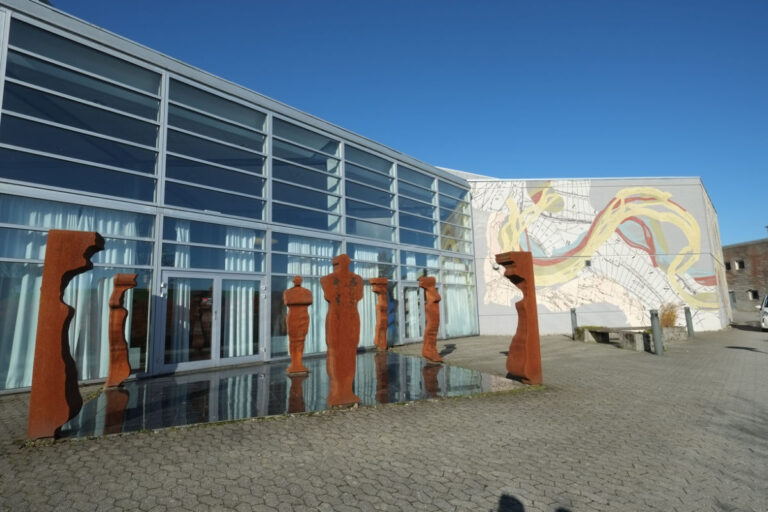 There are over 100 student groups and societies in Stavanger, covering a wide range of interests from sports and arts to politics and entrepreneurship. These groups provide a fantastic opportunity for new students to meet people, immerse themselves in Norwegian culture, and improve their language skills.
Most international students live in accommodation provided by Studentsamskipnaden i Stavanger (SiS), the student welfare organization.
SiS manages around 1,500 housing units, which include single and double rooms, as well as some studio apartments and larger units suitable for families. The typical monthly rent ranges from NOK 3,000 to 4,500.
The student village at Ullandhaug is a popular choice for many international students. Located close to the university, it offers a vibrant community and easy access to campus facilities. The village is home to several hundred students, creating a lively and diverse environment that enhances the student experience in Stavanger.
Public transport in Stavanger
Is a car necessary for living in Stavanger? Not necessarily, although it definitely helps. While having a car can be convenient, especially for families, the public transportation system in Stavanger could be a good alternative, depending on where you reside.
Read more: Stavanger to Make Public Transport Free
Stavanger's public transportation system consists of an extensive network of buses and ferries, coordinated by Kolumbus. Buses cover the city and extends to the surrounding areas, including Sandnes, Sola, and Randaberg. There are also express bus services connecting Stavanger with other cities in the region.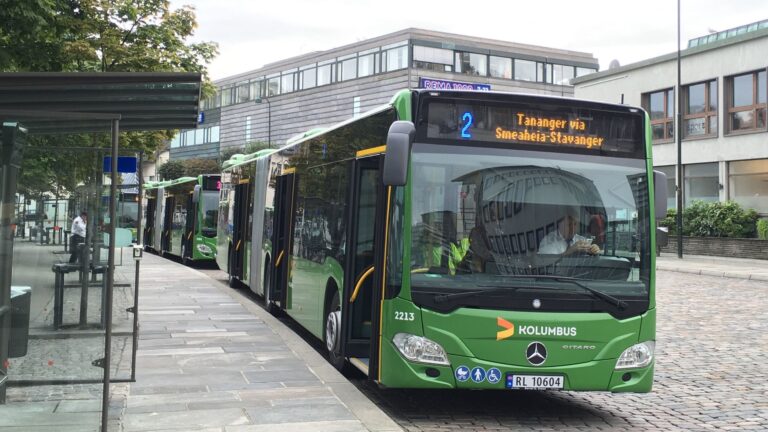 The city's ferry service provides connections to the islands in the Stavanger archipelago. It's not just a mode of transport but also a great way to enjoy the stunning coastal scenery.
The Kolumbus app is an essential tool for new residents and tourists alike. It provides information on bus and ferry routes, timetables, and allows you to purchase tickets digitally. It's the easiest way to navigate the city's public transport system.
Landmarks of Stavanger
Whether you've recently moved to Stavanger or are visiting as a tourist, exploring the city's landmarks is a fantastic way to familiarize yourself with its rich history and culture.
Old town (Gamle Stavanger)
This historic area of the city is known for its beautifully preserved wooden houses dating back to the 18th and 19th centuries.
Stavanger resources: Find a hotel – Car rental – Book tours
Once the home of sailors and workers, today Gamle Stavanger it's a charming district with narrow cobblestone streets, small gardens, and galleries.
Stavanger Cathedral
Built in the early 12th century, Stavanger Cathedral (Stavanger domkirke) is the oldest cathedral in Norway that has retained its original appearance. The cathedral, which combines Romanesque and Gothic architectural styles, is still in use today and stands as a testament to the city's long history.
Norwegian Petroleum Museum
Reflecting the city's status as the oil capital of Norway, the Norwegian Petroleum Museum offers fascinating insights into the country's oil and gas industry. Its modern architecture, interactive exhibits, and offshore installations make it a must-visit landmark.
Sverd i fjell
This monumental sculpture, located at the Hafrsfjord fjord, commemorates the Battle of Hafrsfjord in 872, which led to the unification of Norway.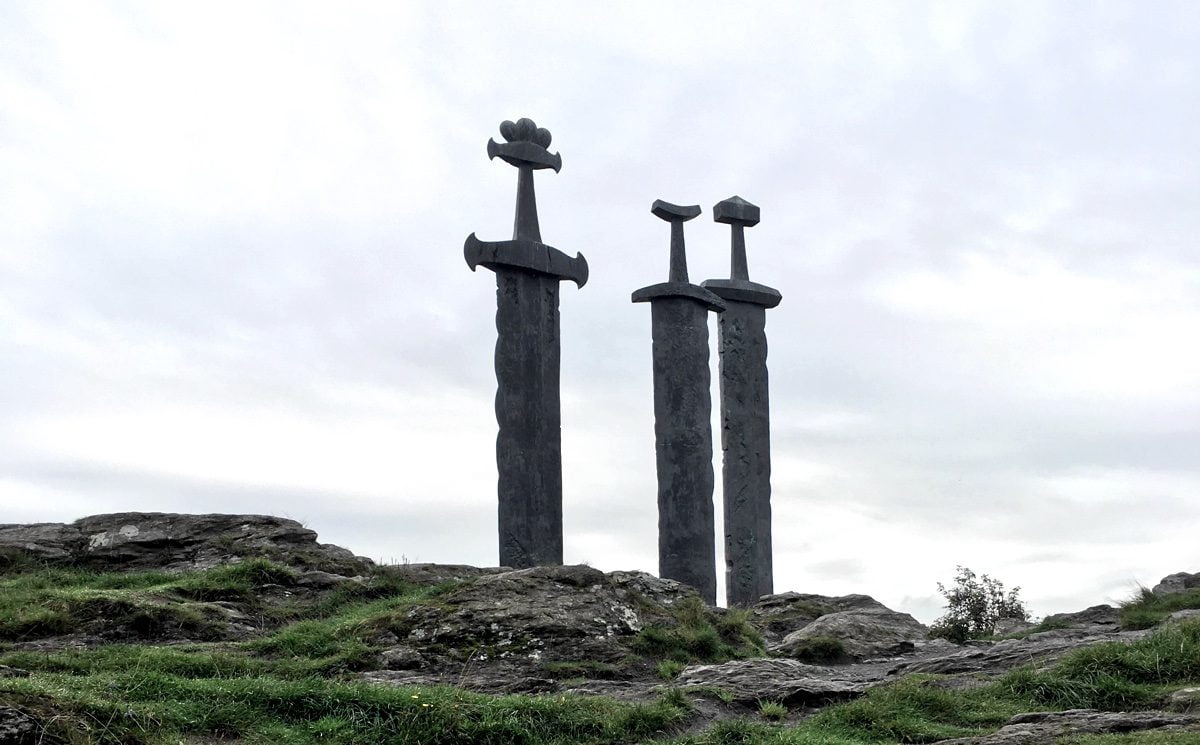 The three giant bronze swords, embedded in the rock, are a powerful symbol of peace, unity, and freedom.
Stavanger harbour
Stavanger's bustling harbour is a vibrant area filled with restaurants, shops, and historic buildings. It's also the starting point for many fjord cruises and the sightseeing ferries to the Lysefjord.
Other notable landmarks in Stavanger include the Stavanger Museum, with its extensive collections on cultural and natural history, and the colorful street art that adorns many of the city's buildings, a testament to Stavanger's status as a city of culture.
Hiking in Stavanger
One of the most beloved activities in Stavanger, particularly among locals, is hiking. If you're looking to immerse yourself in the local culture, meet new people, and make friends, then it's time to lace up your hiking boots and start exploring.
Some of Norway's most famous hiking trails are within a day trip of the city, including Preikestolen and Kjeragbolten.
Preikestolen (The Pulpit Rock) is one of the most popular hikes in the region. This iconic natural landmark, a flat-topped cliff rising 604 meters above the Lysefjord, is a favorite among locals and tourists alike. The hike to the top is challenging but rewarding, offering breathtaking views of the fjord and surrounding landscapes.
Another popular hiking destination is Kjeragbolten, a boulder wedged in a mountain crevice above the Lysefjord. The hike to Kjeragbolten is more demanding than the one to Preikestolen, but the thrill of standing on the boulder, suspended over a 984-meter deep abyss, is an unforgettable experience.
For a less strenuous walk much closer to Stavanger, consider the trail around Mosvatnet, a beautiful lake located close to the city centre. The trail is well-marked and suitable for all fitness levels.
Remember, hiking in Norway can be challenging due to the rugged terrain and unpredictable weather, so it's important to be well-prepared and to respect the nature.
Read more: Hiking in & around Stavanger
Always check the weather forecast before setting out, wear appropriate clothing and footwear, and bring plenty of water and snacks.
What's on in Stavanger
From music and film festivals to food and cultural events, there's always something happening in Stavanger.
One of the most notable events is the Stavanger International Jazz Festival (MaiJazz), which attracts jazz musicians from around the world every May. The festival offers a mix of traditional and contemporary jazz, performed in various venues across the city.
The Stavanger International Chamber Music Festival is another highlight in the city's cultural calendar. Held every August, it brings together renowned musicians for a week of intimate concerts in historic venues.
Food lovers should not miss Gladmat, Scandinavia's largest food festival. Held every July in Stavanger's harbor area, the festival celebrates Norway's culinary traditions, with local restaurants and producers offering a wide range of delicious dishes.
Other notable events include the Stavanger Wine Festival, Nuart Street Art Festival, Stavanger Marathon and Stavanger International Film Festival.
Weather in Stavanger
Stavanger, like much of west coast Norway, is known for its changeable weather. While it doesn't receive as much rainfall as Bergen, it still experiences a fair amount of wet weather throughout the year.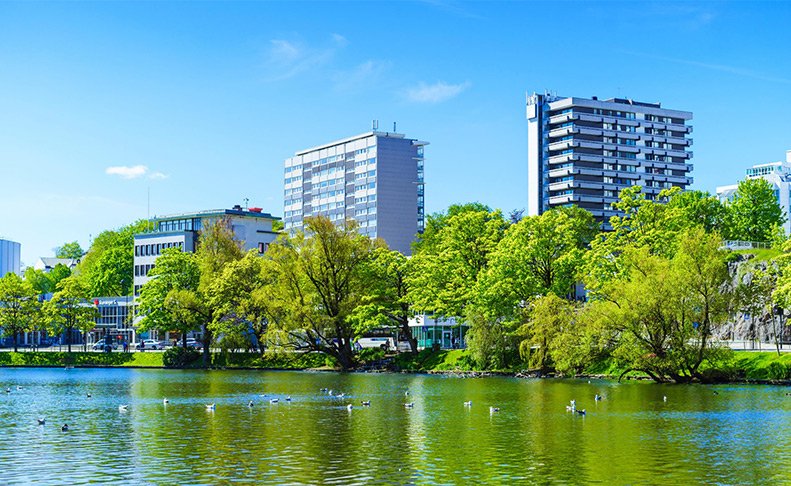 Rain is a common occurrence, so it's always wise to be prepared for it, regardless of the forecast or current conditions. This is an important consideration when deciding what to wear for the day, especially if you're a tourist.
The city experiences a temperate oceanic climate, with mild winters and cool summers typically expected. Snowfall is relatively rare, but it does occur during the winter months.
Despite the frequent rain, Stavanger does enjoy clear, sunny days, particularly in the summer. These are perfect for exploring the city's beautiful parks, hiking in the nearby mountains, or taking a boat trip on the fjord.
Sport in Stavanger
Stavanger is home to the football club Viking FK. Despite facing some challenges in recent years, the club has a rich history and a dedicated fan base. Viking FK plays their home games at the 16,300-capacity SR-Bank Arena.
The club has won the Norwegian Premier League eight times, but not since 1991. Viking did, however, lift the Norwegian Cup in 2019 after a Zlatko Tripić penalty was enough to see off Haugesund 1-0.
Ice hockey is also well-represented in Stavanger. The city's team, Stavanger Oilers, is one of the top teams in Norwegian ice hockey. The Oilers have won the league championship multiple times and play their home games at the DNB Arena.
Handball is another popular sport in Stavanger. Viking Håndball, have competed in the top tier of Norwegian handball but have struggled in recent years.
Stavanger travel tips
Many visitors to Stavanger are embarking on an adventure to explore the stunning Norwegian fjords or perhaps stopping by the city on a cruise ship. Regardless of the length of your stay, Stavanger offers loads of activities to keep you engaged.
We've already covered several attractions in the section on Stavanger landmarks above, including Old Stavanger, Stavanger Cathedral, and the swords monument. Other things to do include the Norwegian Children's Museum and the Stavanger Art Museum.
If you're pressed for time, consider booking a tour. This can take the stress out of planning and ensure a memorable experience, no matter which option you choose.
While there's plenty to see and do in Stavanger, there are also many wonderful places within easy reach by bus, train, or car. If you're planning an extended stay, consider taking one of the many day trips from Stavanger such as the Lysefjord.
Where to stay in Stavanger
Stavanger offers a wide range of accommodation options, from luxury hotels to budget-friendly hostels.
Stavanger resources: Find a hotel – Car rental – Book tours
For a touch of luxury, consider the Radisson Blu Atlantic Hotel, located in the heart of the city with stunning views over the lake. The hotel is setup as a conference hotel but offers good deals for tourists, especially at weekends.
Alternatively, Thon Hotel Maritim offers comfortable rooms and is just steps away from Old Stavanger.