Bergen has a stunning natural setting, a rich cultural heritage and thriving maritime, education, media and tourism industries. Here's everything you need to know about living in or visiting Bergen, Norway.
Nestled between mountains and with many kilometres of coastline, Bergen is a natural beauty and very much the capital of the fjord Norway region. Bergen is a city with a truly unique identity in Norway and as such, has a friendly rivalry with the capital, Oslo.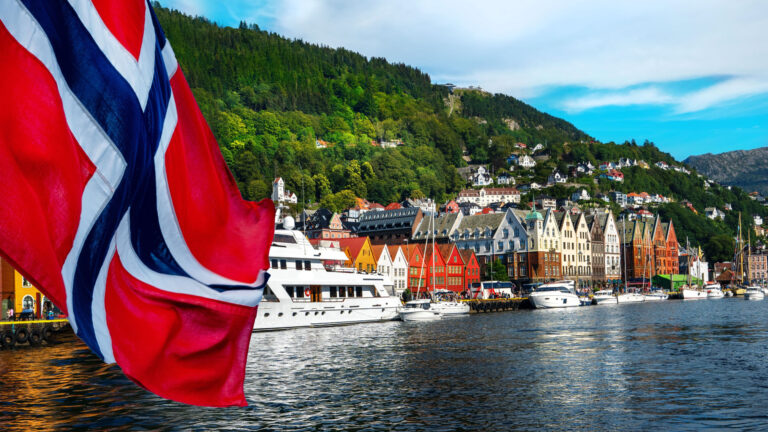 Although I have never lived in Bergen, I have visited the city more than 10 times. Sometimes for work, sometimes for events and sometimes simply to wander around and see something new.
From its rich history and culture to its lively atmosphere and outdoor opportunities, Bergen truly has something for everyone. Whether you're a student, professional or retiree, this complete guide will help you navigate the city and all it has to offer.
But this guide isn't just for those considering a move to Bergen. I'll also touch on plenty of information useful to those planning a trip to this west coast city. Let's get going!
An introduction to Bergen
Norway's second largest city is home to around 288,000 people. That's less than half of the nation's capital, Oslo. It's broadly equivalent to Stoke-on-Trent or Newcastle upon Tyne in the UK. For our American readers, Bergen's size is about the same as Buffalo NY, Durham NC or Anchorage AK.
Bergen attracts tourists because of its beautiful natural setting but also its location on the coast. The city is perfectly sited for access to the fjords, so it has one of Norway's biggest cruise ports.
Meanwhile, the city's airport welcomes multiple daily flights from Oslo and many international destinations, while the Oslo to Bergen railway is considered by many to be one of the world's must-do rail journeys.
Bergen's rich history dates back to the Viking Age. The city grew quickly, most notably during its time as a member of the Hanseatic League trading network. Bergen's economy grew on trade in fish and timber. In more recent times it became a centre of shipbuilding and maritime industries.
Bergen resources: Find a hotel – Car rental – Book tours
The latter remains important today, alongside tourism, as a key element of modern Bergen. Media and academia are other important elements to 21st century Bergen.
Where is Bergen, Norway?
Bergen is located on Norway's west coast between Trondheim and Stavanger. It is about 300 kilometres from Oslo, as the crow flies over the Scandinavian mountains.
Bergen is the capital of Vestland, a county which comprises the former counties of Hordaland and Sogn og Fjordane. They merged to form Vestland in 2020 as part of Norway's regional reorganisation.
Bergen is also known as the gateway to the famous Norwegian fjords. Several of Norway's most famous fjords including the Sognefjord and Hardangerfjord are located within a few hours' drive from the city.
Fascinating facts about Bergen
One of the best ways to get to know a city's personality is to discover some random facts about it.
Of the population of 288,000, approximately 19% have an immigrant background. That means the person was either born outside of Norway, or both they were Norwegian born to foreign-born parents.
Our list of Bergen facts includes the city's nickname, information about the dialect spoken in Bergen, how much rain you can expect, and so much more.
History of Bergen, Norway
Perhaps more than any other Norwegian city, the history of Bergen is a fascinating one full of twists and turns. How did Bergen grow from a tiny little market town to a city of global significance? The story starts at the end of the Viking Age.
Olav Kyrre founded the city as Bjørgvin sometime around the year 1070. Prior to this it's likely a trading settlement existed, but Olav gave it city status. Over the following 150 years, Bergen's influence as a trading hub grew thanks to its favourable west coast location.
During the 13th century, Bergen took over capital city status from Nidaros (now Trondheim). The construction of Bergenshus fortress began during this time, although the city's role as capital city was a relatively short one.
Bergen's Hanseatic Era
Although Oslo became the capital city, Bergen remained Norway's biggest city throughout the Middle Ages. Bergen had established itself as the principal source of dried cod for Europe. North Germanic traders in particular came to Bergan to buy the cod, which was sourced from Northern Norway.
The influence of those traders grew and Bergen went on to become a full member of the Hanseatic League in the middle of the 14th century. For the next few hundred years, Bergen largely prospered.
Bergen in World War II
Norway was occupied throughout almost all of the second world war. As Norway's second biggest city and a strategic location between Germany, the UK and Northern Norway, Bergen gradually became an important stage during the conflict.
Read more: The History of Bergen
Moving to Bergen
When you first arrive, it's likely you'll be dealing with the service centre for foreign workers. Known as the SUA, these centres are designed to be a one-stop shop for new residents in dealing with the authorities.
The SUA brings together the public services of the Police, the Norwegian Directorate of Immigration (UDI) and the Tax Administration. Guidance is offered in English and several other languages.
In Bergen, the SUA is co-located with Skatteetaten (the Norwegian Tax Administration) at Nonnesetergaten 4. However, you can't just turn up. You'll need to book an appointment in advance in order to use the centre.
Living in Bergen
Bergen is home to tens of thousands of foreign-born residents among its population of 288,000 people. The overall population is forecast to grow to 301,200 by 2030 and 323,799 by 2050.
The biggest single group of foreign-born residents come from Poland, with approximately 6,800 people. There are also groups of between 1,500 and 2,250 people from Lithuania, Somalia, Iraq, Germany and Eritrea.
Want to listen to some local insights? Tour guide Emma Vestrheim joined our podcast in 2020 to chat about her move from Australia to Bergen and her experiences of living in the city. Listen to the show here.
Housing options in Bergen
As with all Norwegian cities, there is a diverse range of accommodation options in Bergen. These range from basement bedsits known as a hybel through to full-size detached family homes.
The best option for you will depend on housing availability in the area in which you choose to live (more on this later), your transportation needs and your budget. Here are our guides to housing in Norway.
The organisation Sammen manages a large amount of student accommodation. We cover more about student housing later in the article.
A student can expect to pay between NOK 3,000 and NOK 4,500 per month for a simple room in shared accommodation. On the private market, a room in a shared house or apartment is likely to be NOK 1,000 more. A private apartment close to the city centre will start from around NOK 9,000 per month.
Healthcare in Bergen
The Norwegian healthcare system is founded on the principles of universal access, decentralisation and free choice of provider. When you first move to Norway, you will be allocated a general practitioner. This is likely to be in a medical centre with multiple doctors.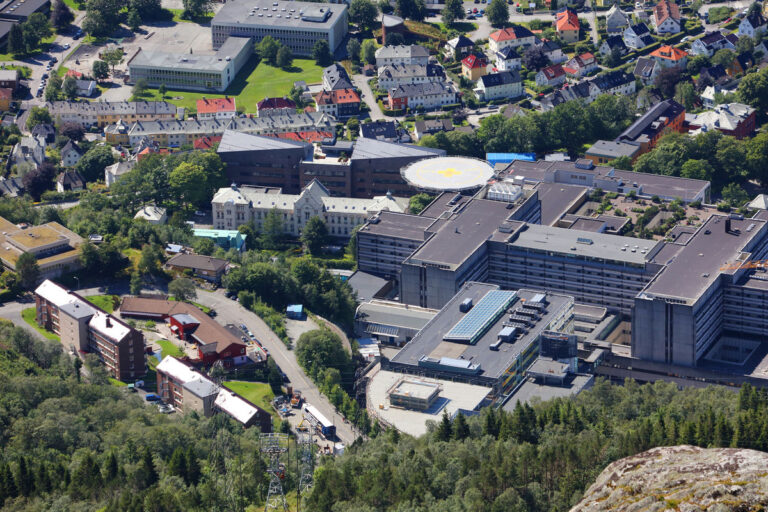 Unhappy with your GP? Provided the medical centre of your choice has vacancies, you can register with them free of charge. You are permitted to change your registration up to twice per year.
The main hospital for much of western Norway is located in Bergen. Haukeland University Hospital is located in the Årstad, a short drive south of the city centre. The recent extension to the city's light rail serves the hospital.
People travel from all over Vestland county for appointments at the hospital. It is also one of the city's biggest employers. Haukeland is a national resource centre for burn injuries, air-pressure injuries from diving, certain eye surgeries and brain tumours.
Districts of Bergen
Bergen municipality splits the city into the following districts: Arna, Bergenhus, Fana, Fyllingsdalen, Laksevågen, Ytrebygda, Årstad, and Åsane. Which of these you live in will effect where you get certain public services from, including the welfare office.
Within each of these administrative districts are areas with better-known names, however.
For example, Bergenhus covers most of downtown Bergen but also the Sandviken area to the northeast. Sandviken is well-known for its large, wooden houses and is home to a mix of people from families to students. There are also many residential homes on the Nordnes peninsula.
Nygårdshøyden is known as student central in Bergen. As well as being home to the university, Nygårdshøyden is the first choice for many students seeking accommodation in Bergen. A home here is walking distance from the university and the central area.
An area of much development in the 1960s and 1970s, Fyllingsdalen is an urban residential neighbourhood recently connected to the city centre by the new light rail line. There are many borettslag housing developments in the area.
Home to important cultural heritage and previously an agricultural district, Åsane has been largely developed over the past decades. It is home to the city's main prison and a large IKEA store.
Working in Bergen
If you're planning to move to Bergen, you likely already have a job offer or at least a job in mind. But perhaps you're earlier in your relocation journey and wondering what options there are in the city.
As with all Norwegian cities, the public sector is a major employer. However, gaining employment in this sector generally requires good Norwegian language skills, something that will take many months if not years to obtain.
Other important industries in Bergen are media and the maritime industry. The Port of Bergen is the most important maritime hub on the west coast and is one of the most popular cruise destinations in Northern Europe.
The University of Bergen and related research institutes are also important employers, particularly of foreign researchers. The university employs more than 4,200 faculty and staff, and about half of graduating doctors are from outside Norway.
Student life in Bergen
Claiming to be the most cited university in Norway, the University of Bergen (UiB) hosts almost 20,000 students across its seven faculties:
Fine Art, Music and Design
Humanities
Law
Mathematics and Natural Sciences
Medicine
Psychology
Social Sciences
UiB International Centre is an important service for international students and staff. They also run seminars on diverse topics including paying tax in Norway and an introduction course for new employees.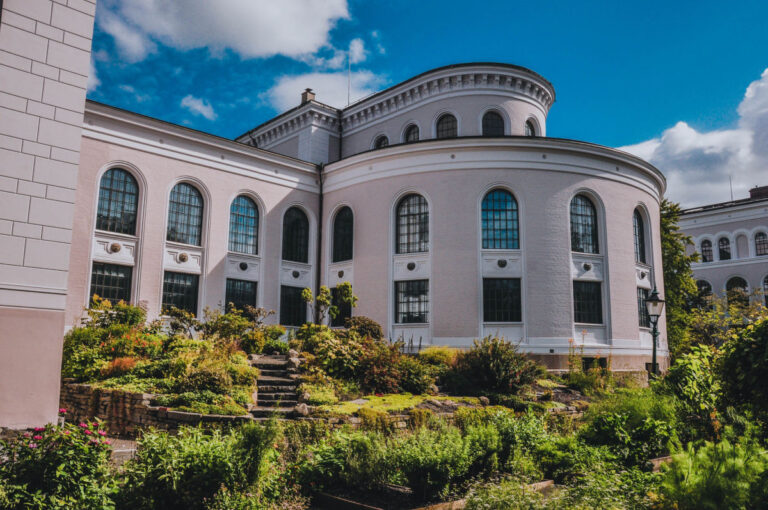 There are around 170 groups and societies serving the student population of Bergen. Everything from sports, arts, politics and entrepreneurship is represented, so you are sure to find something of interest for you if you are a news student in the city. They are a great way of meeting new people and improving your Norwegian skills.
Most international students live in accommodation owned by Sammen. Around 4,000 accommodation units, mainly single or double rooms but also some studios and larger apartments designed for families, are managed by Sammen. Typical monthly prices range from NOK 3,000 to 4,500.
The suburb of Fantoft is home to many international students. Here you'll find Samoan's largest residential units, home to some 1,100 students.
Public transportation in Bergen
Do you need a car to live in Bergen? Not necessarily. While a car is always useful especially with a family, Bergen's public transportation could be a good solution for you, depending on where you live.
There are two light rail lines, known locally as Bybanen, plus an extensive network of local buses. It is coordinated by Skyss. At the time of writing, single tickets for the central zone cost 40kr in advance. A monthly pass costs 755kr.
The first light rail line runs from downtown Bergen all the way out to the airport. The new second line connects central Bergen with Haukeland Hospital and the Fyllingsdalen neighbourhood.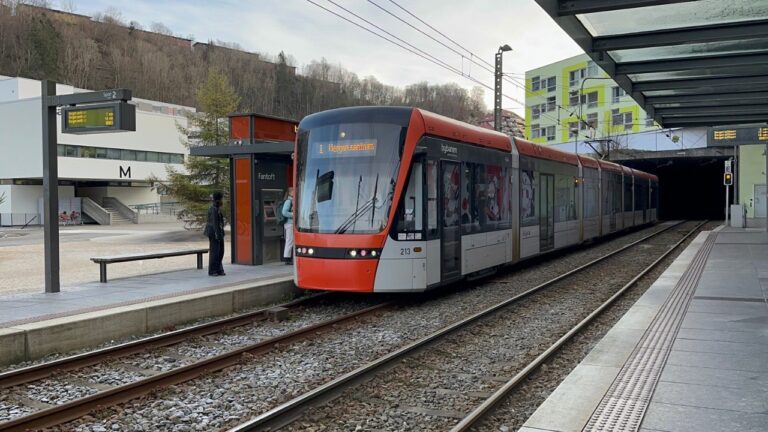 Downloading the Skyss app to find bus routes, timetables and buy tickets is a must-do for new residents. Tourists may also find the app the easiest way to use the city's public transport system.
Read more: Public transport in Bergen
Landmarks of Bergen
Whether you are a new resident or visiting the city as a tourist, Bergen's landmarks are important ways to get to know the city.
UNESCO World Heritage site Bryggen
For centuries, these colorful former trading houses were the driver of Bergen's economy as a key part of the Hanseatic League.
Bergen resources: Find a hotel – Car rental – Book tours
Whereas Bergen's success was built on trading Norwegian cod for grain, salt and textiles, today you're more likely to find troll trinkets and postcards. However, hidden down the alleyways are much more interesting galleries, many filled with artwork from locals.
Mount Fløyen
Bergen is known for its mountainous surroundings. The best known of these is Fløyen. It's far from the biggest, but it's the most accessible thanks to the Fløibanen funicular railway that links Fløyen with downtown Bergen.
Bergen Fish Market
Since the early Middle Ages, Bergen's fish market has been an important meeting place for fishermen, merchants and shoppers.
Today, a large indoor food hall hosts a year-round fish market and restaurants, while there are stalls outside that are open for most of the year.
Fantoft Stave Church
Rebuilt in the traditional style following a 1992 fire, this wooden church is a wonderful example of stave architecture.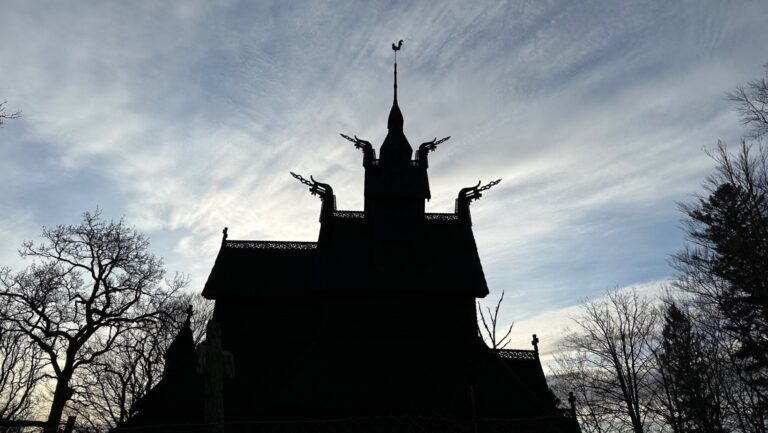 Built sometime around 1150, the original church actually stood in Fortun in Sogn. To prevent its destruction, the church was relocated piece-by-piece to its present location in 1883.
The Blue Stone
A sculpture by artist Asbjørn Andresen, the Blue Stone is the default meeting place for many people in central Bergen. Situated at Kong Olav Vs plass by Hotel Norge, the angled concrete sculpture is covered in slabs of blue Brazilian sodalite stone.
Other key Bergen landmarks include Mount Ulriken and Bergenhus fortress.
Hiking in Bergen
One of the most popular things to do in Bergen—especially for locals—is hiking. If you want to quickly feel at home in Bergen, meet local people and make friends, strap on your hiking boots and start exploring.
Mount Fløyen is the starting point for many hikes, which is why there's so many locals using the Fløibanen funicular early on weekends. Many trails are signed, with most starting out past the cafe and playground.
Fløyen is also the start or end point of the famous hike between the top of the Fløibanen funicular and the cable car over on Mount Ulriken. This hike is not for the inexperienced, but it offers tremendous views across the city and its surroundings.
Read more: Hiking in Bergen
What's on in Bergen
Throughout the year, Bergen plays host to festivals and events that celebrate the unique character of the city. From music festivals and cultural celebrations to food and drink events, there is something for everyone in Bergen.
Notable events include Bergen International Festival, Natt Jazz, Bergenfest, and Bergen International Film Festival.
Read more: What's on in Bergen
Weather in Bergen
It's no great secret that Bergen is one of the wettest towns in Europe. Rain is the default expectation when living in the city, but that doesn't mean it rains all day, every day.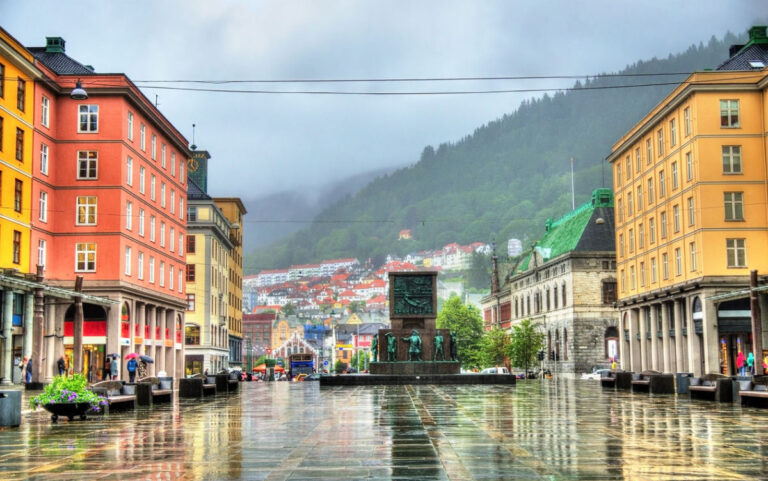 What it does mean is that you should always be prepared for it to rain, no matter the forecast or the current conditions. Keep this in mind when planning what footwear to put on for the day, especially if you are a tourist.
Read more: The weather in Bergen
Sport in Bergen
Bergen is home to SK Brann, one of Norway's biggest football clubs but one which has struggled for success on the pitch in the last decade. Playing their home games at the 17,686-capacity Brann Stadion, Brann last won the Norwegian Premier League in 2007.
Previously known as Sandviken, SK Brann also has a women's football team that has enjoyed more success in recent years.
Handball is a popular sport throughout Norway. Bergen's team play in the second tier and rather than have their own home ground, they tour around the various sports halls of the city for their home matches. Haukelandshallen and Framohallen are the most frequent locations.
Bergen's ice hockey club play in the second tier of Norwegian ice hockey. The team plays their home matches at Bergenshallen, south of central Bergen.
Bergen travel tips
Many visitors to Bergen are starting a journey on the Norway coastal voyage or perhaps visiting the city on a cruise ship. No matter how long you're in Bergen for, there are plenty of things to do to keep you occupied.
Bergen resources: Find a hotel – Car rental – Book tours
We covered several in the section on Bergen landmarks above, including Bryggen, Mount Fløyen and Fantoft stave church. Other things to do include Bergen aquarium and the KODE art museums.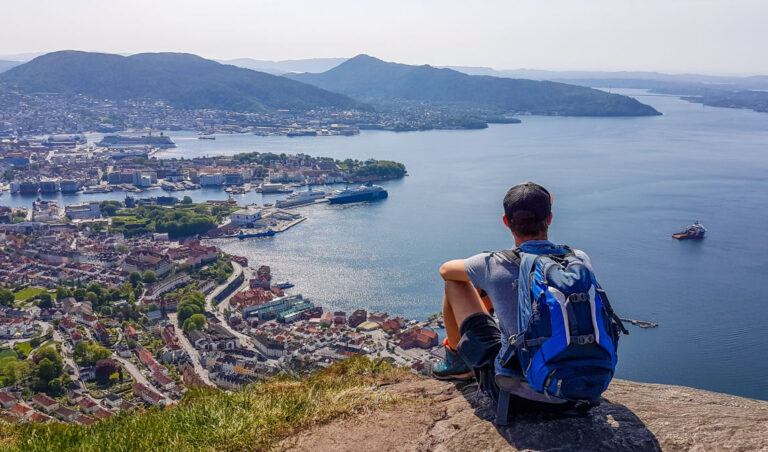 If you're short on time, consider booking yourself a tour. This will take the stress away and give you a good experience no matter which one you choose.
As much as there is to see and do in Norway's second city, there are so many more great places within easy reach by bus, train, or car. Consider one of the many day trips from Bergen if you are planning an extended stay.
Voss is a good option for those without a car. The small town is known for its hiking, skiing and extreme sports.
Farther afield, the picturesque fjordside village Flåm can be reached by the iconic Flåm railway. However, depending on the time of year, you might want to stay overnight before returning to Bergen.
Where to stay in Bergen
There is a good range of accommodation in and around Bergen, from luxury hotels to budget rooms.
At the highest end, Hotel Norge offers a touch of historic luxury in a fantastic downtown setting. Radisson Blu Royal is a good option if you want to stay close to the world heritage site at Bryggen.