Road trips are one of the most popular ways to visit Norway, but driving in the country isn't cheap. Here's how to get the best prices on car rental in Norway.
Are you researching a road trip in Norway? Great choice! Norway's roads give you access to some of the most astonishing scenery in all of Scandinavia. From the famous Atlantic Road to dizzying mountain passes, Norwegian road trips are memorable experiences.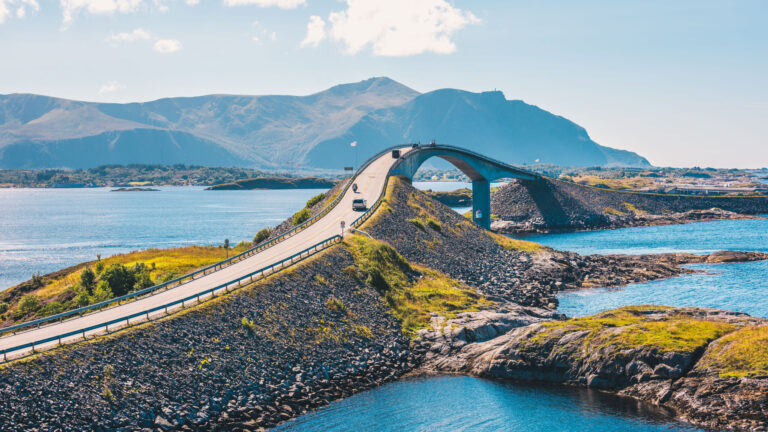 But there's no getting away from the downside. Driving in Norway can be expensive. If you're planning to rent a car, the best way to get a good deal is to book as far in advance as possible.
Search multiple car rental companies
We've partnered with Discover Cars to bring you the opportunity to find the best rates from a multitude of car rental providers.
Simply enter your destination and intended travel dates. Make sure your country of residence and age range is correct. Then you'll be presented with a range of options from different rental companies.
Start Here: Search for car rental availability and rates in Norway
Once you've secured your rental vehicle, be sure to look up our articles on the rules of the road and the national scenic routes. They should both prove invaluable in helping you plan a road trip to remember.
What to know about car rental in Norway
As with all car rental companies, there are a few options when hiring a vehicle in Norway. These primarily relate to insurance. Be sure to understand the terms and conditions of the policy you sign up for.
Things to look for include the deductible that you would have to pay in the event of an accident or damage to the car. You should also double-check the rules on fuel. In most cases, you should return the vehicle full or you'll face a hefty charge.
The Discover Cars search engine allows you to compare the rates of several car rental companies no matter where you will be travelling in Norway.
The best rates are usually available from rental stations at airports. While one-way rentals are possible from some companies, it's much cheaper to return a vehicle to the same place.