It was long overdue. Finally, after more than two years of living in Norway, I got behind the wheel of a car for the first time!
Living in Oslo for two years I had little need for a car, but after living in Trondheim for a few months I've been itching to get out and explore the country on four wheels. I'm no petrol-head, but I do love driving and really miss the ability to just get up and go somewhere, without checking public transport timetables.
Joining me for the first ever Life in Norway Road Trip were Gerry and my travel buddy from the UK, Chris.
It took several hours of driving through Sør-Trøndelag before we reached Møre go Romsdal, including a 75-minute detour thanks to a wrong turning at Kyrksæterøra. My bad! One thing you quickly notice about this part of Norway is there aren't many roads, but equally there aren't many signs, so although you think a map might not be necessary, I highly recommend taking one and checking it at every intersection…
Despite the delay we decided to continue with our plan to reach Kristiansund via the longer coastal route, over the quicker but less interesting E39. It was SO the right decision.
Around every twist and turn of the single-lane road was another glorious photo-op: picnic areas overlooking perfectly still water, mountains reflecting in the mirror-like fjords, red wooden buildings contrasting with the green grass and blue water, I could go on, but instead I'll just show you: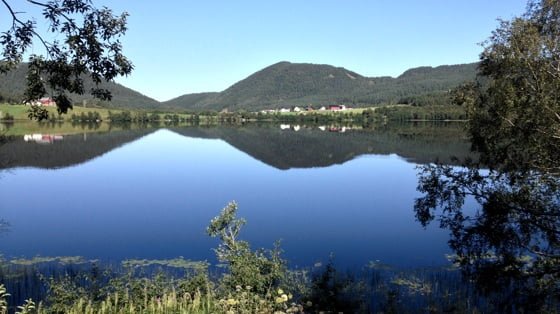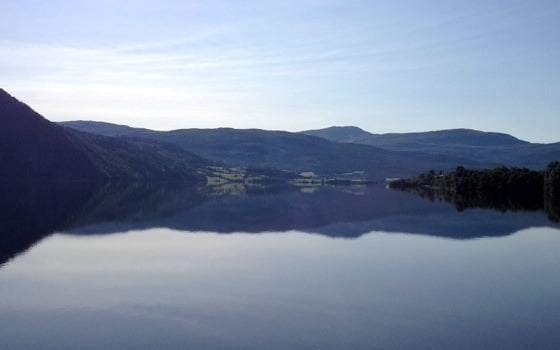 A couple of tolls, ferries, and tunnels later, we arrived at Kristiansund, a town I've wanted to visit for a long time now. Sadly as time was running away from us, we had to drive straight through and into the long Antlanterhavstunellen, a 5.7km tunnel under the Atlantic Ocean. The disturbing thing about this tunnel isn't the length, it's the depth. At 250m it's one of the deepest undersea tunnels in the world, and boy does it feel strange driving down, down, down…
We finally emerged on Averøya, an island community famous for its links to the mainland via the tunnel at one end, and at the other, our main attraction for the day – Atlanterhavsveien.
The Atlantic Road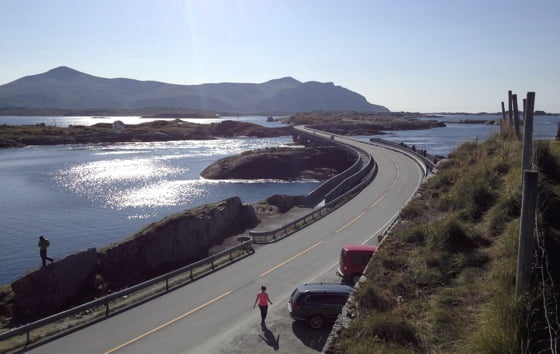 I guarantee you'll know the Atlantic Road (Atlanterhavsveien) even if you think you don't. The 8.3km section of Norwegian County Road 64 has been featured in TV commercials for over 10 different car manufacturers.
It is built on several small islands and skerries, which are connected by several causeways, viaducts and eight bridges—the most prominent being Storseisundet Bridge (Wikipedia)
It's a remarkable engineering project that combines function and design beautifully, and is quite rightly famous with driving enthusiasts around the world. But the road is almost as famous for its extreme weather. Exposed to the often-harsh wind and rainstorms of the Norwegian sea, the Atlantic Road frequently takes a battering.
Not today though!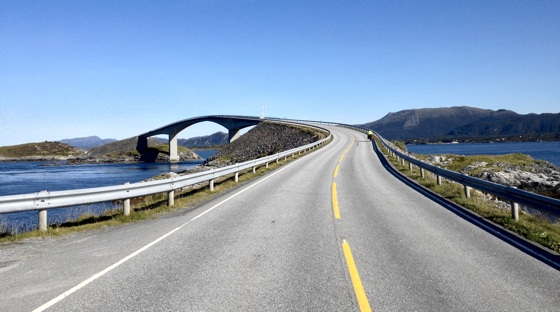 Driving the road was a real thrill, but I did have to keep my wits about me. Thankfully there's plenty of places to stop along the way so I was able enjoy the views as much as Gerry and Chris. Plenty of people choose to fish from one of the bridges, though whether that's due to good fishing conditions or the novelty factor I really don't know.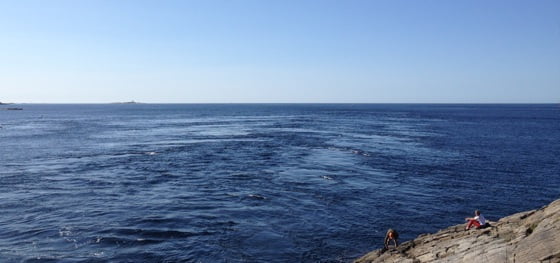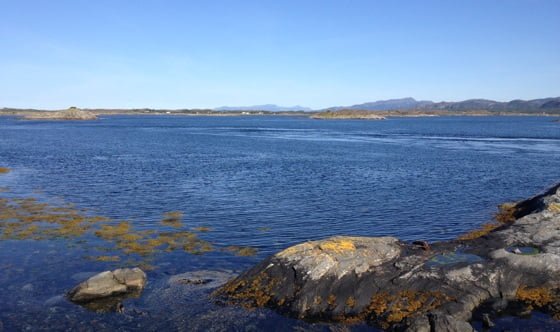 For me the Atlantic Road was well worth the visit, but would it have been worthwhile as a one-off? It's a hard question to answer, but as part of a longer road trip in the Møre go Romsdal region, it's an absolute must. Just make sure you allow plenty of time.
Speaking of which, time really was racing on, so we took off in our little Civic and sped along (via a couple more ferries and yet more tunnels, of course!) to our destination for the night, Åndalsnes.
Åndalsnes Camping
Despite its small size, Åndalsnes is a popular place with travellers, mainly because of its train station, a rare sight in this part of fjord Norway. It's the end of the branch line which you can reach from Oslo or Trondheim by changing at Dombås. It's also just a short drive from one of the region's best-known sights, Trollstigen, or the Troll's Road in English. Staying at Åndalsnes means you can tackle the road early in the morning before the tourist buses arrive, which was our strategy.
We chose to stay at Åndalsnes Camping, a popular campsite just one mile out of town. We booked a small hytte (cabin) which was really cosy and easily accommodated the three of us. Although the toilets and washing facilities were in a nearby building, the cabin did have its own kitchenette, which Gerry used to heat up the picadillo he'd prepared the night before. Big budget tip there, people.
The campsite is located next to the Rauma river and surrounded by mountains. It makes for quite a sight if the weather is right, which as I've already mentioned, it was! After dinner we chose to stroll along the River Rauma into Åndalsnes, to stock up on supplies and check out the area.
All that in one day – I don't know how we did it! Click here to read about day two, as we tackle the Troll's Path, get our first glimpse of Norway's most famous fjord, and arrive at the art nouveau town of Ålesund.