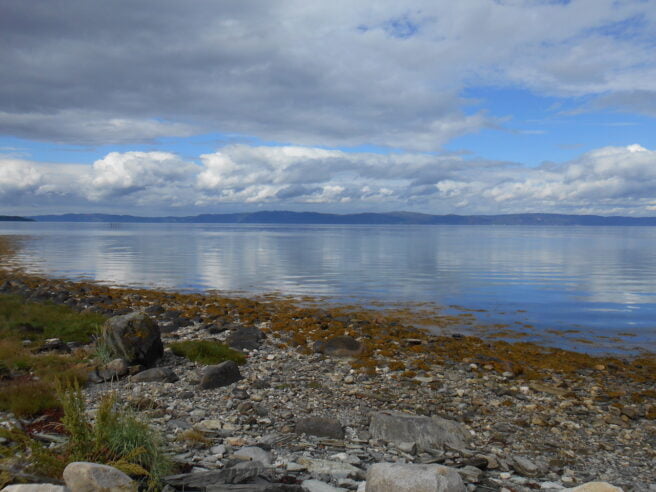 To Væresholmen peninsula and back to Trondheim.
After walking Trondheim streets nonstop for a whole day, I couldn't wait to leave the city centre and get lost in nature. And lose myself I did, and for a change, only metaphorically, as I managed to follow the exact route I had meticulously planned the night before.
I thought that the best way to reach Ladestien, the fjord trail, would be to follow the Nidaros pilgrimage route right from the hostel. This way, I'd be able to get as far as the Væresholmen Peninsula, which was my ideal destination. My actual ideal destination was Hell, a town located some 26km east of Trondheim. Except, I didn't want to take any public transport, and because the following day I also wanted to go hiking, I had to make sure I wouldn't be exaggeratedly tired in the evening. Væresholmen sounded about right.
I left the hostel early in the morning. I walked to Ringve Music Museum, cut through its gardens, and kept to the main road until I knew I had to leave it to cross through a residential area, where I soon gained access to the coast. At first, when I finally saw the water, I couldn't believe I was already there, but as it turned out, I was.
It was stunning beyond words. The horizon was broad and spacious, the water was so calm it looked almost perfectly still, and the sky was thick with clouds. Each element of the landscape had its own colour, but the green of the trees, the grey of the sky and the blue of the water came in so many different shades that you wouldn't know where to start to list them.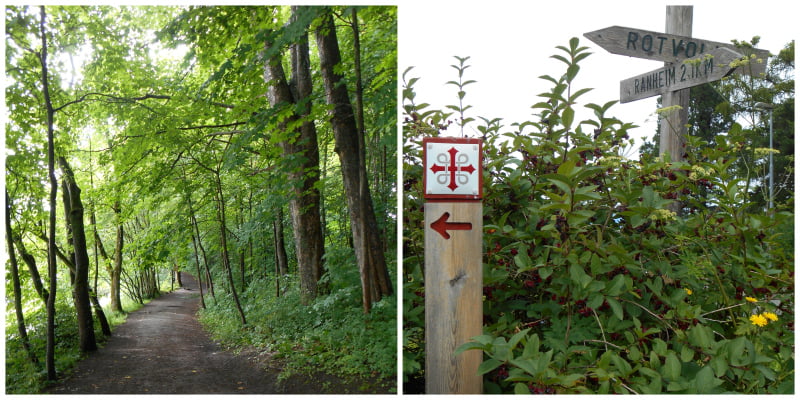 The woods cover an ample stretch of land all the way down Trondheimsfjord, which also explains why you're unlikely to get lost: there's one trail to follow, and one only. As long as you keep to it, you're doing it right.
At some point, as I was strolling jauntily along the shore, I realised I had to speed up, if I wanted to make the most of the day. I had no idea how long the walk to Væresholmen would take, plus the sky was already heavily overcast with the occasional drizzle. I resolved to walk nonstop straight to Væresholmen. If I wanted to stop somewhere along the way, I could do it on the way back to Trondheim.
It took me around two and a half hours to reach the peninsula. Along the way, the widest variety of landscape snapshots played before my eyes like a slideshow. First, plain woods. Then, a clearing with grain spikes that formed waves as the wind blew and, a bit further on, an odd fountain sculpture that every now and then produced a somewhat sinister noise.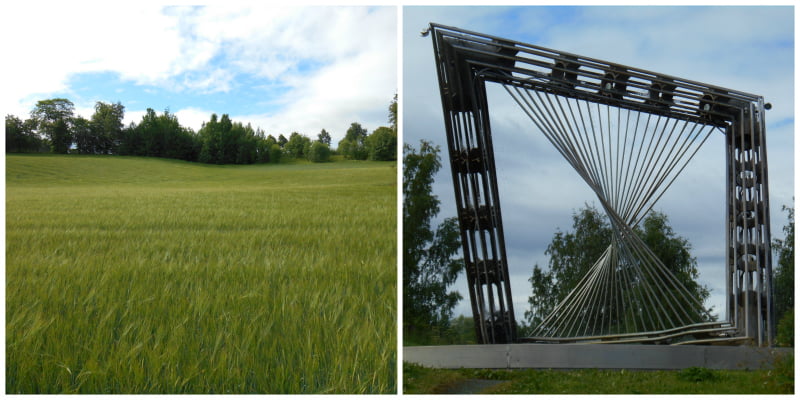 Then, woods again, after which came the beach. That's when I almost got lost because I couldn't find the trail. But then, a tiny wooden plaque hanging from a tree caught my eye. It had the pilgrimage symbol on it: exactly what I was looking for!
The slideshow resumed, while the sky grew a bit darker, so thick and dense were the clouds. I walked along a stretch of wetland, then past a church and its graveyard, then through what appeared like a newly-built residential area that looked almost uninhabited but for a few open windows and blinds. Then, more woods.
Only one thing never changed throughout the walk: the railway tracks running along the coast like a dark, seemingly endless line cutting through the green. Just when, according to the map, I was about to reach the peninsula, it started raining hard. I tried to find shelter under a tree, but to no avail. I was standing in what looked like a small car park surrounded by trees, no road in sight. What now?
I eventually spotted a trail. Yes! I ran toward it, and noticed it led straight to… the peninsula. There it was.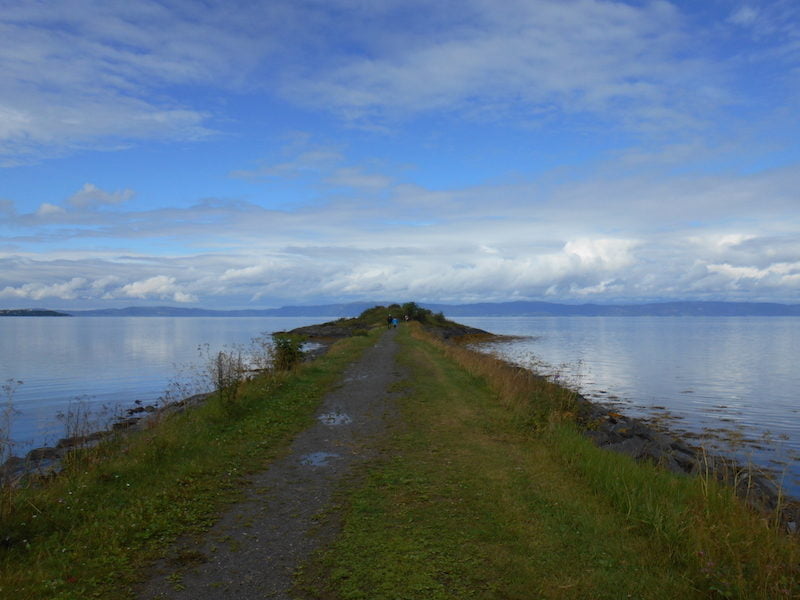 I ran down in the pouring rain, and sought shelter under a red toilet cabin roof. Thank you. It was still raining hard. I knelt down to shake some rain off my coat and hoodie, get hold of some chocolate from my bag, and when I stood up… I was lost for words.
It had stopped raining, the sky was clearing up, and the water itself turned into an iridescent light blue blanket. I ran to the peninsula, where I bumped into a friendly Norwegian couple that offered me (more) chocolate. We talked a bit, took a photo together, then waved each other goodbye. I stood there and contemplated the landscape for a bit longer.
On the way back to Trondheim, I walked off the main path and followed a sign to a cafe, 'Pinnsvin Crossing'. Turned out, the cafe was in fact a house. The owners were a couple that opened their garden to travellers and hikers, and offered them coffee and/or ice cream. As they explained (actually, I spoke to the wife, an American from California that had moved to Norway to be with her Norwegian husband), they turned the building adjacent to the house, formerly a barn, into a boutique selling vintage items of all sorts. They were amazing. And so was the place itself.
After the nicest chat, I headed back to the trail. At some point I must have failed to return to my original starting point, because I realized I was pacing down a trail I hadn't walked before. Which was cool, because that way I was able to walk through Korsvika beach and reach the very beginning of the Ladestien trail.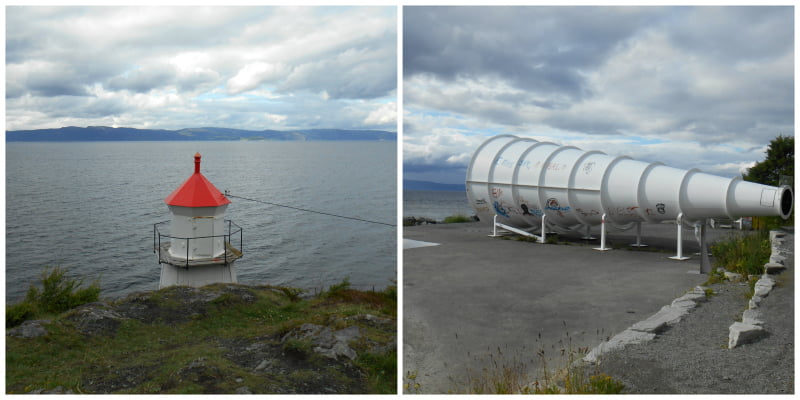 Just outside Trondheim I came across the gigantic megaphone donated to the city by the University of Science and Technology. I then walked through Svartlamoen and Lademoen quarters till, suddenly, I was back in town. I found myself by the Nidelva, where I sat for a moment, utterly knackered, but happy beyond words.
I can quite positively say that the Ladestien walk was one of the most amazing I've ever taken. Plus, because I went there on a Sunday, I bumped into all sorts of locals, including families with kids, lonesome hikers and bikers, and couples of all ages strolling hand in hand.
Norwegians love spending their spare time in close contact with nature, and honestly, can you blame them?