Norwegian archaeologists have found a remarkably well-preserved skeleton believed to date from the Iron Age during an excavation on the Lofoten Islands.
Earlier this year, a team of archaeologists were surprised to discover a femur and hip bone during a routine excavation on Gimsøya island in Norway's Lofoten.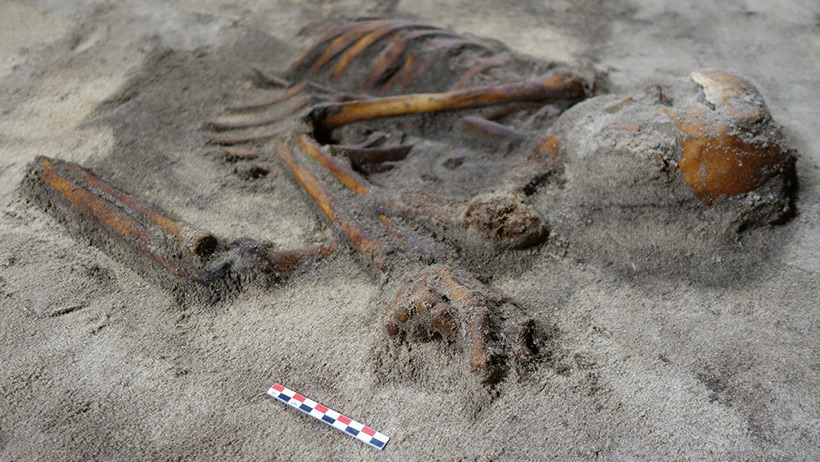 The work continued, and the team was astonished to discover the entire upper body skeleton completely intact.
Archaeologist Anja Roth Niemi from Norway's Arctic University Museum is the project manager. She told NRK that parts of the grave are incredibly well-preserved, which is surprising given the work that went on in the area during the 1950s and 1960s.
Read more: Norse Gold: 1,500-Year-Old Pendants Found In Norway
"The upper body has not been disturbed by soil levelling or other human activity. It is absolutely amazing," she said.
An area rich in cultural monuments
Gimsøya is one of the smaller inhabited Lofoten islands, linked to the much larger Austvågøya and Vestvågøya by the E10 national scenic route.
Several sites of cultural importance have previously been discovered around Hov on Gimsøya, an area believed to have been the site of an Iron Age farm. When work in connection with a campsite was planned, archaeologists began to investigate the area.
Listen: Researching the Viking Age
By law, many construction projects in Norway now require an archaeological survey prior to disturbing the ground, with a view to protecting the country's cultural heritage.
A special find
According to the archaeologists, the grave is likely from pre-Christian times, most likely around the 700s. During that period, it was common for people to be buried on the farms where they lived.
As a rule, such findings are strongly impacted by the ravages of time, or they are simply destroyed or disturbed by human activity over the centuries. This grave almost met the same fate. There are traces of plow furrows just 20 cm from the skull.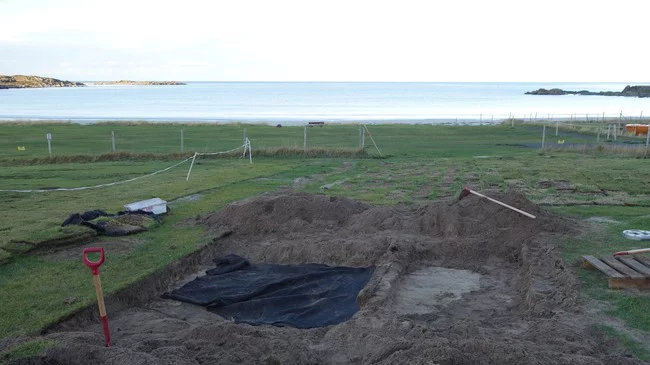 Who was the person?
Based on the findings so far, archaeologists have built a working hypothesis on the identity of the individual. The skeleton was crouched in a fetal-like position, with one arm pulled up towards the head and the other with a clenched fist.
Read more: Hundreds of Medieval Skeletons Found in Trondheim
Archaeologists believe the individual was a man, but they are not certain. "The person is clearly not one of those who stood tallest in society, because there is no great decoration, weapons or such things. So far it seems that the individual had an ax, and not much more than that," said Niemi.
However, it appears the axe is strangely placed: "Right now we are trying to find out if the axe is stuck in the lower jaw or lying next to it."