As the days darken and the snow falls, I can't help but feel drawn into the cosy pubs and bars around Trondheim. Pub culture here is different from the UK, for one thing the price of alcohol means long "sessions" in the pub are out of the question. But as a Brit, I've made a point of exploring the pubs and bars around the city to find something akin to my "local".
Here's my pick of the best:
Trondhjem Mikrobryggeri
I like my ale, so naturally I'm drawn to Trondheim's microbrewery. It was actually the very first place, let alone pub, I ever went in Trondheim. Just minutes after stepping off the airport bus, Gerry dragged me into the pub (kicking and screaming, of course) for a burger and a beer. Their burgers are some of the best in Trondheim, but I go for the beer. They sell a range of their own ales – IPA, amber ale, stout, etc – alongside a rotating guest ale, and the popular Trondhjemspils for lager enthusiasts. You can order a sampler of all their beers – perfect if you have nowhere to be later on…
The one annoying thing? Closed on Sundays! (tmb.no)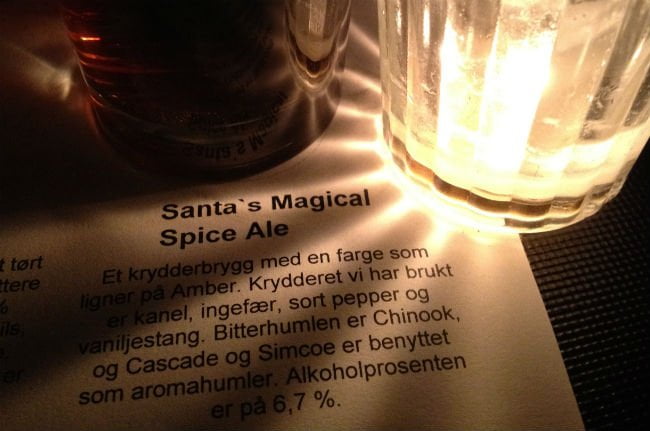 Den Gode Nabo
You might get seasick inside The Good Neighbour thanks to its low ceiling, tilted corridors and views across the water…
Perhaps the most atmospheric pub in Trondheim, it sits inside some of the old warehouse buildings of Bakklandet, right on the old bridge, the most photographed part of town. Inside, large tables encourage groups to get together so it can be tough to get a table at weekends, but if you do then you won't want to leave. The selection of beer is good too. Alongside Dahl's – Trondheim's local lager – is Nøgne Ø, Samuel Adams, and Old Speckled Hen, amongst others. In summer, the floating patio is the best place in town to sit with a beer. (dengodenabo.com)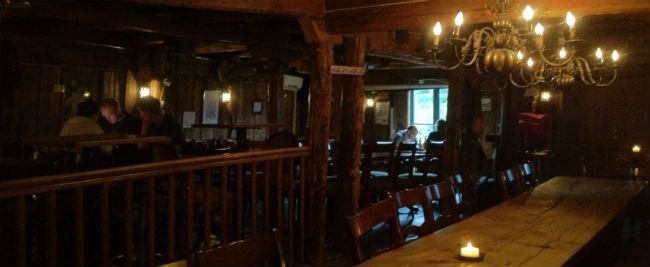 Antikvariatet
Loosely translated as The Old Bookshop, Antikvariatet sits just a few doors down from Den Gode Nabo but offers a different atmosphere. The small front bar hosts concerts, comedy shows, and offers the chance to sit on the front patio endulging in one of my favourite hobbies – people watching on Bakklandet! But what makes this place special is the large book bar hidden away at the back of the pub, packed to the rafters with books, games and views across the water. (twitter.com/antikvarene)
Three Lions
You can take the Englishman out of England…
I'm not normally a fan of English pubs abroad, but the Three Lions is one of the best I've come across. It's primarily a sports bar, with a giant screen downstairs showing football every day of the week. But hidden away upstairs is a set of separated rooms with their own screens, so the pub is capable of showing up to nine different games at once. They do awesome burgers, named after the regulars or (in)famous footballers. Imagine a fry-up in a burger and you're half-way there! And it almost goes without saying, but as an English pub, there's live music and quiz nights too. (threelions.no)
Of course, there's plenty more that could have made it. Samfundet (Students Union) offers the cheapest beer in town, Fru Lundgreen and Familien host regular gigs, Ni Muser offers cheap beer despite not being a pub… the list goes on.
But after six months as a resident of Trondheim, these four places have kept me coming back for more.
Which is your favourite Trondheim watering hole?