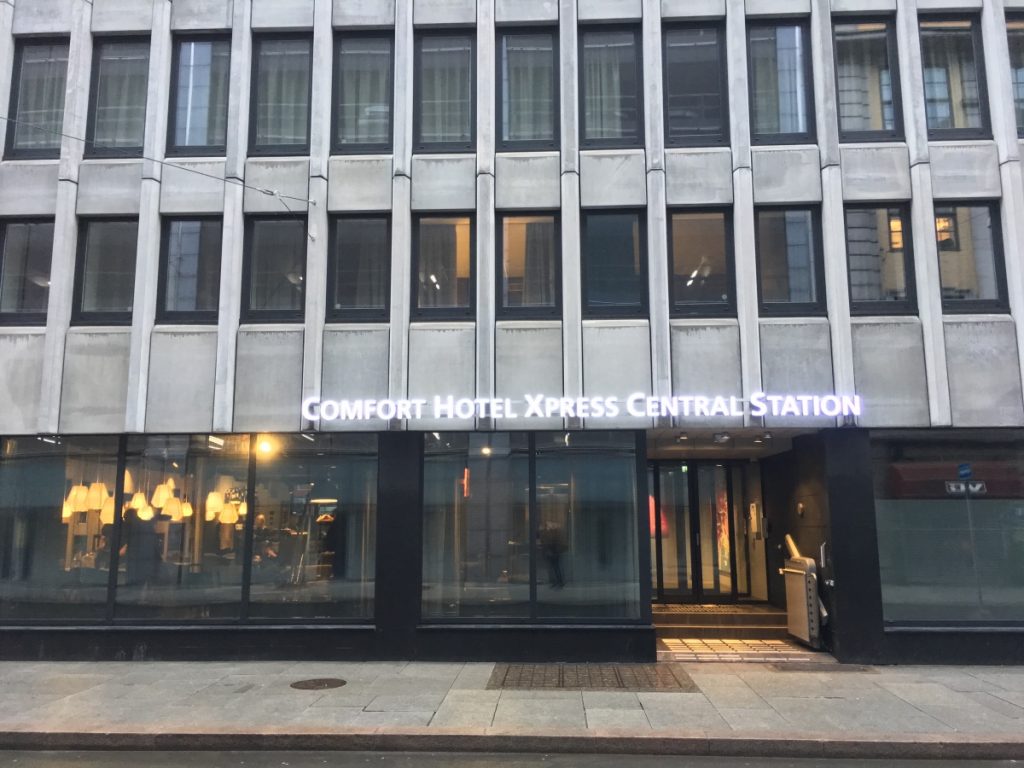 A stylish budget hotel just minutes away from the central railway station.
Yet another option for those looking for budget hotels in Oslo, the Comfort Hotel Xpress Central Station is – as its name implies – located just steps from Oslo S, the city's main railway station with direct connections to Oslo Airport, Bergen, Trondheim, Stavanger, Stockholm and Gothenburg.
Check rates and availability at this hotel
The hotel isn't in the station building itself, but just a two-minute walk across the Jernbanetorget square (past the tiger statue) gets you there.
Lobby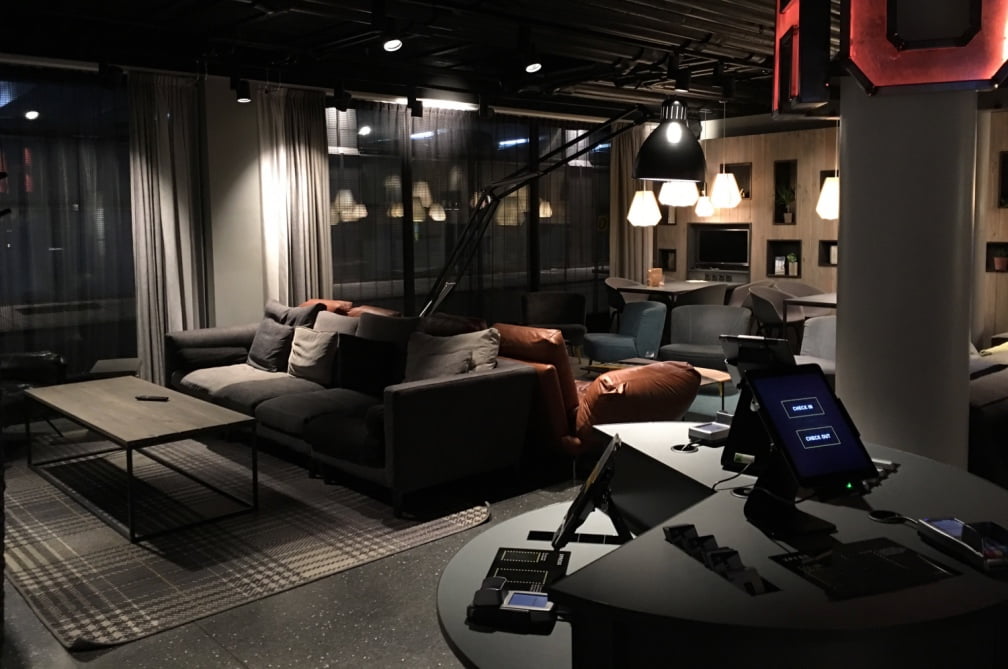 I arrived late in the evening so the pictures are a little on the dark side, sorry about that! But the interior of the hotel was dark in general, especially in the lobby area, were blacks and greys dominated.
As I'd pre-paid via a text message link sent earlier in the day, check-in was automated via the tablet computers you can see in the picture above. This was straightforward but although my key card worked in the lift, it didn't open my door, so I was forced to trudge back to reception to request some manual help.
My new card worked fine, but it is a continual frustration of mine that these key cards don't work more often than they do. Earlier this year I was given an actual key in an old hotel in northern Norway, and I was SO happy! The manager told me they had no intention of switching. Anyway, I digress…
Bedroom
As a budget hotel I knew the room would be small and my expectations were pretty much met. When travelling solo (which I do a lot for my travel writing work), I am perfectly happy to stay in these tight rooms, but I would not want to share this space with anyone. The biggest issue with these tight rooms is the inability for the person sleeping by the window side of the bed to get up in the middle of the night without disturbing their companion. But on my own, no issue.
Check rates and availability at this hotel
The room also featured a small work desk but the light above it didn't work. On further inspection, it didn't even have a bulb! Thankfully this was a quick overnight stop so I didn't need to use the desk, otherwise this would've been super frustrating.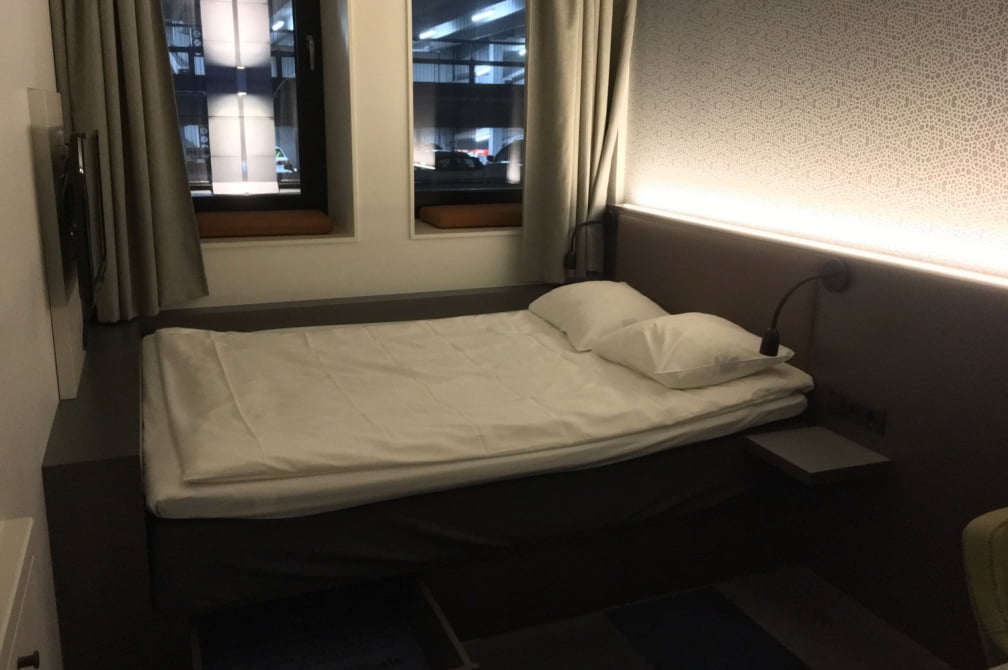 The bed was comfortable and warm, with the mattress slightly harder than average which happens to be my preference. Helpful hangers along the entrance wall and drawers under the bed meant there was a surprising amount of storage space, but you're only likely to use this if you're staying beyond a couple of nights. For most people, you'll do as I did and not even bother to unpack, aside from hanging up a clean shirt.
The bathroom was small and practical with a good quality shower. As with most budget hotels, there was no bottled toiletries provided but soap dispensers were available by the sink and in the shower.
Facilities
The Wi-Fi was fast and of course free, with no complications to log in. An ironing room was available on the 7th floor but I didn't have time or the need to check it out.
There is no inclusive breakfast and in fact no breakfast room or restaurant at all. A small shop located in the lobby sells a "breakfast bag" consisting of a small sandwich, yoghurt, smoothie and piece of fruit for 80kr. Unfortunately there was no variation in its contents and as I'm allergic to egg, I had to pass on the egg and tomato sandwich contained within, and ate breakfast elsewhere. You can also buy coffee and alcoholic drinks throughout the day from the reception bar.
Overall
I frequently travel to Oslo and often require accommodation close to the station as somewhere to sleep before a long working day. This hotel fits the bill perfectly, and while far from perfect, I would definitely stay here again at the relatively cheap rate of 979kr. Having said that, cheaper hotels are available nearby including the CityBox and SmartHotel.
Check rates and availability at this hotel
—
Note: I paid for my own accommodation and no-one at the hotel was aware I would be writing a review.