Meet the British pastry chef making a sweet living in Bodø.
British pastry chef Craig Alibone fulfilled a lifelong dream last month by opening his very own patisserie in the northern city of Bodo.
I recently visited Bodø but it was a few weeks before his store opened, so I was unable to sample any of Craig's incredible looking creations!
However Craig took some time out of his hectic schedule to answer a few questions about his shop, Bodø and life in Norway.
After completing his chef education in England, Craig proceeded to study and work in France, before moving to Norway where he now resides.
During his time in France he studied at Ecole Nationale Supérieure de Pâtisserie in Yssingeux, where he was taught by some of the world's greatest pastry chefs, such as Bruno Moncudiol, Sébastien Serveux and Jean Marc Guillot.

What brought you to Norway?
A girl. I suppose it's always the same answer with most British guys in Norway! We met while I was travelling around Europe, and we then lived together for a while in the UK.
We moved to Stavanger for a while and now Bodø, which is great to be close to her family as we now have two young kids.
What do you do?
I've been a chef ever since I left school, although I didn't delve into chocolate and pastry work until I started to study in France. It's always been a dream to have my own place, and it made sense to open it here in Bodø because I felt there was a huge gap in the market, and Bodø is a growing city.
What I'm trying to create is the best chocolaterie in the country, although my first focus is to succeed here in Bodø.
Is there a market in Norway for such a premium product?
Absolutely yes. Having lived here for arund ten years now, I've learned that people are willing to get involved with something that is a little more exclusive.
They are very interested in that kind of thing. It helps of course that Norway is a relatively affluent country, that helps make projects like this one viable.
How was your opening month?
We've been open now for just four weeks and had a very good reception from the locals. On the opening weekend there were queues out of the door.
Although I'd been working in a restaurant for the past couple of years, I was able to promote my products on the side, so I built a good buzz ahead of opening.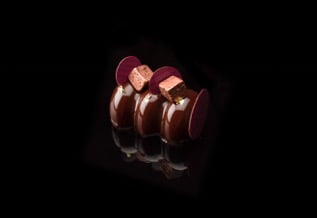 Has the business side of things been easy?
I've found the Norwegian people incredibly helpful, given that they could've just left me to work things out on my own. The authorities have been very good helping me with certain paperwork.
Even though my Norwegian is reasonable, the formality of business registration and regulations means I still end up with plenty of questions. Things have been okay so far, but I still have a lot to learn business wise.
Speaking of language, how is your Norwegian?
It's been a difficult journey purely because everyone is so eager to speak English with native speakers.
I've been here for ten years now so of course I can understand Norwegian and speak it, but I could be better. I think in any other European country I would've been completely fluent in the language by now.
Having said that, even though the branding of my products is in English, the language of our shop is Norwegian, and I interact with all our customers in Norwegian. That's important for the success of the business.
What is it you like about Bodø?
The nature for a start. It's a beautiful place and the first time I came up here I was gobsmacked by the surroundings. The growth of the city has been remarkable too.
For the first few years, things weren't happening and it wasn't the most appealing place to live. But over the last four years the city has grown and almost every month it seems there's something new opening up.
It really feels like now is the right time to open up the shop.
Where do you take visitors?
Once we've been to my shop, I would take them on a boat trip to see the whirlpools at Saltstraumen, and up into the mountains just to experience how accessible nature is here.
If anything, what do you miss most about Britain?
Of course I miss family and so on, but I miss the pub and the English humour. The humour isn't so different in Norway, but when English people get together there is a different kind of banter.
But that's about it. I really like living here in Norway, and I'm pretty sure I'll be here for the rest of my life.
Photos: By North