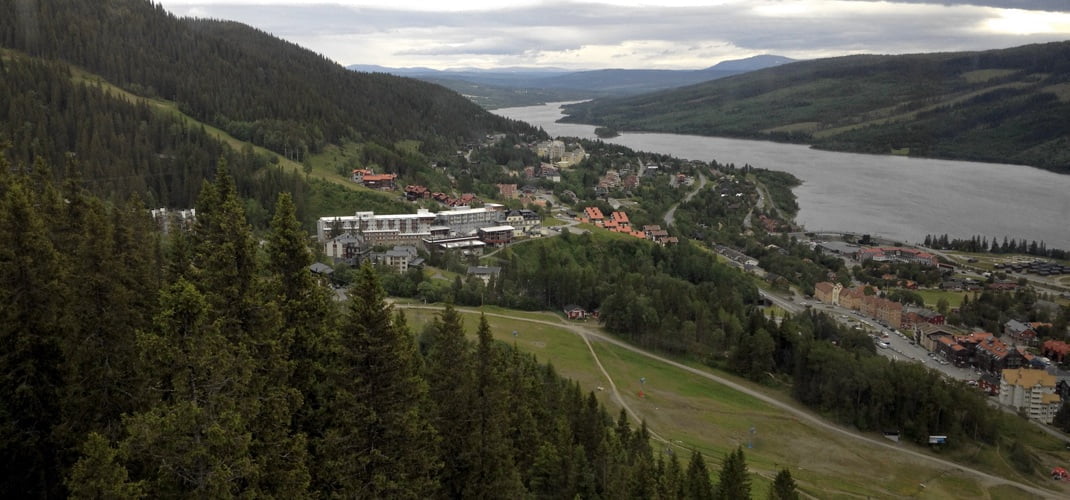 Åre is a ski resort in Sweden within easy reach of Trondheim, but what's it like in the summer?
Time for another road trip! This time I was joined by Gerry, my brother Steve and his girlfriend Georgia.
As we'd done Trondheim to death during their trip and took in the Norwegian coastline the day before, we chose to head east into Sweden.
Many people living in Trondheim travel east and across the border into Sweden for two reasons: shopping or skiing.
Just minutes across the border you come to Storlien, known for its shopping centres and the free bus that runs every day from Trondheim.
Meat and alcohol are among the items cheaper here (and petrol, as I found out!) so it's a popular place to come before summer grill parties.
Further on is Åre, one of Sweden's best known ski resorts, and claims to be one of the best downhill resorts in the world.
As such, it's a big rival to Oppdal for anyone in Central Norway, especially as Åre is broadly the same distance (just 40km further)
Stjørdalselva
Driving east from Trondheim Airport along the E14, we followed the beautiful Stjørdalselva almost all the way into Sweden.
We saw a few salmon fishermen starting their day in the water and found a lovely place to stop for a few minutes: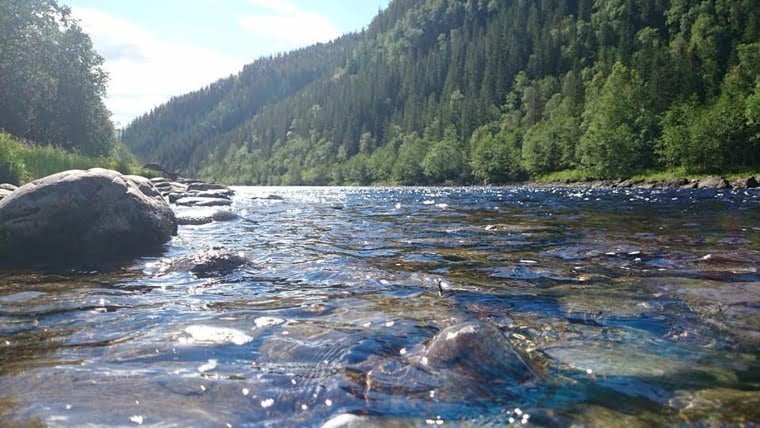 Border crossing
There's not much to see at the border crossing, simply a sign welcoming you to both Sweden and the European Union.
A few kilometres further on is the customs border which we drove through without any control both ways.
Tännforsen waterfall
I made a last minute suggestion to visit Tännforsen, Sweden's largest waterfall, thanks to a quick search on TripAdvisor.
It's just 15 minutes this side of Åre so wasn't out of our way at all. I was a little apprehensive, after all just because it's Sweden's largest waterfall doesn't mean it's a large waterfall!
But it turned out to a pretty special place. After a 10 minute stroll through the woods, we found this: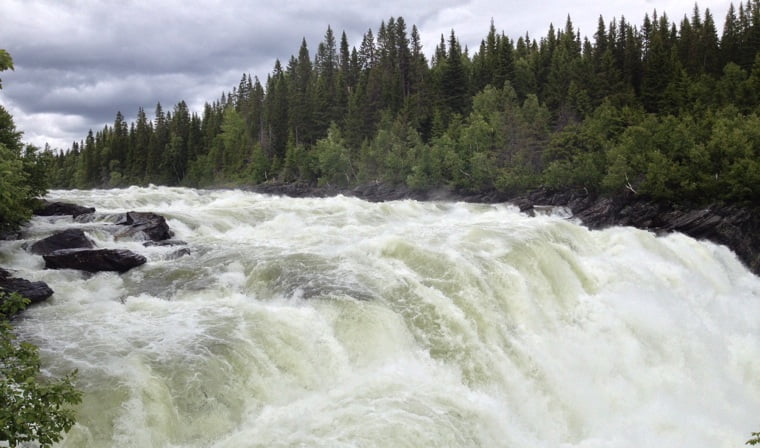 There's also a lovely gift shop and restaurant inside a cute set of buildings.
You could easily spend a couple of hours here especially if you have any interest in fishing or plant life, but as we were just in the country for a day we spent about an hour before moving on to Åre.
Åre cable car
We hadn't done much research about Åre but I did know there was a cable car (kabinbanan) available to take you most of the way up Åreskutan, the mountain towering over the town.
Thankfully we didn't have long to wait when we got there, and tickets for the return trip were a reasonable SEK 130.
We shared the cabin with a whole bunch of downhill bikers, the first sign that there's far more to Åre than just skiing.
Åreskutan
Åreskutan is a 1,420m high mountain and the cable car takes you 1,274 of those metres!
There is a cute little restaurant at the top, Stormköket, where we warmed up on pizza slices and coffee. Warmed up, because it was SO COLD & WINDY UP THERE! Look!
Those bikers from the cable car? Off they go…!
Downtown Åre
Back down on planet earth, we had just enough time left for a quick stroll around the cute centre of Åre.
We came across the finish line of the Åre Extreme Challenge, a multisport event combining white water kayaking, mountain running and cycling.
There was a lovely atmosphere in the town square, hinting at the lively nature of the town during ski season that I've heard so much about. Elsewhere, the town just felt like a lovely place to spend some time, if only we had more of it!
Gerry and I will certainly look to visit again once the snow falls to sample Åre at its best. Whether I am skiing by then or not is another question entirely!