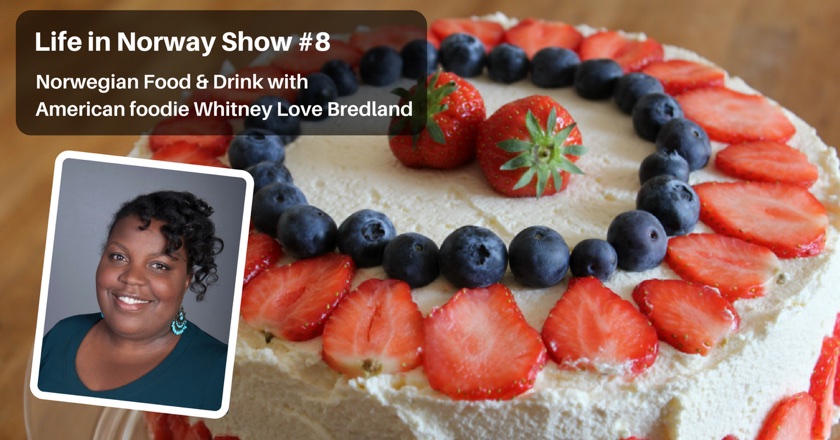 American foodie Whitney Bredland Love shares her love of Norwegian food on the latest episode of the Life in Norway Show.
Whitney Bredland Love from the Thanks for the Food blog is the latest guest on the Life in Norway Show.
Whitney talks to us about the interesting world of Norwegian food. We look at Norwegian cuisine from the perspective of living here, and some tips for visitors too.
We also take a trip around Norway and hear about some of the regional specialities.
I hope you enjoy this show as much as I did making it! If you do, please consider supporting the show on Patreon from just $2 per month.
Listen to the show here:
You can listen to the show right here without leaving the page, just hit the green button on the podcast player below.
Alternatively you can use the links to find us on iTunes and Stitcher, or even listen to the show (audio only) on YouTube.
We talk about:
Why Whitney decided to start a food blog
A typical Norwegian diet and the daily eating routine
The Norwegian tradition of boiled potatoes
Whitney's favourite Norwegian dishes
Recommendations for visitors
Whitney's trip to Røros
How shopping for food and groceries differs from the USA
Links from the show:
And to find out more about Whitney:
Enjoying the Life in Norway Show?
Please consider supporting us from just $2 per month – that's less than the price of a simple black coffee here in Norway!
Not only will your support guarantee the future of the show, supporters get access to exclusive Q&A podcasts where you can ask any question about Norway. You'll also get massive discounts on all eBooks we produce. Support the show here.
You can also share this episode on Pinterest: