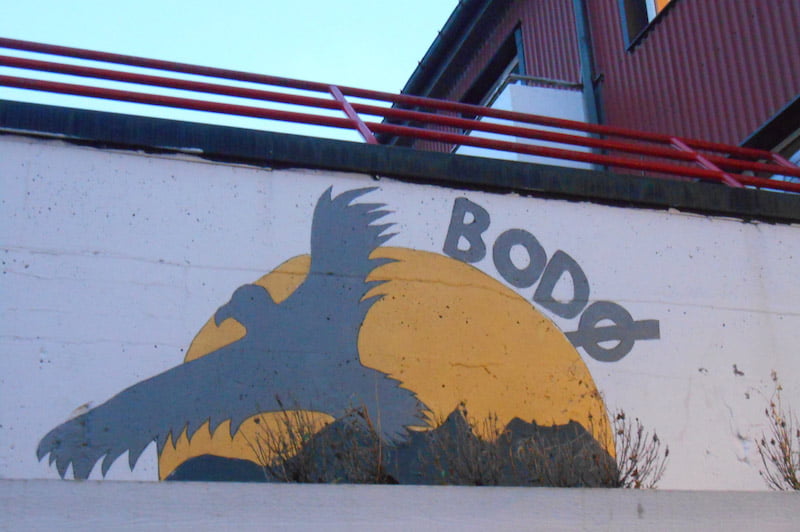 A walking of Bodø's surprising amount of urban artwork.
If there's one thing you can't help noticing, it's that street art is a thing in Bodø.
Why? Well, in 2015 Bodø was home to the UpNorth Festival, an urban art festival that first took place (also in 2015) in Sulitjelma, and it drew so much attention and interest that the experiment was replicated, also successfully, in Bodø.
In and near the centre there are five main pieces you don't want to miss out on. They're all equally monumental and truly beautiful. There's no specific order to follow to track them down. As long as you know where to find them, you can easily zig zag your way around as you wish.
So let's go have a look!
Phlegm
I started from the street called Sjøgata, one of the two 'high streets' in Bodø. Walk down Sjøgata from the train station, and keep to the left-hand side of the street. When you reach number 18, stop and turn around. You're likely to see it just there. What? Well, it's not that easy to explain. The work is called Phlegm and the author is a British artist by the same name.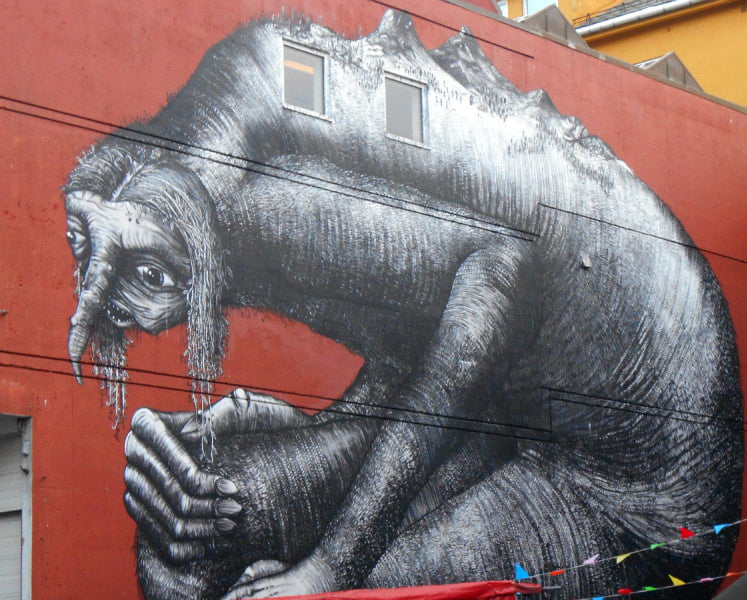 The artist's works are almost exclusively monochrome. They look like they're out of a storybook, and Phlegm is no exception. Entirely painted in black and white, it's a gigantic half-human half-animal creature whose potentially scary effect owes more to its size than to its looks.
In fact, it is stunning, and the technique used makes it look like a large-scale pencil drawing. Take a closer look and see for yourself!
Golden Eagle
Keep walking down Sjøgata, and by the time you reach Tollbugata 13 (which runs parallel to Sjøgata), you will be already staring in awe at the Golden Eagle by Belgian artist Dzia.
Painted on the wall right next to the Tourist Office, it displays the graphic, kind of geometric style of its author. Its dynamic pose and penetrating gaze, though, are as powerful as they can get.
I read that the artist 'paints quickly and in situ to ensure that the original idea remains true to its form'. I can only imagine what he can do when he takes his time.
Malstrøm
The next stop is also not very far from Tollbugata. The easiest way to get there is by going back to Sjøgata and walking to the very end of the street. At that point turn left and, just when the street starts going uphill and curving to the left, stop and look right. That's
Soløybuilding (Moloveien 20), and there, on the wall, is Spanish artist David de la Mano's Malstrøm.
If one had to give a verysimplistic description of this work, it would be 'a vortex of stick men with root-like feet', or something along those lines.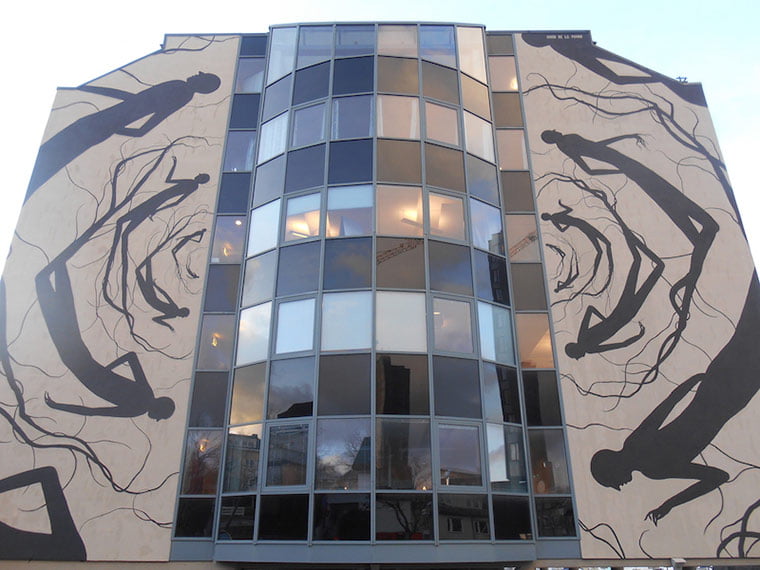 In fact, the 'crowd' of black silhouettes that float all over the façade deserves more than that. The slender figures look like they've just been blown away by a strong current they couldn't resist.
A kiss between cultures
At Moloveien 20 you're super close to stop number four. Keep Malstrømbehind you, and walk around the block of buildings in front of you. For example, cross over and take Dronningens gate (to the left of the building). The first street on your right will be Sandgata, so turn right there, reach number 6 and…
Yes, you'll be standing in one of the most nondescript spots in the whole of Bodø. But that also happens to be the location of A kiss between cultures by Argentinian illustrator and designer Animalito (aka Graciela Gonçalves Da Silva).
Her mural has much in common with cartoons and videogames, and it portrays the most spontaneous human gesture of love. The scene exudes such a genuine sweetness that it will be hard to suppress a smile as you look at it.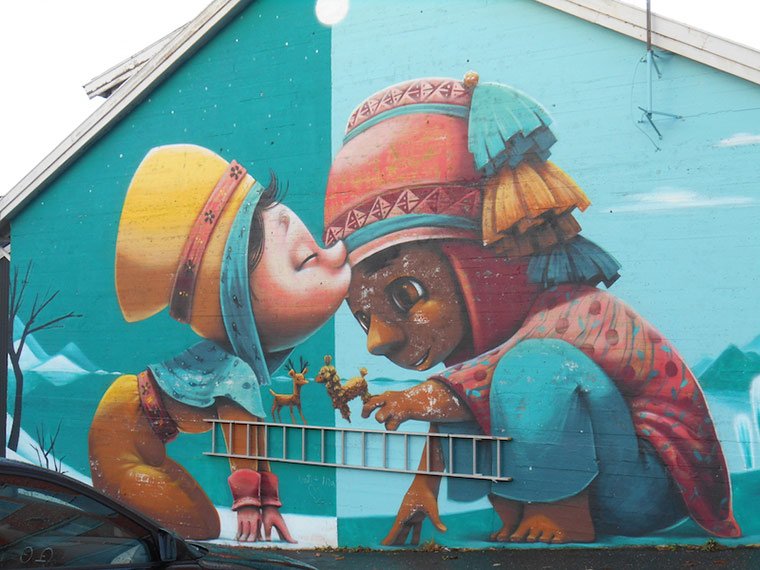 And, yes, the car park where the graffiti was painted isindeed as ordinary as a car park can get, yet the colours of the mural brighten up the whole place.
Insomnia
We're nearing the end of this walking tour around street art works in Bodø, and the next is not the easiest to spot – at least, it took me a while to realise how and where exactly to find it. The address is technically Storgata 30, but I believe it's easier to get there another way.
From Sandgata 6 just go back the way you came, turn right into Dronningens gate, and keep going straight. Turn left into Havnegata (the third street come across), and then keep an eye on your left.
You have to enter the small car park that's right there (this spot is called Tjærandsengården). The mural is on one of the walls overlooking the car park, and you can't see it from the street.
Insomnia, by Italian artist Millo (born Francesco Camillo Giorgino), is a large-scale scene of ordinary, everyday life. I read that in his works Millo uses mostly black and white with touches of bright colours here and there.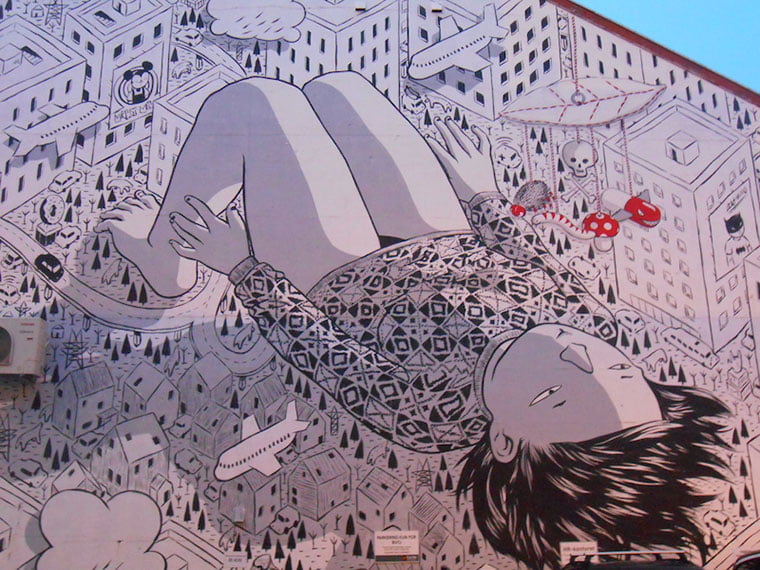 One of my favourite things is how he manages to paint such a hugemural, yet make it look like he has jotted it down on a post-it without even having that much time to 'do it properly'. Obviously, it's perfect as it is.
After School
Okay, I've saved my favourite for last. After School, by Russian artist Rustam QBic, is a bit further away from all the other artworks we've talked about so far. Go back to Havnegata and walk up the street till you get to Kongens gate, where you have to turn left and just keep going for about five minutes or so.
The address is Kongens gate 20, but you will know when you get there. I mean, it's a little girl painting the northern lights with a spray can, how can you miss it?
It really is as stunning as the photo suggests: beautiful and superb technique wise. I won't even go as far as describing the subject in detail, so poetic it is without adding unnecessary extra words to it.
There is a lot more to street art in Bodø than the six murals I have described.
For one thing, there are more of the large-scale kind, which I missed out on due to lack of time to explore the city and the simple fact that I didn't come across them and didn't know their exact location.
Plus, aside from the larger pieces, there are loads of smaller, seemingly casual works you might spot here and there around the centre. One of them is a Bodø sign which includes the outline of a sea eagle.
Why? Because Bodø is a city of sea eagles! But that is another story.