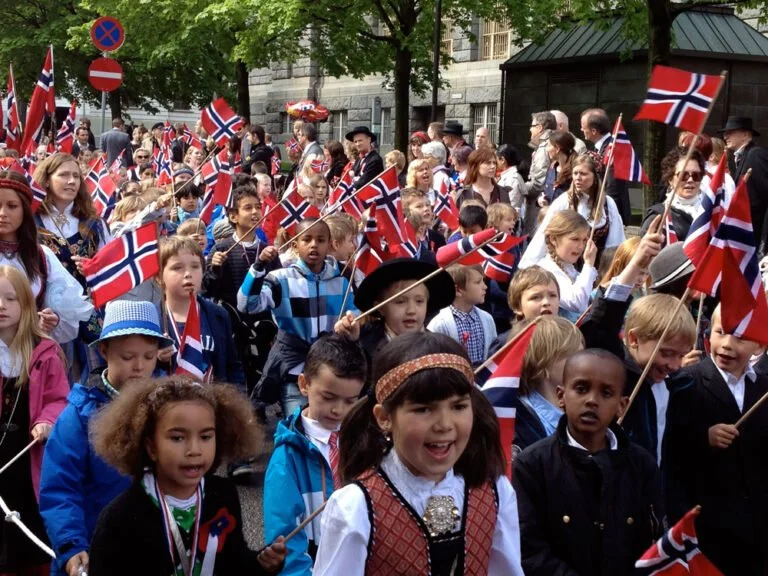 I look around and wonder, is this 2016? Or am I in one of the most bizarre cross-cultural dreams of my life? I did not see anyone wearing New York Yankees ball caps (in my vicinity) or American paraphernalia, maybe this is a dream?
I'm wearing a polyester forest green cream collared dress, an apron (found on a shelf titled 'for dolls') and my hair is tied back with a mustard yellow headband. Even if I wasn't American, this outfit would make me feel like I was.
I had just delivered chocolate milkshakes to 5 women wearing long wool dresses adorned with giant silver buttons and necklaces. It's not just these women wearing these outfits on a hot sunny day, nearly everywhere I look people are wearing something similar.
Men are sporting high stockings with shoes reminiscent of Santa Claus, and giant wool shirts embellished with silver. It's as if we have all traveled back in time, me the 1950's and everyone else the 1800s.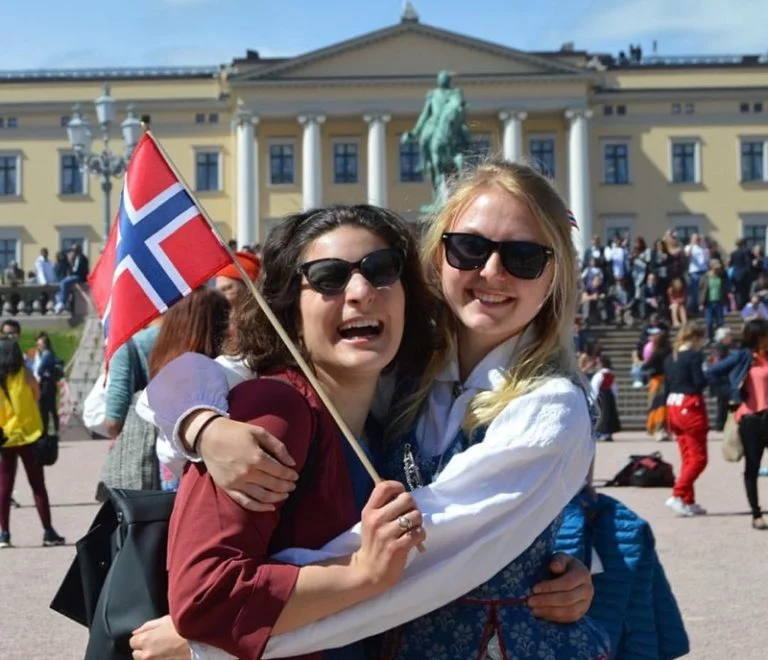 As I regarded the tables sporting numerous Norwegian flags, I realized that this was no dream, I was in an American diner on the 17th of May, Norway's national constitution day.
Since moving to Norway for university, I've dreamed of this cultural explosion of a day. It appeared to be the epitome of Norwegian holidays filled with lots of drinking, celebrating of children, and of eating ice cream. My idea of it was a fusion of the American July 4th and South American Carnival except a little more formal and of course, colder.
During the month before the big day, high school seniors began celebrating (and partying) by wearing red overalls adorned with Norwegian flags, passing out cards with their pictures and explicit quotes, and driving around in giant customized buses in a celebration called Russ.
Days leading up to the 17th, I voraciously read expat blogs about the do's and don'ts, and the somewhat frightening stories of expats wearing jeans on the day. I chose to wear a longish blue dress and red overcoat which I felt would make me fit in amongst my Norwegian counterparts.
A shopping nightmare
What the expat blogs didn't tell you is that the "Vinmonopol", the only stores that sell wine and spirits in Norway, would close on Friday, despite the holiday being 5 days later. To my surprise, but not shock, all of the grocery stores closed on Saturday at 4pm.
Thankfully, I bought champagne, a 17th of May breakfast necessity, in time, but let another American help me out by buying three boxes of strawberries. Despite being very immersed (attending university here, but came originally as a 'lovepat'), she had no idea the store closed early, and arrived 3 minutes before closing.
While managing to snatch a box of questionable looking berries, she described the store as as if a zombie apocalypse had occurred. If anyone is familiar with the American store Trader Joe's on Sunday's, the line was probably double the size.
Fast forward to Tuesday, and it's the most wonderful day ever. The morning of the May 17th felt like Christmas. I woke up with that feeling I always get on Christmas morning, threw on my blue and red and headed to my breakfast.
My Norwegian friends were assembling the beautiful table of food when I arrived. My female friends looked straight out of the 1800's, with aprons and long dresses as they took things from the oven.
Although, since this wasn't 200 years ago, our male friend was helping as well. The breakfast featured terrific traditional food (and non traditional–crepes from our French friend), lively chatter, and lots of mimosas.
We headed outside to find what seemed like thousands of people wearing bunads. When I was growing up I thought that people in other countries wore their traditional costumes all the time, so it was a bit like a childhood fantasy coming to life. Immigrants wore their traditional outfits as well, which truly made this feel like a cultural explosion.
Now back to the checkered black and white floored diner where I'm pouring coffee to a table of exhausted Norwegians. I'm now wearing my green dress, and so far I've only counted 3 people wearing American paraphernalia today, which is very satisfying. I'm wearing my American Bunad and they are wearing the real one. Now if only I had a Yankees ball cap, I would then be golden.