Fancy a fishing trip to Norway? The opportunities are incredible for the keen angler but there's a few things you need to know before you start waving your rod around.
Fishing in Norway has long been an important part of the economy. Recreational fishing remains a common hobby.
A nation of fishermen
Since the start of human history, Norwegians have been fishing. It's hardly surprising given that the country has the second longest coastline in the world! But Norway is also lucky enough to have many freshwater lakes and rivers that are clear, unpolluted and teeming with fish.
Norway's economy was, at one point, based very heavily on fishing. As well as food to eat and export, the cod oil industry is massive and some areas, such as Lofoten, only came into existence on the back of it. In fact the cod oil industry is so important that during the war it was a target for an allied raid, Operation Claymore.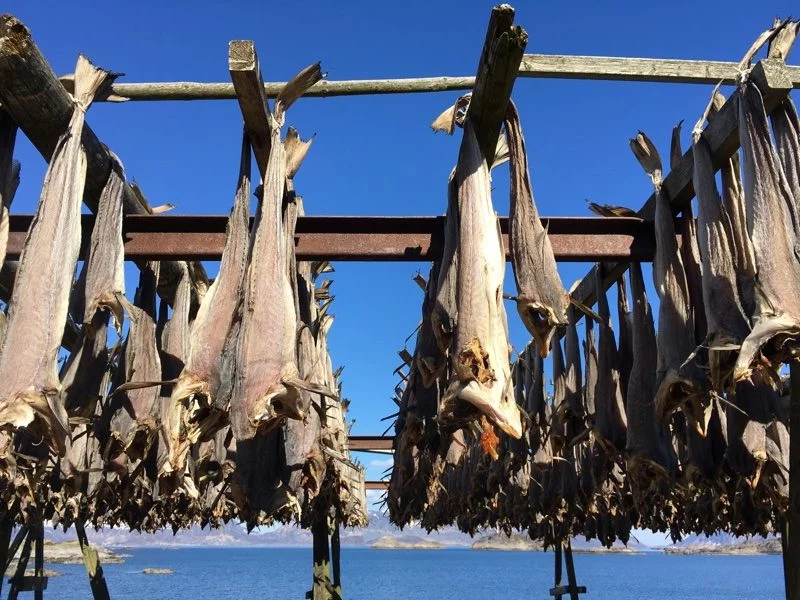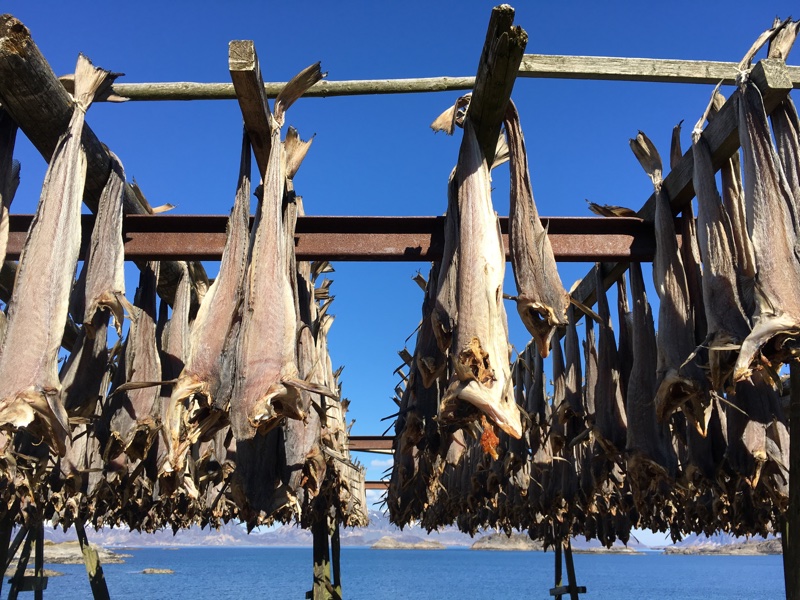 Even today, fishing and its related industries make up a sizeable part of the economy. It's estimated that around 35 million people are fed every day by Norwegian fish and seafood!
Types of fishing
The first thing you need to decide on is the type of fishing, as rules differ. The two main types are saltwater/sea fishing and freshwater fishing. If you're the more adventurous type, you can even go ice fishing in winter! However, that's very much a niche activity.
Saltwater fishing
Saltwater fishing is much easier to get into in Norway. Personal fishing, off the coast, in the fjords or out at sea, needs no permit but is simply subject to a few common-sense rules. These include:
You can only use handheld tackle for fishing
When fishing, you must be at least 100m from the nearest fish farm
You can't catch certain protected species. These can easily be found online, and some are only protected at certain times of the year, but broadly this includes spiny dogfish, basking shark, porbeagle, blue ling, lobster, bluefin tuna, silk shark, eel, wrasse, halibut, lumpfish and redfish
Certain other species such as cod and haddock have minimum sizes. Any smaller fish must be released straight away unless they're already dead
You must not sell your catch. Giving it away to friends, locals, or anyone you meet is allowed as long as there's no charge.
You can take 10kg of fish or fish products out of the country when you leave. Be sure to check with your destination as to whether you will be allowed to bring it in with you!
That's about it, but it's a good idea to check the latest rules in case things have changed. In particular, watch out for details such as protected species and minimum sizes.
Freshwater fishing
With crystal clear lakes, rivers and streams, there's a good chance you'll want to try your hand at some freshwater fishing on your visit to Norway. High season runs from May until the end of summer. During this time, you'll find the waters chock full of happy, healthy fish waiting for you to cast your rod.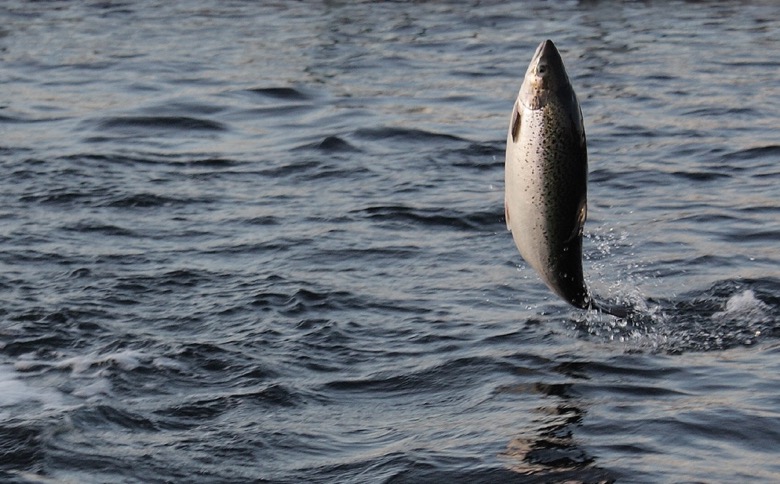 To do this you'll need a fiskekort (fishing licence) from the owner of the fishing rights, which is usually the land owner. You can buy these, or find out how, from sports shops and local fishing organisations. You can also purchase them online.
These licences are valid for specific areas or for specific times so you'll need to plan ahead on where you're going before buying your licence or you might find you need to buy a different one for the area you're in.
Prices vary depending on the licence. The Statskog covers much of the freshwater in the North of Norway so if your trip takes you North of Trondheim then there's a good chance this will be the one you need. Prices currently range from 60 NOK for a single day all the way up to 685 NOK for a whole year. There are also family options if you're taking your whole clan!
What's your catch?
Next, decide what you're fishing for. If you're not after migratory fish – salmon, sea trout or arctic char –  then you're all set. If you do want to fish for these species, and you're over 18, then you'll need to pay an additional fee. This fee goes into a fund that maintains stocks of these species to ensure great opportunities for anglers.
Once you've paid this fee you need to keep proof on you. Just bear in mind that, with one or two notable exceptions, you can't use: poisons, explosives, firearms, electric currents, spears or artificial lights.
Now that you're ready to go, it's a simple matter of deciding where. The opportunities are many and varied so there's plenty of research to be done. Here's a few suggestions to get you started.
Trøndelag
If you can't decide what type of fishing you fancy then you probably want to head to the region of central Norway. In Norway, this is known as Trøndelag.
Whether you fancy echo-sounding the ocean for sea bass, casting your flies for salmon in a river, or you want to throw some worms in a lake while you snooze on the shore, Trøndelag has experiences to suit all types of angling.
Read more: The salmon rivers of Trøndelag
The rivers Gaula and Orkla in the south of the region provide some world-leading salmon fishing. For coastal fishing, head over to the islands of Hitra and Frøya. Meanwhile if it's lakes you're after, the area has loads of them, all full of fish.
The Alta river
Altaelva – the Alta River – is such an incredibly beautiful place that it can't fail to take your breath away. It's one of the best salmon fishing spots in the entire world and, as you might imagine, fishing spots here are tightly controlled.
One of the many perks of living in such an incredible place is that they allocate most of the fishing spots to locals. But some spots are available for visitors in some parts of the river.
The Atlantic Road
This incredible feat of engineering is worth a visit in itself. But it's the fishing opportunities that make it one place that all anglers will want to consider for saltwater fishing. Construction of the road began in 1983 and the road opened in 1989.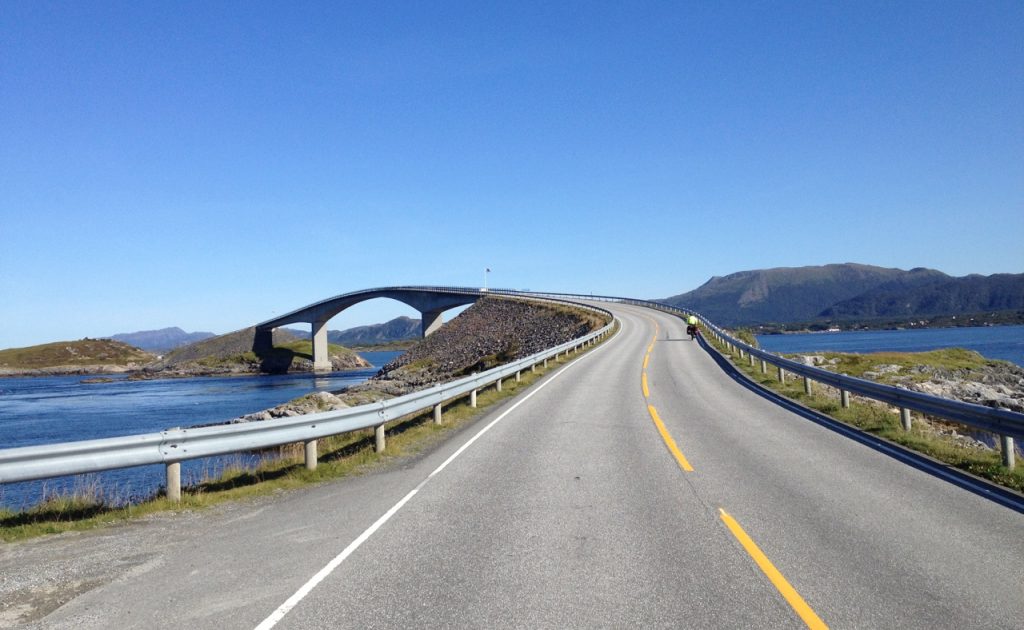 Running from Kårvåg to Vevang, the road throws itself right out over the ocean. It connects a series of islets together that allow true Atlantic fishing right from the shore.
The waters were always teeming with life but the bridges between the islets allow easy, safe access to them. Even an average angler can fill a bag of delicious pollock and mackerel in an hour or so!
Are you planning a fishing trip in Norway? Let us know in the comments!