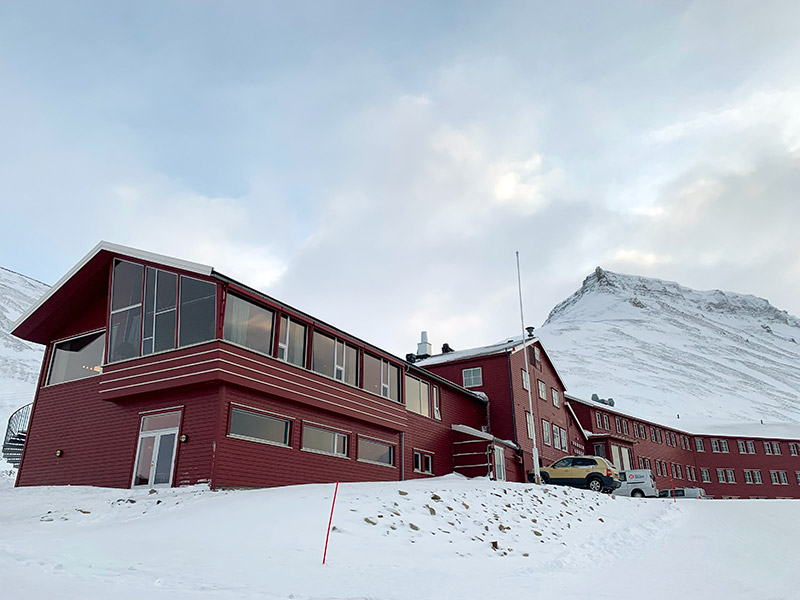 A comfortable accommodation choice with a touch of luxury in the world's northernmost town.
When staying in Svalbard, comfortable accommodation is a must. Temperatures outside the summer season can be bitterly cold and after a day of adventure, retreating to a cozy environment is absolutely worth the money.
I'm just back from Longyearbyen, the 'capital' of the Svalbard archipelago, where I spent four nights at Funken Lodge, formerly known as the Spitsbergen Hotel.
For a quick video tour you can watch the video above, or read on for a full review including plenty of photos.
Location
Longyearbyen is a funny town as although it's very small in terms of population, it's also quite spread out with distinct districts. Funken Lodge lies midway between the commercial centre and Nybyen. Getting here from the airport isn't a problem as the bus stops right outside, but be prepared for a 10-15 minute walk to get anywhere once you've arrived.
Read more: A Tour of Longyearbyen
While that might not sound like much, if you visit in early March like I did when the temperature was -20C/-4F most days, a 10-15 minute walk involves some thought and preparation!
The hotel is atop a small hill and with all the public areas one floor up, the views of the mountains are wonderful. This is especially true from the breakfast room / restaurant.
Arrival and check-in
I'll admit to being a little confused when I first arrived as there wasn't an obvious place to go. When I walked in the entrance I was greeted by a coal-faced miner (this building used to be the headquarters of the mining company!), a room with a whole bunch of shoes and boots in, and some stairs.
This was my introduction into an important aspect of Longyearbyen culture. You are expected to take your shoes off when entering most buildings, with the exception of restaurants and shops. Slippers are usually provided. The stairs lead to the snazzy reception area.
Check-in was a breeze with a super friendly girl checking me and directing me to my room in no time at all.
Guest rooms
The cozy feeling extended to the guest room, which was comfortable and quiet with plenty of storage room. The temperature was perfect.
You can see from the photo that I arrived during the 'blue hour'. Daylight during the nighttime wasn't a problem in March, but if you are travelling during the summer these curtains are going to do their job very well.
The shower was excellent, and free shampoo, conditioner and body wash were provided in the bathroom. Also, a small tub of moisturiser with a note explaining the town's dry climate was a nice touch!
Check rates and availability on Booking.com
The minibar fridge with drinks and snacks for purchase thankfully had a little room for your own purchases. A Nespresso machine with a couple of capsules was complimentary.
Lounge and bar
Great efforts have obviously been made to create a cozy atmosphere inside the public areas of the hotel. Dark colours, lots of cushions and soft lighting are just what the doctor ordered after a day out in the cold.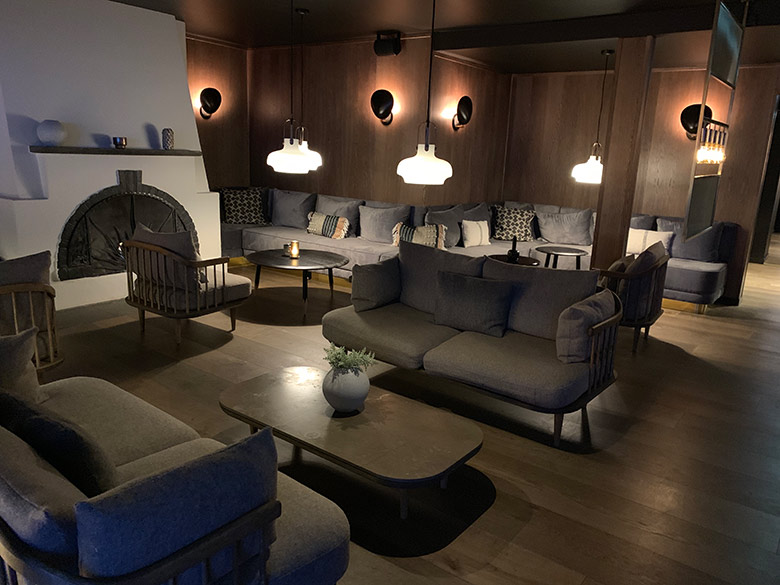 The bar is open everyday from midday until 2am most days and serves a limited bar menu all day, a handy option when you don't fancy a full restaurant experience. I chose the steak sandwich one evening and enjoyed it so much I ordered it again the very next day.
Tap beer was from the local Svalbard Bryggeri, and a staggering amount of spirits were also available if that's your bag. I counted 40 different brands before I gave up.
Restaurant
Breakfast was included and served in the main restaurant. I didn't make use of the restaurant in the evening but my experience of breakfast was good enough to suggest it would have been a very enjoyable meal.
The buffet selection was relatively small, but a chef was on call to make fried eggs, omelette or porridge to order. Brewed coffee was served at the table upon arrival, with orange juice and water provided too.
Try and get a window seat if you can, as the views of the town and mountains are fantastic.
Other amenities
There was a small shop by the restaurant which sold souvenirs and a small selection of warm clothing and accessories including shoe spikes. On the ground floor, a small fitness room and sauna were available for free use.
Trudging around Longyearbyen in the freezing cold means you probably don't need the fitness room, but the sauna was a welcome feature!
Overall impression
I paid just a shade over NOK 2000 per night for a double room at Funken Lodge via Booking.com. While that's more expensive than equivalent hotels on the mainland, you have to remember where you are!
Longyearbyen is an extremely remote place and virtually all supplies have to be flown in. Accommodation is limited and therefore expensive, and that makes what I paid for my stay here more on the reasonable side.
The staff were friendly and put up with my endless questions about the town, where things were, and why they chose to live and work here! Even in such a comfortable hotel as this, I find it's the staff that can make or break a hotel experience, so for me the Funken Lodge scores highly.
If you enjoyed this video and review, why not share it on Pinterest so others can find it too? We've got just the pin for that: