How does this grand old dame of Bergen hotels stand up to the modern visitor?
Last weekend I had the pleasure of staying in one of Bergen's most historic and famous hotels – the Grand Terminus. I'm always curious how traditional hotels are coping with the changing trends in travel, so this was a good opportunity to find out for myself.
I was in Bergen for many reasons. I was meeting a couple of fellow expats interested in helping out with Life in Norway, interviewing a Bergen-based tech startup, and watching the opening Vålerenga football game of the season at the Brann Stadion. I was also keen to get to know Bergen a bit better, after two uninspiring visits so far.
The Room
I was given a room on the 6th floor, thankfully I never had to wait long for one of the three lifts! The twin room was comfortable with a larger-than-average bathroom and bathtub, but a smaller-than-average TV. There was a sturdy desk with chair to work at, along with two comfy chairs to relax in. Despite the small size of the TV, there were more channels than most hotels give you, including Viasat Fotball 🙂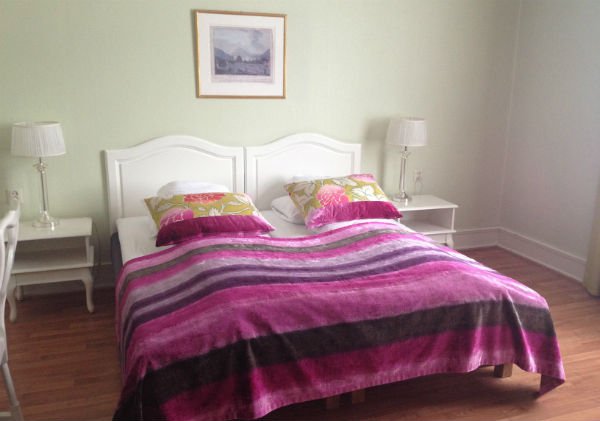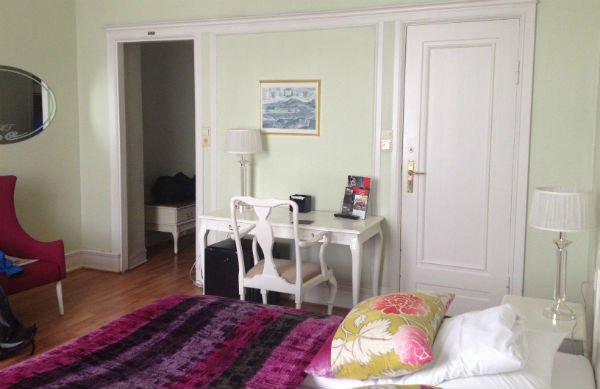 The Hotel
At the front of the hotel there is a lovely traditional lounge. In the daytime this functions as a relaxing space, complete with tea, coffee, fruit and newspapers. In the evening it becomes the hotel's well-known whiskey bar.
I'm not a fan of whiskey but despite this I still enjoyed the bar, mainly because they sold a local ale – always a big plus in my book! The evening atmosphere was lovely, a mixture of people eating, drinking, chatting, reading and just relaxing. I spent a lot of time in this room over the weekend and for me it really made the stay.
The History
Given its age it won't surprise you to hear the hotel has a fascinating history. A small book in the room details this history, telling the tale of not only how and why the hotel was built, but also of Roald Amundsen's last few hours on Norwegian soil. The story is told through the eyes of a resident ghost. Be warned though – read it and walk through the hotel and you will feel spooked 🙂
Downstairs in the lounge, there is a photo of Amundsen and his colleagues, as they prepared to leave the Grand Terminus – never to be seen again.
Breakfast
Breakfast was served in a beautifully traditional room hidden away behind the reception. The cold buffet was small, but with better quality hams and cheeses than in many hotels. There was a small hot selection which I didn't try, preferring to stock up on cereals, breads, pastries and the like for the long days ahead. Also, you can grab a teapot to brew tea for the table, rather than making it in cups – a nice touch.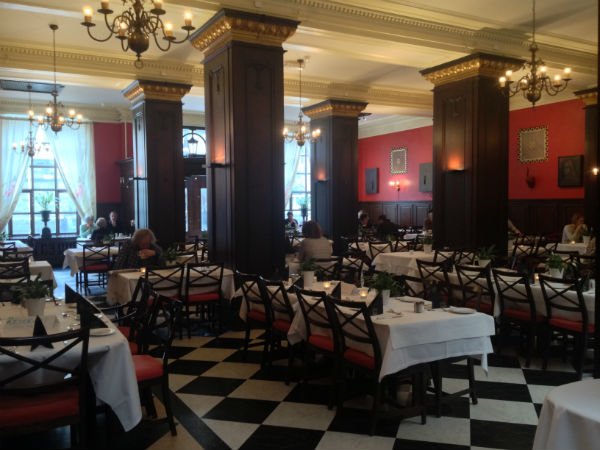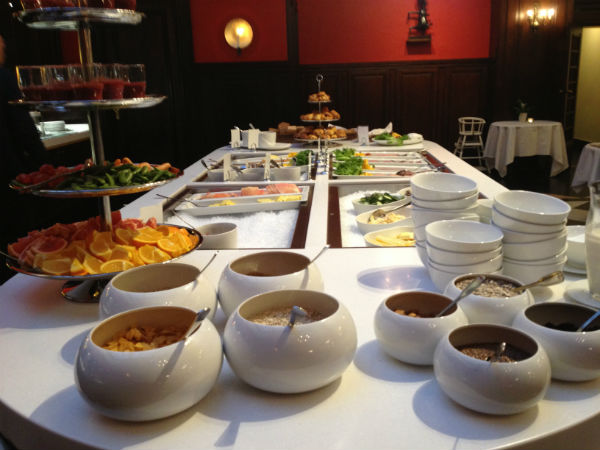 Location
Harking back to the days when railways ruled the world, the hotel is located just a few steps from Bergen railway station. The location is perfect for those arriving/departing by train, and for those on a "Norway in a Nutshell" trip.
It is a 10-15 minute walk down to Bryggen, Fløibanen and some other major attractions of Bergen, so for some I'm sure the hotels down by Bryggen would be preferable. If so, definitely check out the Grand Terminus' sister hotel, Augustin.
Having said that it's not a long or unpleasant walk at all. There are two choices. One way takes you along Marken, an old shopping street dotted with wooden buildings and independent shops and cafes. The other takes you through Byparken, the city park and lake, where you'll find Bergen's impressive Art Museum.
In summary, I really enjoyed my stay at the Grand Terminus. The hotel has modern facilities yet the history and tradition shines through.
Disclosure: My stay was courtesy of the Grand Terminus. However, all hotel reviews on Life in Norway are independently written, and free of any influence from the hotel itself.