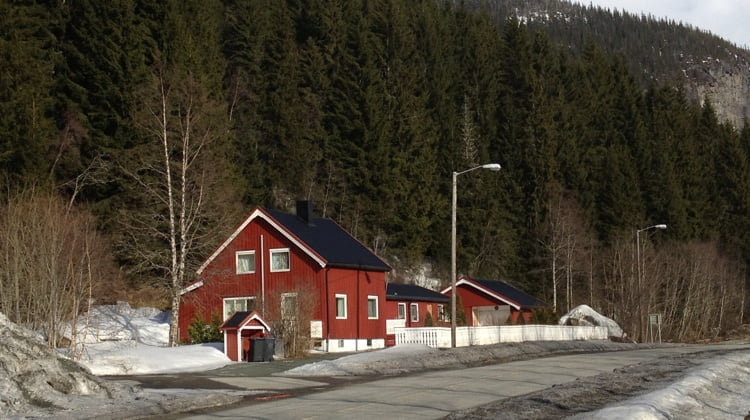 As regular readers will have noticed, I recently spent some time in the Grong region of central Norway. It's a region famous for its salmon rivers but largely ignored by travellers. I spent a night in a mountain cabin on the spectacular Geitfjellet mountains, my first experience of mountain life in rural Norway.
In these hectic times with iPhones, tweets, reminders and the constant search for reliable wi-fi, it's easy to forget the simple pleasures in life. As the night drew in, the log fire burned, and the cognac poured, I rediscovered the lost art of conversation.
Almost from the first moment I arrived at Grong station, I asked my guide Kristian about life in the area, what it was like growing up, what the area has to offer young adults and the elderly. I grew up in a small English village so I was fascinated to learn of the similarities and differences. I had so many questions and he had so many stories, it was logical to turn all this into the next Life in Norway interview.
Grong is a small town and municipality in Nord-Trøndelag, a three-hour train journey north of Trondheim, but still 250km south of the Arctic Circle. It's home to less than 2,500 people, not even a dot on the map to those travellers here to "do the fjords".
What's it like for a young person growing up here?
It depends on your interests, but for the kids there are a lot of activities, especially sports. The Red Cross have an active youth section here too. As well as the standard school system there is a private school offering education in hunting, free-ride skiing and horseback riding. There are around 500 teenagers here which is vital for a small village like Grong.
When someone reaches 18, what happens?
Most move out to the cities. Most of the boys join the military for a year's service and then either come back to work on farms or at the ski centre, but most go to Oslo or Trondheim for education, because there aren't those opportunities here in Grong. I have spoken to some and they say that when they have an education and a family they would love to move back.
We have a small industrial park nearby but there's not a constant supply of jobs like in major industry.
Despite the pull of the cities, Grong is doing well. How?
The reason is for several years we've worked well with getting people to move back, especially the youth who moved away to the cities. Local politicians including the mayor have arranged meetings in the cities, and some of them are coming back.
We also have a mottakssenter for refugees. Grong has said yes to having up to 170 people, some of whom then want to settle here.
What facilities are there in Grong?
We have most of the facilities here – shops, theatre, cinema, library, some evening entertainment, but of course the quality is not the same. We are planning a new cultural centre though, and the cinema has a new manager who is keen to improve things. If there's a Norwegian film premiere it's often available to us.
Grong is well known for badminton, in fact Norway's London Olympic entrant is from Grong. We have volleyball here, and of course a big heritage in skiing and ski-jumping.
Is there anyone in Grong who doesn't ski?
Yes, most of them I think! But with all the possibilities of downhill and cross-country nearby and guaranteed snow for at least five months, it's one of the main reasons people move back.
—
When we returned from the mountains, I spent some time wandering around and understood a lot of what Kristian told me. Outside the main supermarket was a pinboard advertising "what's on" and sure enough, there was a film, a play, and a "disco". If you're young and not a fan of the outdoor life I can imagine living here being hard going. But with the great outdoors on your doorstep, what a wonderful place it must be to raise a family.
My sincere thanks to Kristian and everyone at Grong Fritid for opening my eyes to a very different way of life in Norway!