What appears to be a quick clay landslide has destoyed the E6 highway north of Gothenburg, on the way to the Sweden-Norway border. Here's what we know about the situation.
Road travel between Oslo and Gothenburg will be seriously disrupted for the forseeable future following the natural disaster. A bus and at least four cars were caught in the landslide that destroyed the E6 at Stenungsund on Friday night.
Three people were taken to hospital, but surpringly, there have been no reports of serious injuries. A fast food restaurant was completely destroyed, with other buildings moving several metres.
The main road between Oslo and Gothenburg will now be closed for a long time. Travellers should avoid the area until a thorough assessment can be made.
What happened exactly?
The incident occurred between the old and new E6 in Stenungsund, north of Gothenburg.
"It is an area of approximately 500 meters in diameter that is affected," said police spokesperson August Brandt. Emergency services were alerted at 01:45 on Saturday morning.
Although first reported as a sinkhole, it seems most likely to be a quick clay landslide. Quick clay landslides occur when the unstable material is stressed and liquifies. They are a very real risk in Norway and other parts of Scandinavia.
"A sinkhole is when masses disappear down a hole due to an opening further down. You can see it in Oslo when a pipe leaks and masses disappear down. This is not a sinkhole. What you see is the landslide edge that has opened," geotechnician Håkon Heyerdahl told NRK.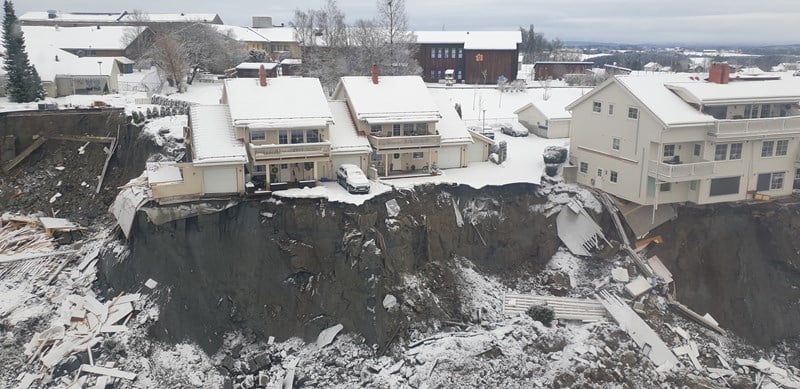 There were no passengers in the bus that was caught in the landslide. Some people in the cars caught up in the incident have been taken to hospital with minor injuries and shock.
A vulnerable area
"This is an area very prone to quick clay landslides. Historically, several large landslides have occurred here," said Heyerdahl.
Recent heavy rainfall and nearby construction work could be potential triggers. Access to the accident site is said to be difficult as there is still a high risk of further landslides.
Travel disruption between Norway and Sweden
The E6 is now closed north of Gothenburg in both directions. There is a regular detour available that takes an additional 45 minutes, although this may be extended given the high levels of traffic expected in the coming weeks.
A Swedish police spokesperson said the incident is expected to have "enormous" consequences for traffic for a long time to come.
As the road is completely destroyed in several places, it will likely take a long time for any long-term fix to be completed.