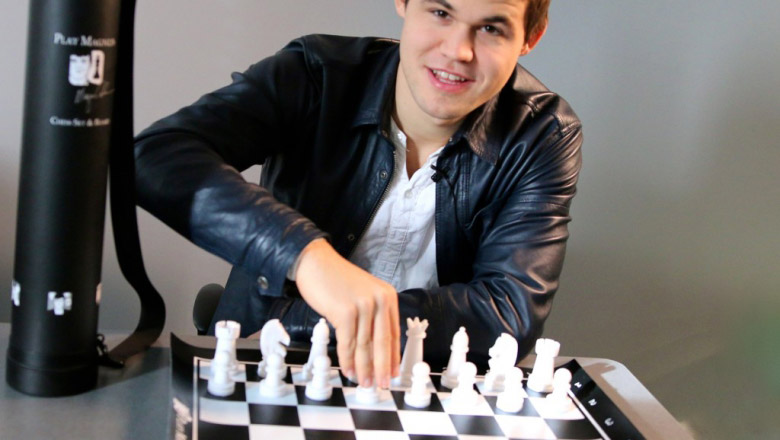 He rode his luck at times, but the Norwegian Grandmaster who made chess cool in Norway retained the World Chess Championship in 2018.
The champion again
Magnus Carlsen has successfully defended his world title after beating American challenger Fabiano Caruana in a tie-break, following an increasing tense 12 consecutive draws in the regular competition. While both players had opportunities to win regular games, Carlsen made no mistake in the rapid tie-break, winning 3-0.
Carlsen recently celebrated his 28th birthday, and will be favourite to defeat whoever is the 2020 challenger, especially as he will have learnt from his 2018 mistakes. That said, some rule changes are said to be on the way to make the regular competition more interesting.
Making chess cool again
"Not since the 1972 cold war showdown between the US grandmaster Bobby Fischer and his Russian rival Boris Spassky has chess been so high profile", wrote the Guardian after Carlsen's victory. The Norwegian has had the same impact in his home country for years.
Over the last ten years or so, Norway's chess rock star Magnus Carlsen has achieved the impossible. He's made the game of granddads the world over cool!
So much so, that when the young superstar first won the World Championship, shops all over Norway sold out of chess sets, and a whole new generation took up the game.
Regardless of whether he will ever be considered the world's greatest ever or not, Carlsen's position as one of the all-time greats in chess is absolutely assured. This is his story.
His early life
Magnus Carlsen was born in Tønsberg, Norway, in 1990. The son of an IT consultant and chemical engineer, with one elder and two younger sisters, Magnus showed great intellect at an early age. At 2 he could complete 50-piece jigsaws and at 4 he could build Lego sets designed for children aged 10-14.
Despite this, when his father – a keen amateur chess player – introduced Magnus to the game of chess at the age of 5 he initially showed very little interest. It wasn't until a couple of years later, armed with a dose of that great motivator – sibling rivalry – that Magnus decided he wanted to play chess so that he could beat his elder sister!
Magnus entered his first tournament in 1999 and had enough success to enter the Norwegian College of Elite Sports where he was coached by Norway's top player Simen Agdestein.
From hobby to pro
Between autumn 2000 and winter 2002, Magnus played almost 300 rated tournament games, going from moderate success in the Norwegian Junior Teams Championship and a performance rating (PR) of 2000 to tying for first place (and ending second on a tiebreaker to Ian Nepomniachtchi) in the World Under-12 Championship in Heraklio.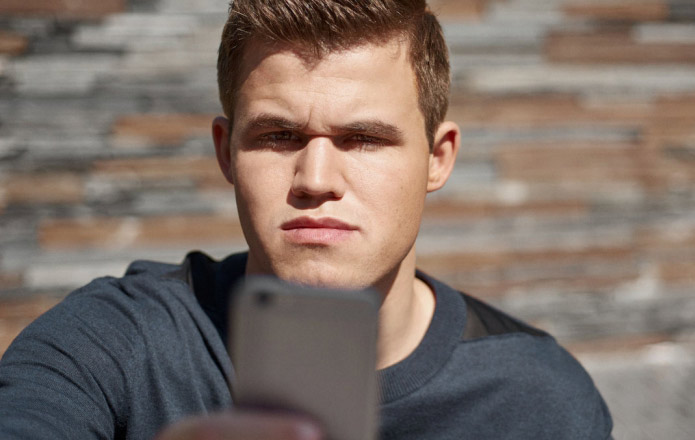 In the following year, he obtained three IM Norms (play to a required high standard in order to become an International Master) in quick succession and in August 2003, at the age of just 12 years and 9 months, he became an International Master with a PR of 2503.
Magnus then took a year off from school to compete in international chess tournaments throughout Europe. He placed third in the European Under-14 Championship and ninth in the World Under-14 Championship in the autumn season.
Making a career of chess
Magnus first started earning headlines in the 2004 Corus (now Tata Steel) chess tournament in Wijk aan Zee where he won the C group, lising just one game. This earned him his first GM Norm and a PR of 2702.
This victory qualified him for the B group the following year and led to one correspondent dubbing him 'the Mozart of Chess'. He also received the attention of Microsoft who became his sponsor.
His second GM norm came just a month later at the Moscow Aeroflot Open. A month later he played a blitz chess tournament in which he beat former World Champion Anatoly Karpov.
The following day he was drawn against Garry Kasparov – at the time, the World Number One –  in a rapid chess knockout tournament, winning the first game but losing the second to be knocked out.
In April of 2004, at the Dubai Open Chess Championship, Magnus attained his third and final GM norm to become the world's youngest Grand Master at the time and the second youngest Grand Master in history at the time.
As often happens he was soon brought back down to Earth with a bang by being knocked out in the first round of the World Chess Championship!
He then proceeded to tie the Norwegian Chess Championship and after two tiebreaks were also tied, his opponent, Berge Østenstad – at the time the reigning champion – was awarded the title due to a superior record.
Still, not a bad reckoning for a young man a few months shy of his 14th birthday!
Climbing through the ranks
The following year, Magnus again lost out in the Norwegian Chess Championship, this time against his mentor Simen Agdestein. Ironically, the rule which had seen him lose the previous year would have seen him win this time round but it was abolished in the meantime!
Magnus continued to have considerable success, winning games against players ranked much higher than him, though not consistently enough to win major tournaments. He came 10th in the Chess World Cup in Russia thus becoming the youngest player to be an official World Championship candidate.
In 2006, he finally became Norwegian Chess Champion, though the fact that once again it went to tie-break meant he missed out on beating Agdestein's record of being the youngest ever winner.
2006 also saw Magnus' first technical victory in an 'A Series' elite tournament, coming joint first with two other players.
Over the next few years, Magnus' game continued to improve, though he still struggled to find that consistency that would make him a great player. He could beat anyone on a good day but not reliably.
Becoming number one
In early 2009 he engaged former world champion Garry Kasparov as coach, though this was not revealed to the public until September. The relationship ended formally in March 2010 although their informal relationship would continue.
Magnus has said that Kasparov's input helped his game a lot. In 2012, when asked what he learnt from working with Kasparov, Carlsen answered: "Complex positions. That was the most important thing."
His 2009 performance in the Nanjing Pearl Spring tournament was exemplary. He won the tournament by 2.5 points (one point for a win, half for a draw) in an undefeated run which earned a PR of 3002. This has been declared as one of the 20 best chess tournament performances of all time and the best by a teenager.
At the end of 2009, in the inaugural London Chess Classic, Magnus triumphed in the tournament in a field comprising eight of the very best players in the world. This victory, and his PR of 2844, put his at the top of the FIDE Rankings for the first time. At the age of 19, Magnus was finally world number one!
In 2013, Magnus beat defending world champion Viswanathan Anand in the World Chess Championships to become World Champion, a title he has successfully defended at every championship since. He also won the World Rapid Championship and World Blitz Championship in 2014, becoming the first player to hold all three titles simultaneously.
Outside of chess
Magnus is known as a bit of a 'rock n roll star' in the world of chess. He has a list of endorsements of companies. Magnus will endorse anything he believes in, from G Star Raw clothing, who have also used him as a model, to Nordic Semiconductor – a smart choice for a chip maker who wants to show theirs are the very best.
Learning chess should be fun. That's why my newest app, Magnus' Kingdom of Chess, teaches kids chess in a brand new way. Download the game today, and join me on a chess learning adventure https://t.co/yANTpG34qq pic.twitter.com/M2QzKAinej

— Magnus Carlsen (@MagnusCarlsen) June 11, 2018
Magnus is also the only chess professional with a full time manager – Espen Agdestein, brother of his former mentor Simen Agdestein – who took over the management of his many sponsorship and endorsement deals from Magnus' father in 2011.
He's very close to his family, and still enjoys the sibling rivalry with his sisters. He has been quoted as saying that he enjoys winning Monopoly against his family much more than he enjoys chess! He follows a mostly vegetarian diet because two of his sisters are vegetarian.
Inspiring a whole new generation of players
He also enjoys computer games as a way to relax between tournaments – and often during them too – which may be why in 2013 he launched a mobile app called Play Magnus. The app allows people to play against Magnus at various stages of his career, using the historical data of his chess games.
The idea is to inspire a new generation of chess players, both in Norway and around the world, to follow in his footsteps.
Inspiration is already one legacy of Magnus' success. On first winning the World Chess Championship, the country virtually sold out of chess sets!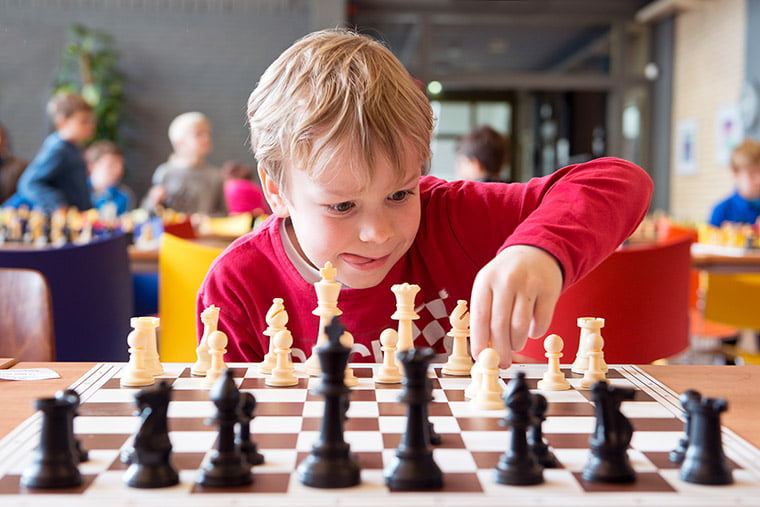 Perhaps the most surprising thing about him, however, is the fact that he himself doesn't play chess with or against computers. In fact when reading about the subject and preparing himself he doesn't even use a chess board!
This might explain why a comparison of his moves against Stockfish – a computer chess engine which has outperformed every human opponent – has rated Magnus to be the best player of all time as he's the most likely to choose the optimal move suggested by the program.
But maybe it's not all that surprising. With his incredible memory for moves and patterns, and his varied playing style, he's almost a computer himself!