I started my new job on Monday. My first task was to fly to Stavanger for a three-day training course. Having never visited one of Norway's most important cities, I was pleased to be going, despite the 5am wake-up call!
Here's what I knew about Stavanger before going:
– It's Norway's oil capital
– The weather isn't great
– It's home to lots of expats
What I found was a picturesque little town, full of visual stimulation, and not the cold, money-driven industrial town I'd been expecting.
Of course, the fact my visit coincided with the first heat wave of 2012 was a massive help. Everywhere looks great bathed in sunshine! The temperature hit 26C on both the evenings I was there 🙂
On Walkabout in Stavanger
My very first impression on my way into the office was of a strong resemblance to Bergen, especially the area by the lake. The office was situated above the famous old town (Gamle Stavanger) close to the port, so after the first day's training I had the perfect opportunity to explore. I'd been told by many to wander the streets of the old town, home to a few hundred old wooden houses.
This was indeed a pretty sight, but I hadn't expected thousands more (albeit more modern) to be dotted throughout the city. There's something about Norway's wooden houses that I can't get enough of, and Stavanger has some of the best examples I've seen.
The main shopping area was situated on narrow cobbled streets near the harbour, where tourists flocked from the two giant cruise ships in dock. It made for an interesting atmosphere, a mix of locals, expats and tourists all enjoying the sunshine. I was lucky to stumble upon a lovely pub I'd been recommended, the Cardinal, which served a wide variety of locally-brewed and international beers. On a hot day, this was perfect!
The Norwegian Oil Industry
For a town so synonymous with the oil industry, I found little evidence of it… at least at first. The majority of the "visible" industry is located offshore, or in other areas such as Tananger, a peninsular several miles west of the city.
But as I spent more time here, I began to notice the influence. Many bars and restaurants are aimed not at tourists, but at the wealthy English-speaking expat community. You see more English on signs and adverts here than in Bergen, Trondheim, or even Oslo. Every single person I spoke to, aside from waiters and bar staff, worked for an oil company, or a business connected to the industry.
I took a short stroll around the quayside and arrived at the Norwegian Petroleum Museum. Although there wasn't time for be to go inside, I'm glad I took the walk. It's quite a sight, put it this way the only possible use of a building like that must be an oil museum! Together with the rather odd "urban art playground" outside, it did make me curious of the contents, which I'm told is far more interesting than you would expect! Next time.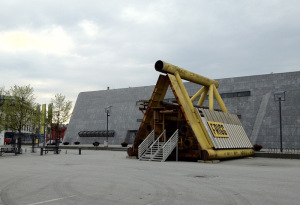 All in all, I thoroughly enjoyed my time in Stavanger and am grateful the glorious weather gave me a chance to explore! One local told me "this is as good as it gets" and I was left wondering how I would feel on a cold, wet and windy day. My new job will take me to Stavanger on occasion, so I'm sure I'll get to find out!