And so, our epic quest for Oslo's best burger continues! The American-themed Nighthawk Diner is a magnet for hipsters, smack bang in the middle of Oslo's Grünerløkka district. So… how else to start but with an Instagram of the interior??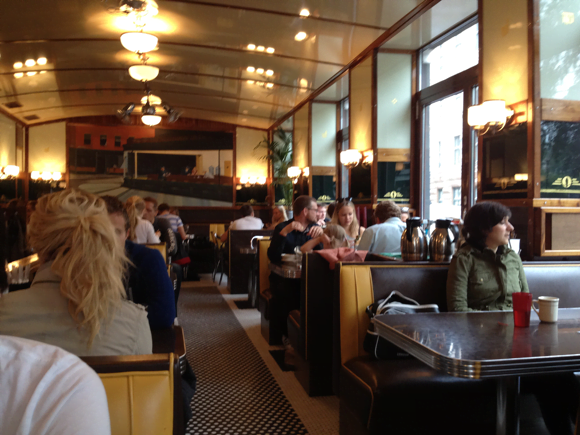 Over to Gerry…
DISCLAIMER: I am writing this after an entire morning of cleaning the flat and surrounded by the scent of a pizza in the oven, so things might sound yummier than what I intend.
This was our second attempt at dinning in Nighthawk. The first, failed one, had an expected 30 minute wait before any chances of getting a table, so we passed. This second time the time was similar, but since we were only two, a table opened sooner and we actually didn't have to wait more than a minute. Bear this in mind if you arrive here very hungry, and make your plan!
Now, you'd say, a place which is always so busy should be good, and well, it is! My order was a standard burger with a side of potato slices and fresh vegetables, some of which were intended to go into the burger (and if not, that's where they went anyway). The patty was very juicy and full of flavor; also very importantly, the lower bun didn't crumble or ripped, which I absolutely despise. My only criticism is that the vegetables were dressed with a vinaigrette which didn't go very well with the overall combination of flavors.
Joining the service was an amazing strawberry milkshake which reminded me why I should't have milkshake all the time (I would have just too many of them if I incorporate them into my weekly diet!)
The facilities were fun and flashy, which is what you'd expect from a 60's cafe, jukebox and crinolines. I would wonder how much more or less busy would it be at other times, because it was a little on the crowded side, but comfortable enough.
Summarily, Nighthawk provided a great environment, burgers and drinks, but it's a popular place, so expect a bit of noise and somewhat long waiting times before you start munching.
Now, back to David!
I loved the ambience of this place. The tacky uniforms, the in-your-face chrome, the jukebox music – yes it's a somewhat confused collaboration of themes taken from the last 50 years of Hollywood films, but as long as you go for a laugh and take it all with a pinch of salt, it kinda works.
Anything tropical-themed in Northern Europe tends to grab my attention, so it was the Aku-Aku burger for me! I expected a normal burger with a slice of pineapple, but kudos to the Nighthawk Diner, my burger was dressed with some genuinely exotic fruits. It also came with a delicious coleslaw, the first time I've ever paired the words "delicious" and "coleslaw".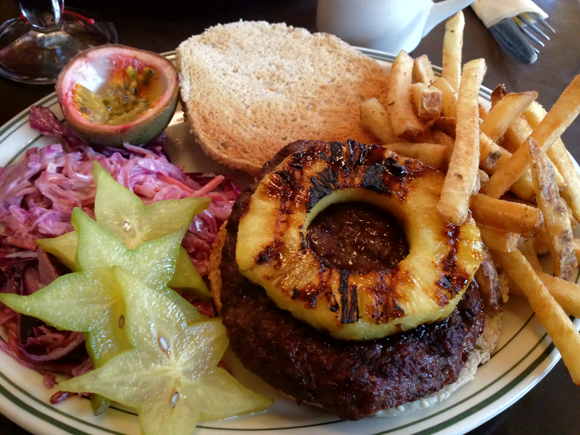 I never expect much from the food in theme restaurants, it tends to be all looks and no substance. So it was a surprise to me that the burger was excellent. The beef, supplied from a local farm, is full of flavour and grilled perfectly.
There were some downsides – the fries were basic and the bread could have been fresher – but overall it was a surprisingly good experience. But at 189 Kroner, the Nighthawk Diner's burgers are too expensive, even by Oslo standards.
The search continues. Next up, Cafe Fiasco!