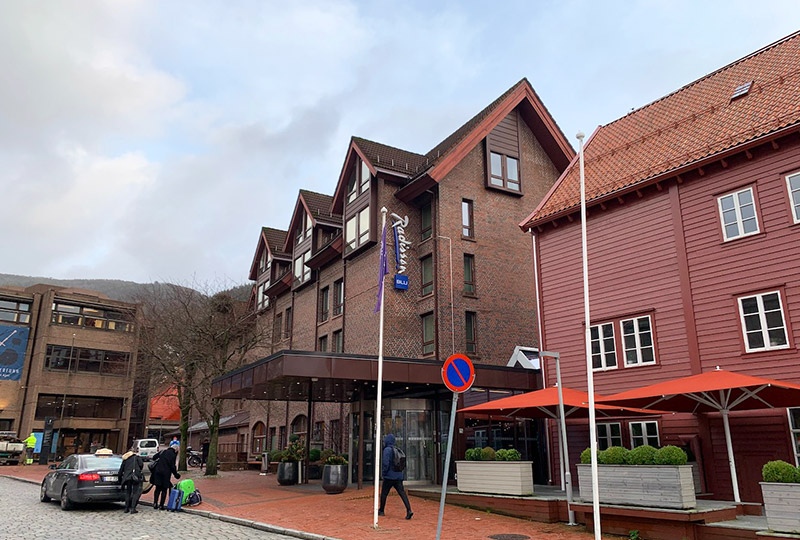 Stay in the heart of Bergen in the historic Bryggen neighbourhood at the Radisson Blu Royal. Here's what you can expect from this leading chain hotel in Norway's second city.
So many of Life in Norway's readers discover the site through researching a trip to Bergen. I get many emails asking for hotel recommendations and those numbers have been increasing of late. As it's been quite some time since I posted a hotel review, I took a few notes on my recent trip to Bergen.
The Radisson Blu Royal Hotel has 342 rooms making it one of the biggest hotels in the city. If you're looking for a good value place to stay in Bergen but still want a certain level of comfort, this could be just what you're looking for.
Location of the hotel and what's nearby
The hotel is nestled at the northwest end of Bryggen, Bergen's neighbourhood of protected Hanseatic trading houses that has been a UNESCO World Heritage Site since 1979. Directly opposite is another hotel, the Clarion Collection Havnekontoret.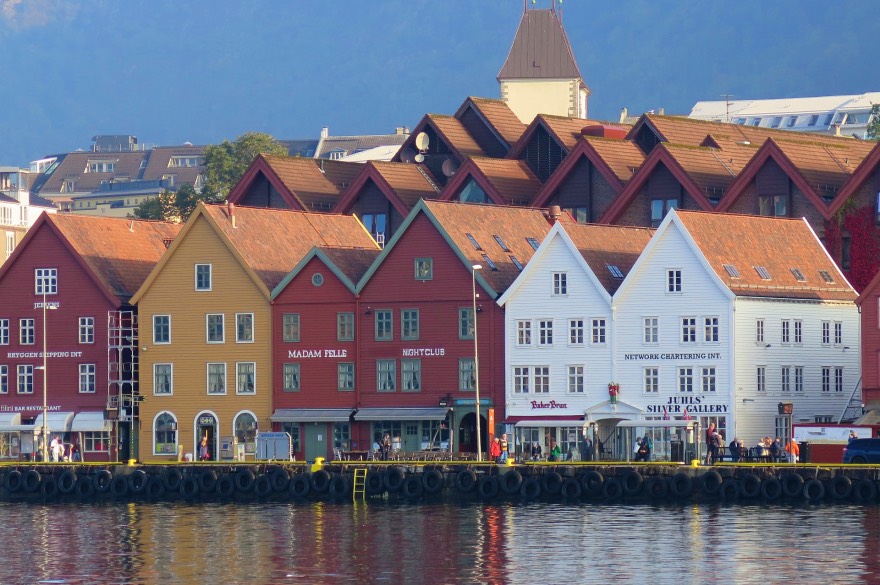 Between the two hotels is the final stop on the airport express coach. While it's more expensive than the light rail, the convenience of the stop means it's a price most (and me!) are happy to pay with luggage in tow.
Its location just a short walk from the cruise terminal means it's a popular stop for passengers joining or leaving a vessel. I also quickly discovered its one of the hotels used by Hurtigruten to host delayed passengers.
I arrived in Bergen just 24 hours after extremely high water levels at Bryggen. The stormy weather that caused the high levels also caused several Hurtigruten departures to be postponed. I spoke to several people who were staying the night before being flown up to Trondheim to join the waiting vessel to start their voyage.
Interested in this hotel? Check current rates and availability now with our partners Booking.com.
Check-in and lobby
There are four check-in desks in the reception. Only one staff member was on duty when I checked-in, but I was the only person around so that was no problem at all! Check-in took less than a minute as I had pre-paid my room.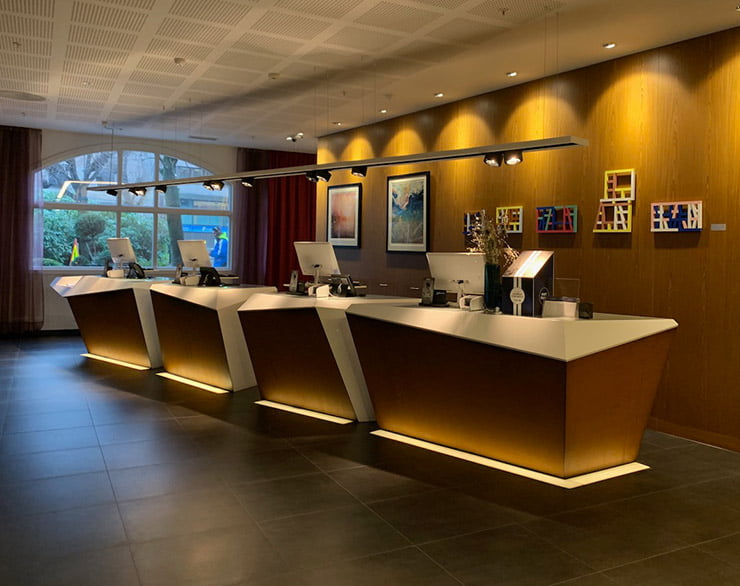 There is a comfortable seating area in the lobby that was used by at least a few people every time I passed by. I used it myself once while my room was bring cleaned and it was comfortable and quiet, despite being next to the main entrance.
Guest room
My room was on the 5th floor and as such had a sloping roof. This may seem inconvenient but the design of the room meant it wasn't a problem aside from the relatively small window.
As I was staying in January there wasn't exactly a lot of light to let into the room anyway, but perhaps I would've missed a larger window more in the summer. Rather than curtains, the window could be covered by a large wooden panel.
My first impression of the room was that it was smaller than many Radisson Blu hotels that I've stayed in. But I think that was down to the sloping roof more than anything. After a couple nights, I was comfortable and felt there was more than enough space.
I'm actually writing this review from the desk after having spent an hour reading in the easy chair, both of which you can (just about!) see in these images. Many hotel rooms in Norway don't have this kind of flexibility.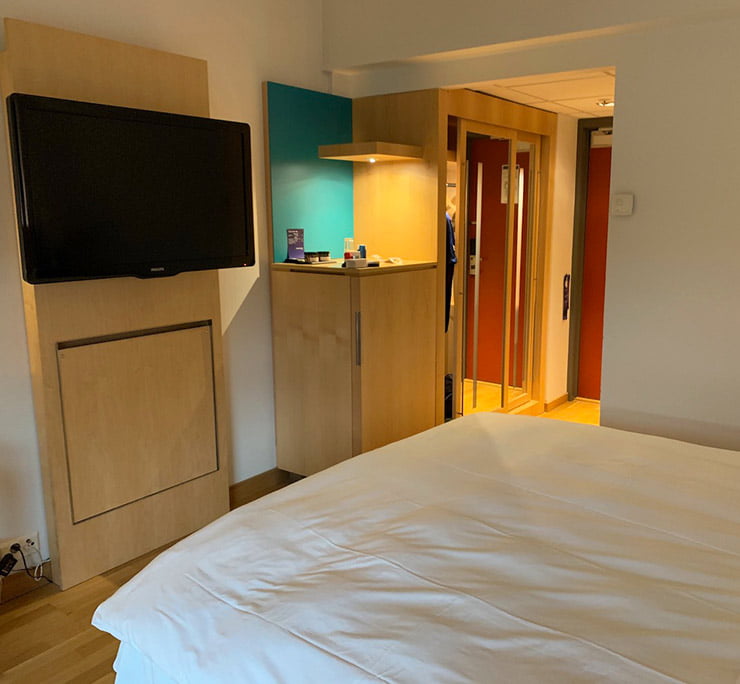 Of course, what matters most about any hotel room is the bed. As with all Radisson Blu hotels, the mattress and pillows were all excellent and I enjoyed three great nights of sleep. There was also plenty of power outlets.
The TV worked fine although I rarely switched it on. At home I only watch Netflix and HBO so rarely watch regular TV channels when I'm travelling. I did have a quick look though and the channels were as expected. The inclusion of BBC World News and Viasat Football were nice to see.
A hairdryer, iron, Nespresso machine and minibar fridge—with space for a couple of my own items—were also in the room.
Whereas the room was bigger than it looked, the bathroom was as small as it looked. Hotel bathrooms in Norway are rarely big so this is nothing unusual, but it was a tight squeeze.
This was made up for in many respects by the excellent shower and, despite the small size of the room, plenty of space for toiletries. Although I brought my own, there were small bottles of shampoo, conditioner, body wash and body lotion provided.
Interested in this hotel? Check current rates and availability now with our partners Booking.com.
Breakfast
Another big test of a hotel in Norway is the quality of the breakfast buffet. I've had good experiences of Radisson Blu breakfasts in the past, so I was looking forward to testing this out. On my first morning the breakfast room was full although I was able to find a table. On the second morning I went later (about 8am) and the room was much quieter.
Coffee is provided in a flask on the table, saving a trip and the always endless queue at a Norwegian coffee machine! A good start. The buffet was decent with a good selection of hot items too. On each table is a menu from which you can order from a list of omelettes and other egg-based dishes, if that's your bag.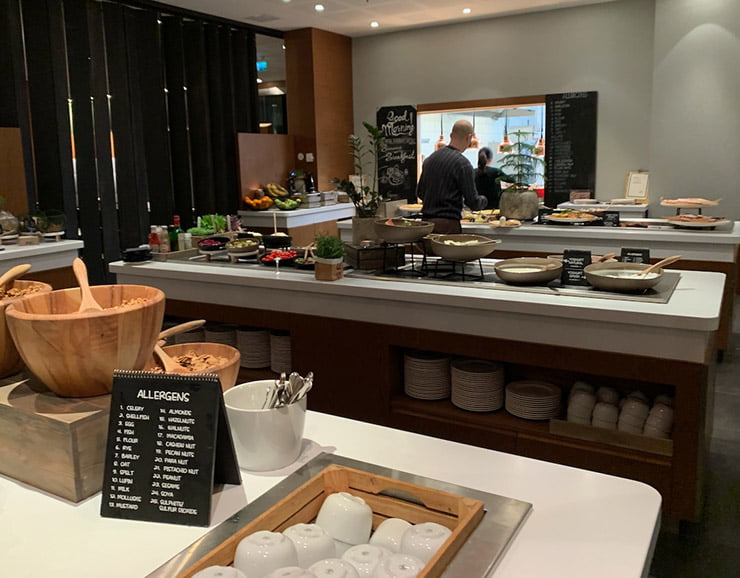 26 North Restaurant
The hotel's bar and restaurant named 26 North is open to the public with one entrance from the hotel lobby and another facing Bryggen.
Nordic food is the focus, although I'd say it's more international food with Nordic ingredients. For example, the "Nordic taco" uses lefse instead of tortilla and includes trout roe. I also spotted a pasta dish with Norwegian crab meat.
I only ate a small meal and a beer here. That being said, the service was average and didn't inspire me to want to come back for something more substantial later in my stay. The prices were high and while the food was good, there are better value choices elsewhere in the city centre.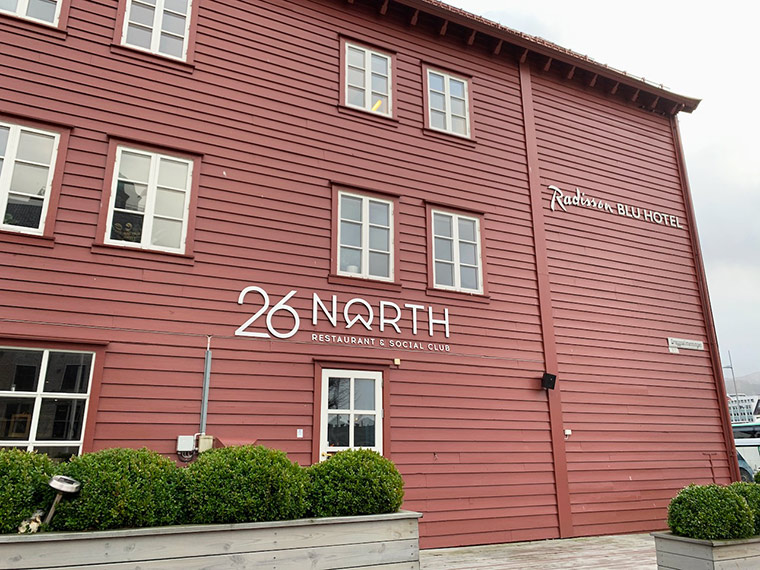 Other hotel facilities
The free Wi-Fi was quick, worked throughout the hotel and didn't drop the connection every ten minutes like some hotel internet services I've used in Norway. Aside the extensive conference facilities, the only other facility in the hotel of note was a small fitness room and sauna.
The verdict
The Radisson Blu Royal Hotel doesn't have too many frills, but it's exceptional value. Most rooms at this time of year (January) are under 1,000 kroner per night. That's great value for this standard in the heart of a major Norwegian city. Prices rise in high season, but the hotel remains one of the better value options in Bergen.
Check current rates and availability now with our partners Booking.com.