Yeah, I've moved to the hills!
This is the view from the nearest T-Bane (metro) station, just a few minutes walk from my new abode. I've moved to the Holmenkollen area, famous for the ski jump and those terrific views over the city below. Despite the apparent distance from the city in this photo and the winding roads and steep incline of the area, it's surprisingly nippy to get down to Majorstuen, just 10 minutes on the regular bus which stops right outside. Voksen (with a big Rema 1000 supermarket) and the Besserud T-Bane station (with an ICA Nær shop) are both within 7-8 minutes walk with a Joker shop even closer, so despite the semi-rural location, I remain well connected. There's even a night bus from the city – hurrah!
The area is dotted with beautiful houses, cycle paths and great views. One of the main motivations for me moving to the hills was a desire to get fit. Up here I'm further away from distractions and closer to some great sporting opportunities, with hiking, cycling, jogging and tennis all within easy reach. My one concern with the hilly environment is the winter, especially as I didn't deal well with the ice last time around! However you live and learn, and my commitment to learning cross-country skiing will be far easier to achieve up here.
There's some beautiful houses and lanes nearby. Here's a few photos of the area I took on a walk last night:
I'm living in a hybel, a popular form of accommodation all over Norway and especially in Oslo. The most accurate translation into English is a bedsit or studio flat, but a Norwegian hybel is often more than that. Mine for instance has an entrance area, a hallway, a separate bedroom and a sizable storage room in addition to a living area the size of many bedsits I've seen. I even have a nice semi-private outdoor area with table and chairs. So in essence this is a one-bedroom flat, and just as big as my previous place.
What really defines a hybel is it's position as part of a larger dwelling, for example a basement flat of a family home. So in English, I've moved into a granny-flat! Having said that, I'm not in a basement, I'm on the ground floor. Some of the basement hybler I saw were so dark I'd have forgotten what daylight looked like!
It's quite a change from the city centre flat I lived in for my first year in Oslo. I actually gave notice on that flat several months ago when my future in Norway looked in doubt. Once I found a permanent job my thoughts turned to living in a more relaxed location and saving some money. As it turns out, I've managed to save several thousand kroner per month on my previous rent, money that will be banked and who knows, may one day go towards buying a place of my own!
But for now, you're all* welcome to visit. Who wants to drop by for a spot of tea? 🙂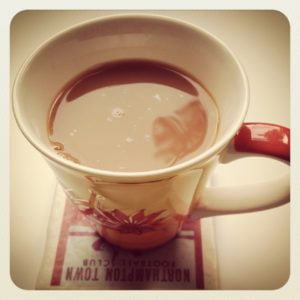 * obviously not all – stalkers, freaks and the like can jog on!