Sportswashing is Norway's latest word of the year. Your initial reaction may be 'what?', but here's why the choice of word is important.
In December every year, the Language Council of Norway announces its 'word of the year'. For 2021, the word was sportsvaske, or sportswashing. In their words: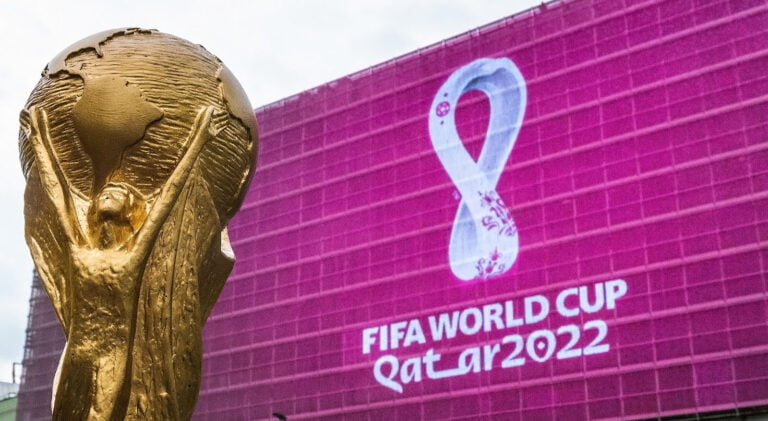 'In 2022, several large sporting events will be organized in countries that are criticized for their poor human rights records. With that in mind, sport washing has become a relevant word in Norwegian…Sportswashing is used when authorities in totalitarian regimes utilize sporting events to present themselves in a better light' (my translation).
Some expressed surprise at this year's word choice – perhaps especially when compared with last year's 'korona' – but Helene Uri, author, linguist and professor, is quick to point out that this year's word is important politically. She praises the Language Council of Norway for providing a platform for discussion.
Speaking out against sportswashing and the 2022 Qatar World Cup
The most-discussed sportswashing case of 2021 was perhaps the 2022 Qatar World Cup.
Norway's football team did not qualify but they certainly made a statement, opting for jerseys with the message Human Rights On And Off The Pitch in several qualifying matches.
Norwegian players and clubs have been outspoken on human rights conditions in Qatar, and Norwegian football magazine Josimar has published texts that were controversial enough to put them at the receiving end of a defamation claim from the Qatar 2022 organizing committee.
Additionally, the editor-in-chief at Josimar as well as Norwegian Broadcasting Corporation (NRK) members of staff Halvor Ekeland and Lokman Ghorbani were detained while reporting from Qatar late last year.
Amnesty Norway have also been vocal in their critique of Qatar's poor human rights records, arguing that the World Cup is a golden opportunity to apply more pressure on Qatar to respect the International Covenant on Civil and Political Rights (ICCPR) and the International Covenant on Economic, Social and Cultural Rights (ICESCR), which the country signed in 2018.
There is no doubt that Qatar's human rights record leaves a lot to be desired, and that some of the foreign migrant workers contributing to making the 2022 Qatar World Cup a reality live and work under appallingly poor conditions.
In the game of rights, power matters. In the game of rights, the Norwegian national football team, Tromsø IL, Josimar, and NRK can share information, stories, and outrage without potential risk to livelihoods, host country residence permits, or prison sentences.
The migrants, more often than not, cannot. To understand that, we need to understand the structures of sponsorship linking migrants and citizens in Qatar.
Migrants in the Arab Gulf
The tiny state of Qatar relies heavily on a non-national workforce. Migrants completely outnumber citizens and make up over 90% of the population.
The migrants are seen as temporary guest workers; there to do a job, and return home. This is not necessarily what happens in reality and the Arab Gulf is full of non-nationals who have spent a lifetime there – but structurally, always as 'temporary guests', knowing that permanence or naturalization is difficult if not impossible.
Migrant workers can be roughly divided into three categories:
domestic workers
low- to mid-skilled workers
mid- to highly skilled workers
The 2022 World Cup construction workers we've been able to read about in several newspaper articles fall into group two, composed largely of South-East Asian and African nationals.
The kafala system – a relationship of power difference
The kafala – or sponsorship – system, regulates the vast non-national workforce and is perhaps best described as a structural relationship of power difference between a national employer (kafeel/sponsor) and a migrant employee.
The kafala system, according to non-profit organization Migrant Rights, "… is a way for governments to delegate oversight and responsibility for migrants to private citizens or companies." It gives "… legal responsibility, powers, and rights to the sponsor in the eyes of the State."
The migrant's relationship, therefore, is not directly with the State, but with a citizen or (citizen-owned) company who is legally and financially responsible for them, states Silvia Pessoa, teaching professor at Carnegie Mellom University in Qatar.
That sponsor controls both work permits and residency, which means that your right to live depends on your right to work which again depends on the sponsor.
Adding to this, freedom of organization, demonstration, and expression is limited throughout the Arab Gulf. Complaints, questions, or publication of views against sponsors or the host state could land you in prison or cost you your job.
A migrant's chances of filing a labor dispute case against their sponsor and resolving the case with a favorable result are also limited.
For a migrant construction worker, a job loss is a considerable personal and financial loss, affecting not just himself but also his family back home.
The end of kafala?
To be fair, Qatar is working towards reforms and has made changes to the kafala system in recent years. Some have even stated that the kafala system has come to an end, while others worry about recent pushbacks to the changes made.
Either way; it's not enough. Migrant workers in the 2022 Qatar World Cup still live with a structural system of power imbalance where the odds are most definitely not in their favor.
'Sportsvaske' is a political statement. Use it well
Making sportswashing 'word of the year' is a political statement. Let's not allow Qatar to sport wash their image so all you remember from the 2022 World Cup is glitzy football fields and heroic players.
Don't get me wrong; I admire and applaud the players. But the migrant workers are the real heroes of this World Cup.
Want to learn more?