Trondheim's biggest festival of year gets underway tomorrow. The 51st St. Olav Festival – Olavsfestdagene – starts on the eve of the anniversary of the death of Olaf II Haraldsson, King of Norway from 1015 to 1028. He was canonised one year after his death, becoming St. Olaf.
There's loads to see and do during the week-long festival, including concerts, markets, and activities for all the family. Here's some highlights:
The Historical Market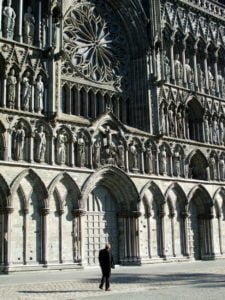 The thriving centre of the festival in the courtyard adjacent to Nidaros Cathedral. If you're in Trondheim over the next week you must pay a visit. There'll be stalls offering handicrafts and other goods for sale, jugglers, plays, and a diverse range of activities and other entertainment.
At the Archbishop's Palace we try to recreate the atmosphere from the old market place as it was during the feast of Saint Olav. Craftsmen and pedlars came here to trade their goods. Our new food concept offers medieval meals and tastes. And every day there will be entertainment for everyone, both young and old, at the market.
James Morrison & First Aid Kit
The English singer-songwriter famous for "You Give Me Something" comes to Borggården on 30 July. Also on the bill is Swedish folk duo First Aid Kit, comprised of sisters Johanna and Klara Söderberg. Tickets cost NOK 450.
Mini-Pilgramige to Nidaros
During the Middle Ages, Nidaros Cathedral was an important pilgrimage destination. People from all over Europe have made their pilgrimage to St. Olav's coffin on the high altar in the cathedral. Even today people walk the pilgrim's trail from Oslo to Nidaros.
On several days throughout the festival you can follow in their footsteps – but don't worry – it will only take you an hour! The walk is suitable for all the family and begins at the Museum of the Middle Ages.
We dress in pilgrim outfits and walk with a guide down to the river Nidelven, past the Olav's Fountain and further on to the west front of the cathedral. The walk is arranged in collaboration with Trondheim Viking Association.
Free concerts at Torget
A huge marquee has been erected outside Trondheim Torg shopping centre and it will play host to a series of free concerts, every afternoon throughout the festival.
After-School Club Day
On 2nd August there will be a mass children's pilgrimage to the cathedral, followed by a play, picnic, treasure hunts, and a chance to explore the medieval market. At lunchtime all the children form a choir outside the cathedral, where they will sing and release balloons.
There's tons going on so if you're in Trondheim at any point during the festival, check out the festival website to find something for you. The festival runs from 28th July to 3rd August.