Discovering the bustling towns and enchanting islands of Sweden's wonderful west coast, an easy drive from the Norwegian capital city region.
It's not just Norway that is blessed with natural beauty in this part of the world. If you live in or around Oslo, have you ever considered exploring the coastal beauty that lies just beyond Norway's border?
Sweden's west coast beckons, offering a treasure trove of unforgettable experiences and scenic landscapes, all within easy reach of your own backyard.
This alluring coastal paradise boasts a captivating archipelago, charming fishing villages, and vibrant cities, making it the ideal destination for a quick weekend break or longer summer vacation.
Introducing Sweden's west coast
Venturing beyond the bustling cities and shopping districts, the western coastline of Sweden reveals sparkling lakes and charming fishing spots, beckoning travelers to explore further.
A beloved summer retreat for locals, the west coast stretches from the vibrant city of Gothenburg to the Norwegian border, encompassing a spectacular archipelago of granite islands.
The west coast exudes a unique charm, from the glistening granite islands to the mesmerizing national parks.
Launch your adventure in Gothenburg, then paddle into a kayaking expedition to spot frolicking seals. Other highlights include the literary inspiration of Fjällbacka, the car-free Koster islands, the national marine park Kosterhavet, and fishing villages galore.
Although you can visit the west coast year-round, consider planning your trip during the warmer months to fully enjoy the waters and sunshine.
Must-visit destinations on Sweden's west coast
Now that you know what awaits on the Swedish west coast, let's explore some must-visit destinations. With thousands of lakes, cities, and islands across Sweden, planning your itinerary in advance is key.
Gothenburg
Discover the vibrant city of Gothenburg, Sweden's second-largest city, which lies just a few hours from Oslo by car, train or coach.
With its lively atmosphere, rich cultural offerings, and stunning coastal setting, Gothenburg serves as the perfect gateway to west Sweden's picturesque archipelagos and charming coastal towns.
As you immerse yourself in the city's laid-back vibe, begin your exploration in the historic Haga district, where cobblestone streets and traditional wooden houses transport you to a bygone era. Indulge in some shopping along Haga Nygata, a bustling street lined with boutiques, cafes, and local artisan shops.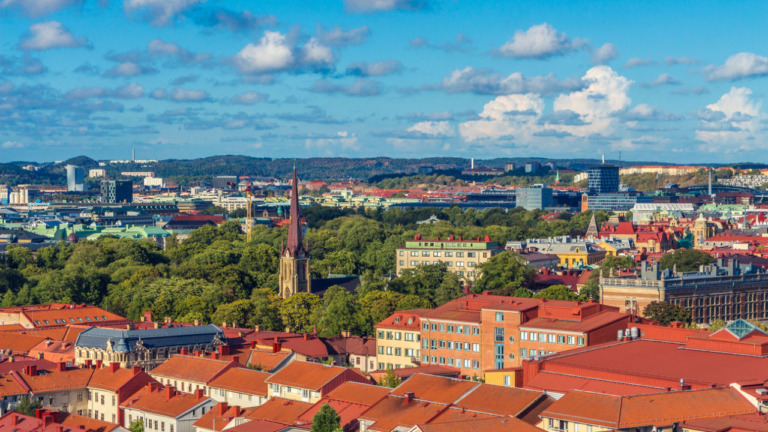 Gothenburg's passion for arts and culture shines through at the Gothenburg Museum of Art, where you'll find an impressive collection of Nordic and international masterpieces.
Dive deeper into Swedish history at the National History Museum, which showcases the nation's fascinating past.
From its rich cultural heritage to its enticing culinary scene, Gothenburg offers a taste of Sweden's west coast that will leave you yearning for more. Embark on your journey from this dynamic city and unlock the wonders that await you in West Sweden.
Gothenburg archipelago
Looking for more? For a taste of west Sweden, the Gothenburg archipelago is the perfect starting point. Boasting a blend of rugged beauty, charming fishing villages, and idyllic swimming spots, the archipelago is a must-visit for anyone visiting Gothenburg.
Gothenburg archipelago is divided into two parts, with the northern islands being accessible by car, offering a wealth of activities, from swimming and sunbathing to indulging in mouthwatering seafood at local restaurants.
The southern islands, on the other hand, are car-free, providing an idyllic setting for leisurely walks, cycling excursions, and rejuvenating dips in the crystal-clear waters.
Hop aboard one of the regular ferries from Lilla Varholmen, and let the archipelago's captivating beauty unfold before you as you navigate between islands such as Hönö and Björkö.
Immerse yourself in the island lifestyle by dining at Skärgårdshotellet and Tullhuset, two renowned seafood restaurants that often feature live music, creating a lively atmosphere for your dining pleasure.
Koster Islands & Kosterhavet National Park
Known for their marine national park, the Koster Islands islands offer pristine beaches, picturesque landscapes, and excellent opportunities for kayaking and diving close to the Norway-Sweden border.
Kosterhavet National Park (Kosterhavet), Sweden's first marine national park, boasts a rich and diverse underwater world, teeming with over 6,000 marine species, some of which are unique to the area.
The crystal-clear waters provide the ideal conditions for snorkeling and diving, allowing you to immerse yourself in an underwater paradise while marveling at the vibrant colors and fascinating creatures that call Kosterhavet their home.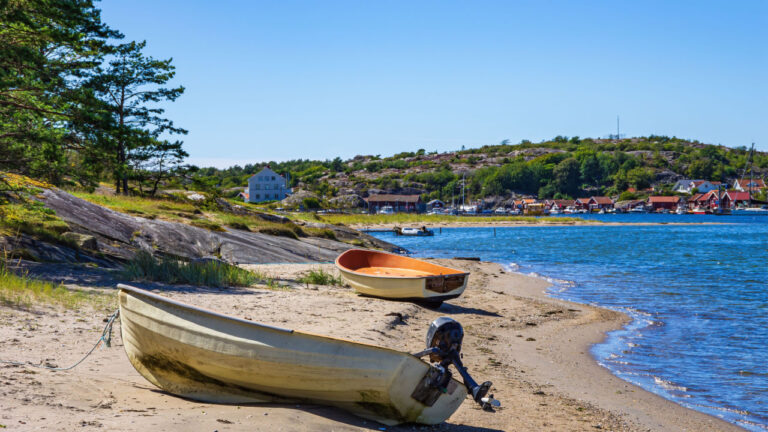 On land, the Koster Islands' picturesque landscapes, characterized by rugged cliffs, lush forests, and serene meadows, provide the perfect backdrop for leisurely walks, cycling excursions, or simply relaxing on the pristine beaches that dot the shoreline.
Kayaking enthusiasts will relish the opportunity to explore the islands' hidden coves and dramatic coastlines, while nature lovers can bask in the tranquility of this idyllic haven.
Other places to see on Sweden's west coast
Perhaps you've seen Gothenburg, its archipelago and the Koster islands before. Or maybe you just want to plan an extended trip? Whatever the reason, here's some more highlights of Sweden's west coast.
Tjörn
Ancient hills, woodlands, and charming fishing villages make Tjörn a great destination for walking and cycling.
Art lovers will be surprised by the thriving art scene, featuring the Pilane outdoor sculpture park and the fascinating Skärhamn watercolor museum. For a true taste of local culture, venture to Klädesholmen and immerse yourself in the region's seafood traditions.
Marstrand
A former fishing town, Marstrand is a haven for sailing enthusiasts and seafood lovers. It's a popular summer destination for locals, offering the opportunity to participate in Swedish crayfish parties.
The bustling marina and rich sailing culture attracts the who's-who of Swedish society. Don't miss the stunning Carlstens Fästning, a historic stone castle that offers panoramic views of the archipelago.
Fjällbacka
A popular seaside village, Fjällbacka is the gateway to the Väderöarna islands. With its colourful wooden houses, rugged coastline, and crystal-clear waters, Fjällbacka has long been a favored retreat for Scandinavians and is now garnering international attention.
The reason? This picturesque spot is the birthplace of crime writer Camilla Läckberg, whose novels paint a vivid portrait of the village's mysterious allure. Fans of her work can embark on a guided tour, exploring the settings that inspired her stories.
The village's cultural appeal extends beyond literature, as it was once the summer home of iconic actress Ingrid Bergman. Her presence lingers in the air, adding a touch of Hollywood glamour to this coastal destination.
Väderöarna islands
While in Fjällbacka, consider a boat trip out to the remote Väderöarna islands. These islands form the westernmost part of Sweden's coastline and offer a truly unique experience for visitors seeking adventure, tranquility, and a connection with nature.
Renowned for their wild and rugged beauty, the Väderöarna islands boast dramatic cliffs, rocky shores, and a diverse array of flora and fauna. The area is home to one of Sweden's largest seal colonies. If you're lucky, you may spot these playful creatures sunbathing on the rocks or swimming in the surrounding waters.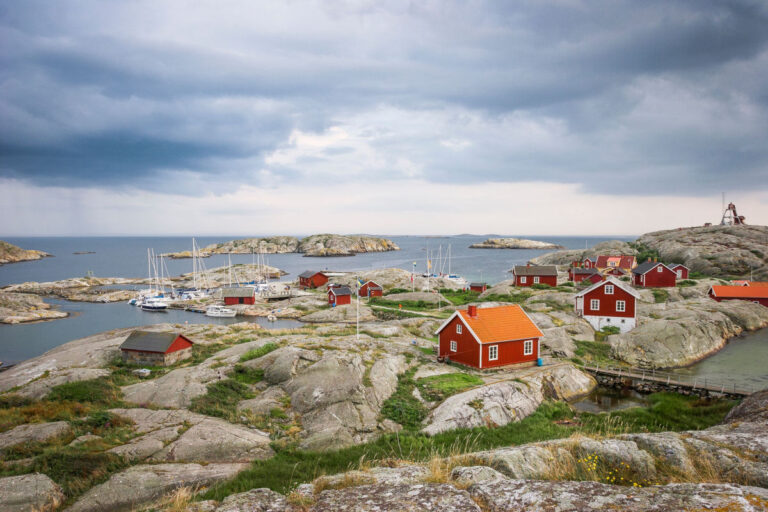 Birdwatchers will delight in the variety of seabirds that inhabit the islands, while those interested in marine life can explore the rich underwater world through snorkelling or diving.
The islands' sheltered bays and clear waters make them an ideal destination for kayaking and sailing enthusiasts as well.
To reach the Väderöarna islands, you can catch a ferry from Fjällbacka, which offers regular connections during the summer months. Once on the islands, you can choose to stay at a charming guesthouse or simply enjoy a day trip.
Lysekil
The former fishing village Lysekil has transformed into a thriving coastal town nestled on the southern tip of the picturesque Stångenäs peninsula. Expect quaint cottages, scenic harbours, and a maze of islands and islets.
Nature lovers will find solace in the majestic Stångehuvud nature reserve, boasting striking red granite cliffs that tower above the coastline. Don't miss the opportunity to explore the awe-inspiring Gullmarn fjord reserve, a testament to the region's natural beauty.
Orust
Sweden's third-largest island, Orust, boasts lush woodlands, quaint fishing villages, and an active sailing community. It's perfect for water enthusiasts, offering yachting, kayaking, and watersports.
Explore historic fishing communities like Stocken and Hälleviksstrand, and sample local cuisine at the island's oyster and mussel farm or its honey farm.
Have you ever been to the Swedish west coast? What are your favourite places to visit along this fascinating stretch of coastline? Let us know in the comments.