Today I want to talk to you about a problem I have in Norway. It's not only personal to me, for it seems most newcomers to Norway suffer from this condition within the first year or so. It's called… the Norwegian Bread Belly.
Visibly, the condition bears a striking similarity to the "British Beer Belly", caused by my home nation's addiction to a "quick pint after work".
One of the best things about Norway is the bread.
I expected to adjust to a diet featuring more fish and seafood when I moved to Norway, but what I didn't expect was this much bread – and of this quality.
I don't think I've ever seen a cheap "Tesco Value" style white loaf here. Your bog standard supermarket is stocked high with a staggering variety of freshly-baked bread, with even the cheapest being a vast improvement on the bread I was used to back in the UK. Supermarket chain Meny have been trying to differentiate themselves lately purely on bread:
Vi har ovn i alle våre butikker og steker brød hele dagen lang.
(we have ovens in every store and bake bread all day long)
Away from the supermarkets, bread is available almost everywhere.
If you want breakfast on the go, you'll find boller (small buns) from a kiosk hard to resist.
Lunchtime at many workplaces consists of salmon, hams, and cheeses, but all served on top of… bread.
The most popular snack food, pølser (hot dog sausages) usually come in nasty white bread rolls.
Bread really is hard to avoid!
Bakeries are the pubs of Norway.
Bakeries are everywhere – Baker Hansen, United Bakeries, Godt Brød, W.B. Samson – plus countless coffee chains and independent bakeries.
On every corner they advertise freshly-baked loaves, buns, cakes and other treats. At any of time of day these bakeries are full of people. Commuters grabbing breakfast, mums nattering while their kids run amok, bloggers on their laptops, schoolkids on their way home – the list is endless. And for each and every one of these people, that intoxicating smell of fresh bread is hard to resist.
All this adds up to a hell of a lot of carbohydrate.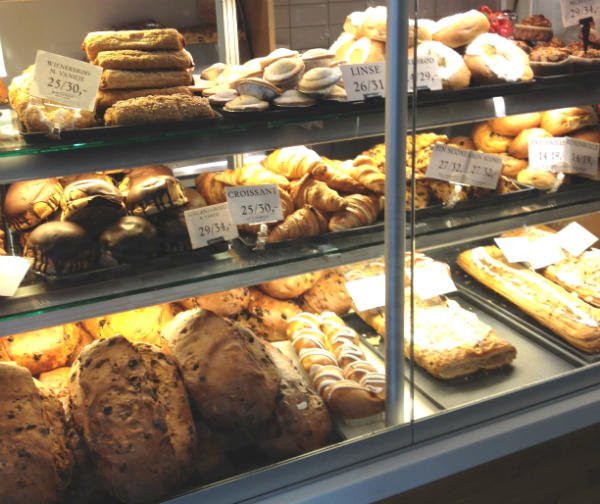 But Norwegians are so fit!
Now I come to the most confusing thing about the Norwegian Bread Belly – it only seems to affect newcomers!
Norwegians, in general, are a pretty fit bunch. Almost from birth, kids are thrust onto skis, into boats or up mountains. The carbohydrates in this bread-based diet provide essential energy for this activity.
But for us expats who haven't quite taken to exploring the great outdoors (yet), the Norwegian diet means just one thing…