Three late goals from Jo Inge Berget, Magne Hoset and Tommy Høiland turned the Norwegian Cup Final on its head, giving Molde a 4-2 victory and the trophy. It was heartbreak for Rosenborg who also missed out on the league title at the death, but for Molde it's the perfect end to a rollercoaster season.
As for the league itself, here's how the teams got on, in order of their final position:
1 – Strømsgodset
The Drammen club missed out by four points in 2012, but four goals in their final game made sure of the title this time. A month ago Rosenborg looked favourites, but five wins in their final six games ensured they stayed ahead. Much-loved coach Ronny Deila has built a team that's hard to beat and is always a threat – so much so they scored 11 more goals than any other team.
2 – Rosenborg
Norway's most famous club blew hot and cold throughout the season. One week they'd look like Champions elect (beating Brann 4-0 and 4-1) but then look totally inept (losing at Tromsø in the key title run-in). Consistency cost Per Joar Hansen a trophy in his first season back in charge, but they'll be back challenging next season.
3 – Haugesund
The surprise package of the 2013 Tippeligaen. A winless September ended any slim title hopes, but an impressive run-in including wins at Brann and Vålerenga steered them to third and a crack at the Europe League. They weren't free scorers, in fact relegated Tromsø scored the same 41 league goals as Haugesund managed, but they won a vast amount of their games by a single goal to outweigh some heavy defeats. Hanging on to their Danish top scorer Christian Gytkjær will be key to their chances next season.
4 – Ålesund
A strong start left many wondering if Ålesund would challenge for the title, but a run of seven winless games destroyed those ambitions. Fan (and Life in Norway reader!) Elise Aasen said:
"We were quite apprehensive when the season began, having a new manager Jan Jönsson, but he'd clearly prepared the team well. We kept on winning, and were even top of the league for a while. It was unreal! New striker Hamedallah and other players kept on improving their game and I thought "this can't last". Well, it didn't, but after a losing streak in autumn the team rallied and secured a 4th place, best season ever in time for the club centenary next year! And we're all happy to see Jönsson prolonging his contract for two more years."
5 – Viking
A mixed season for the Stavanger club. They lost just once at home but drew far too many games to threaten. An improvement on the road will be essential if they are to improve on a fifth-placed finish next time.
6 – Molde
Where to begin with Molde! Today's celebrations looked a world away for the defending Champions after seven games of the season, rock bottom of the Tippeligaen without a win. But a 4-0 demolition of local rivals Ålesund kick-started their season and they never looked back. Their run to the Cup final was as easy as it gets, but that won't bother Ole Gunnar Solskjær who picks up his third trophy in three seasons – and a third crack at Europe. But the big question is back – will he stay?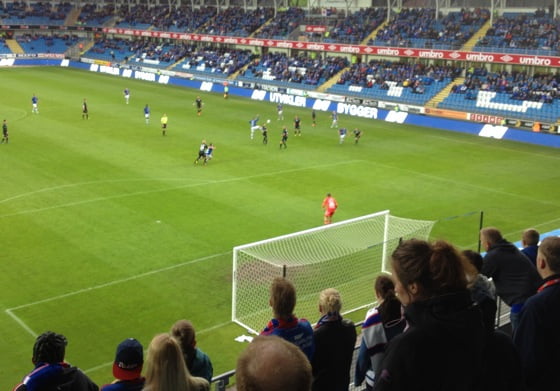 7 – Odd
An insignificant season for the Skien club, who after a poor start was corrected, didn't trouble either end of the table. The 16 goals from Tippeligaen top scorer Frode Johnsen were vital, but he'll be 40 next season.
8 – Brann
Brann fans are unhappy with a season that promised so much but failed to deliver. Strikers Erik Huseklepp, Martin Pusic, and Amin Askar scored plenty of goals but their form away from Bergen was a disaster, winning just a single game.
9 – Start
Few expected the Kristiansand club to survive on their return to the top flight, but a run of four straight wins in September against their relegation rivals steered them to safety.
10 – Lillestrøm
A disappointing season for Lillestrøm was lit up by the Cup run, ultimately missing out on the final by way of a penalty shoot-out. Despite defeat in the derby, their fans are just delighted to have finished above regional rivals Vålerenga.
11 – Vålerenga
A season that promised so much with the centenary celebrations and return of the popular Kjetil Rekdal as manager quickly turned sour. Losing six of their last nine games meant the Oslo club flirted with relegation until the final day – something the Klanen supporters club will not accept next season. The pattern of selling their best prospects needs to be stopped if Vålerenga are turn their fortunes around.
12 – Sogndal
Sogndal started averagely but faded and were in the end lucky to avoid the relegation spots. A high number of draws was the reason they survived.
13 – Sandnes
After preserving their Tippeligaen status in the play-offs last year, this was always going to be another year of fighting to stay up for Sandnes. They managed to the play-offs this time – just – only because Sarpsborg failed to win their final game.
14 – Sarpsborg
Brian Deane's Sarpsborg were fun to watch but like so many teams managed by a former striker, always looked suspect at the back. They conceded an average of two goals per game during the regular season, but triumphed in the play-off against Trondheim-based Ranheim to keep their Tippeligaen status for another year.
15 – Tromsø
Last season Tromsø finished fourth and reached the Cup final, qualifying for the Europa League. This season everything went wrong. The jury is out on whether the departure of manager Per-Mathias Høgmo or the distraction of a European tournament is to blame, but whatever the reason, Tromsø will play second-tier football next season.
16 – Hønefoss
I bumped into several Hønefoss players at Oslo Airport during this season and they were total ****heads, so I'm delighted they finished last. Tiny town, tiny club, and I doubt we'll be seeing them back in the top flight any time soon.
Next season…
…we welcome Bodø/Glimt and Stabæk, who replace Tromsø and Hønefoss. Strømsgodset will enter the qualifying rounds for the Champions League, while Rosenborg, Haugseund, and Molde will have a crack at the Europa League qualifiers.
I only hope for some improved Vålerenga performances. It can't get any worse…
Can it?