When is Norwegian not Norwegian?
When it's Bokmål.
or when it's Nynorsk.
or when it's Danish.
or when it's Old Norse.
What?
The Norwegian language struggle
Okay, first things first, there is one official language of Norway – Norwegian. But there are two official forms of written Norwegian (together with several Sami variants officially recognised as regional languages)
Bokmål is the most common written form. It's used daily by 80-90% of the population, is the standard taught to most foreign students of Norwegian and is used in the majority of urban areas. It's similar to Danish and the historical Eastern Old Norse language.
Nynorsk is used daily by 10% of the population and taught in 15% of schools, but is popular in many rural areas and the official language of four counties. It's more similar to the historical Western Old Norse language.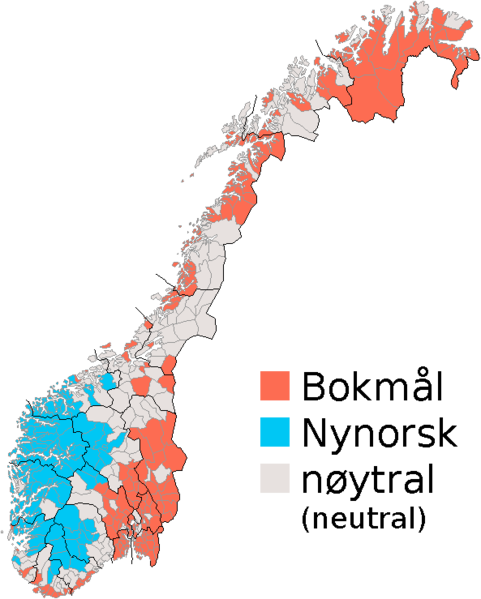 The image above highlights the regions where Nynorsk is the primary written form (although it's a little misleading, as much of the area covered in blue is very sparsely populated)
Add in to the mix that there is no regulation of spoken Norwegian, where regional dialects dominate, and you've got one hell of a melting pot! Isn't language wonderful?
The historical development of both forms is fascinating stuff even if you're not a linguist. It's covered very well by Wikipedia, so it's pointless me covering it here.
The differences between Bokmål and Nynorsk
Since I live in Oslo (the capital of Bokmål), I've been learning the more common form. I'm not exposed at all to Nynorsk so admittedly I don't know a great deal about the differences. But they are important to understand, not least because the name of the country is written differently!
Norge – Bokmål
Noreg – Nynorsk
Our regular readers will have enjoyed the first few posts from Bryce, the latest blogger to join the Life in Norway team. He's a passionate linguist and a student of Nynorsk, so what better person than he to dive into the detail and explain the differences?
Part one is coming right up…