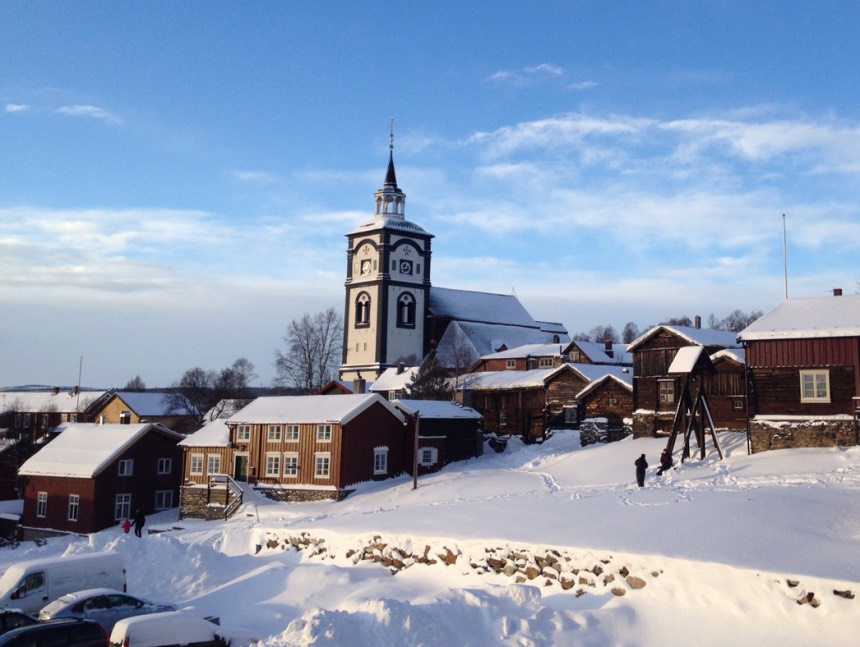 Last weekend I had the pleasure (!) of driving in the Norwegian winter for the first time. Below you'll find some tips for those of you doing the same, but first, my story.
I don't drive often these days. Since leaving the UK over two years ago, I've driven just four times, twice on the left and twice on the right. So it's nerve-wracking enough driving at all, let alone on the "wrong" side of the road and during a blizzard.
Yes, during a blizzard!
Driving from Trondheim to Røros
My worries about making the trip from Trondheim to Røros were focused on the road surface. I've driven on icy roads in the UK and it's not nice.
But – and this feels stupid in hindsight – I hadn't thought about the possibility of it snowing during the drive.
The hire car from Allways in Trondheim was fine – a red Mini with winter tyres of course (a legal requirement in Norway), heated seats, and a full tank of fuel.
But the very moment we stepped out of the house to start our journey, the snow began to fall.
We were leaving Trondheim at the worst possible time – the beginning of rush-hour on a Friday afternoon. So the main E6 motorway was at a crawl. My hopes of making it to the long country road to Røros before complete darkness soon disappeared.
The snow quickly covered up the road markings sending my spatial awareness into meltdown – especially as the E6 switches from single to dual-carriageway and back again.
We finally made it to Støren, the beginning of route 30, over an hour later than planned, and sure enough it was dark.
As we turned on to route 30, my heart sank. Not only was it pitch black, the road was unlit, snow hurtled directly at the windscreen, and the sign ahead read "Røros 106km".
I don't think I've ever had a scarier drive in my life.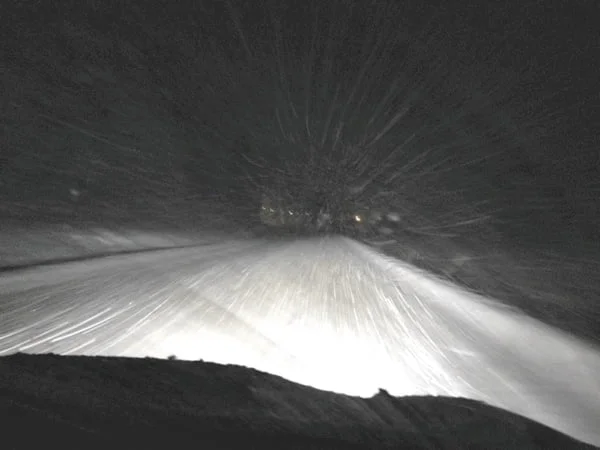 What made things worse were the local drivers, clearly used to such conditions, flashing their headlights and overtaking me. Thanks @rseholes, that's really going to help, especially when I was driving at just 7km/h under the speed limit. Hardly a dawdler.
Whenever we found a chance to pull over I grabbed it. A chance to clean the windscreen, wipe snow from the front and rear lights, and most importantly to relax.
The concentration required to drive in such hypnotic conditions is immense, and I found myself needing to stop every 20 minutes just to give my mind a break.
As the snow worsened, we pulled into a Coop supermarket at Singsås. I genuinely felt fearful about continuing and contemplated staying put until the conditions improved. After 15 minutes or so, we decided to carry on.
Conditions improved as we approached Røros. More of the road was lit and the snow had stopped. We eventually pulled into the Røros Hotell almost five hours after leaving Trondheim. On a summer day the drive would take a little over two hours.
The Return to Trondheim
After our weekend in Røros (I'm so excited to tell you all about it – next time!), I couldn't help but be a little nervous ahead of the return drive. We left Røros with plenty of daylight still remaining. The roads were still treacherous, but with much better visibility I was able to relax a little more and appreciate some of the stunning scenery. I couldn't believe this was the same road we'd driven just 48 hours before!
Winter Driving Tips
For those of you contemplating a winter drive in Norway, here are some tips. Most are common sense, but some you may not have thought of.
Allow significantly more time to complete your journey
Make sure your car is fitted with winter tyres (a legal requirement)
Stop regularly to clear snow from your headlights and number plates
Check the weather forecast but don't rely on it – conditions can and will change rapidly
Take a flask of hot drink and some water
Take warm clothes and blankets
Take an ice scraper, brush, and old rags/cloths
Take two orange warning triangles in case of difficulties/breakdown
Make sure your mobile phones are fully charged
Pull over regularly for short breaks
Be careful out there!