Back in October I took the Oslo to Bergen railway with my friends Chris and Graham. This weekend I repeated the trip with Nicola and Simarjeet, dear friends from my Oxjam Brum days.
They were staying with me for a week so to mix it up a bit we chose to check out Bergen, partly for the railway trip and partly for the musical heritage of the city. I also wanted to give the place a second chance, as I wasn't too fond of it first time around.
I won't talk about the train journey in detail again, but it was interesting doing the trip in a different season. Even if you've done the trip before, it's worth doing again at a different time of year. Here's some pictures to demonstrate the harsh yet beautiful winter environment we travelled through (and Simarjeet adding a little something to the on-board hot chocolates – she's a good girl)
I've not applied any filters to these photos and they were all taken in full-colour, even though the last one looks like a black-and-white snap, it's not!
Now, despite Bergen's reputation as the wettest place in Norway, we enjoyed bright sunshine. Last time. This time, it rained. A lot.
I am often a creature of habit and many things we did were a repeat of my last visit, mainly to save time and cost. We stayed at the same hotel and ate at the same restaurant so we could spend our time checking out the city rather than getting our bearings and looking for somewhere to eat.
A budget room, a budget experience
The family room at Citybox was again simple and straightforward, with two single beds and a bunk bed. It was clean, but we had huge problems with the bathroom. I'll spare the details, beyond saying the bathroom resembled a paddling pool and we couldn't use the toilet.
Despite complaining, nothing was done because "the plumbers had gone home"… not a comforting response in several ways! Anyway, the important thing was we had a base in the city centre and we all got a good nights sleep, but I won't be staying there again.
Great value in Bergen
I took the girls to Zupperia, a specialist soup restaurant and quite simply the best value place to eat in Bergen. We went to their newer branch close to Bryggen where the same menu is on offer. I had a creamy reindeer & mushroom soup with bread and pate for a bargain 89 kroner – Nic and Simarjeet both had a thai seafood concoction. Oh and we had dessert too. Look!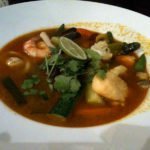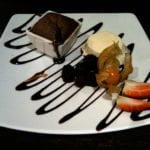 Knowing my bearings by staying in the same place and not worrying about where we would eat left plenty of time to discover Bergen.
We spent some time on one of Bergen's many mountains, exploring the forest and playing in the snow. There is absolutely nothing like snow to bring out ones inner child. Unlike the snow in Oslo city centre, the snow in Bergen is perfect for making snowballs 😉
Despite some bars being closed (it was a Monday night, after all), we found several places with a good atmosphere and decent crowd, but sadly couldn't find any gigs. We stumbled into the Garage happy hour, a rare opportunity to enjoy a beer at the equivalent of London prices!
Being arty
The rain decided we would spend the next day indoors, so we checked out Bergen's extensive Art Museum, way bigger than I would have expected. Its four buildings are vast and double as a wonderful place to shelter from the elements!
The diverse range of exhibitions on offer means there is something for everyone, but as we found out, this means that not everything will be to your taste. I have tons to say about the museum so I'm going to write a separate post this weekend, watch out for it.
Travel books!
We also stopped by the Bergen branch of the Chillout Travel Cafe, one of my regular haunts back in Oslo. This branch had a much cosier feel to it, we felt as if we were relaxing in one of our front rooms, reading books and chatting about Nicola's recent trip to India and my future travel plans. They also did a mean chili chocolate cake.
The flight back to Oslo was delayed a little, frustrating but a game of gin rummy passed the time. When we eventually boarded the plane we discovered our flight was wifi-enabled, so we spent the 45 minute flight making the inevitable "oh my god I'm online on a plane" posts to Facebook.
Despite the rain (or maybe because of?) I found Bergen a more charming place this time around. Last time the trip for me was all about the train journey, this time it was about the city itself, so perhaps I just opened my eyes a little more. I still prefer Oslo, Trondheim and Tromsø, but Bergen has definitely left its mark.