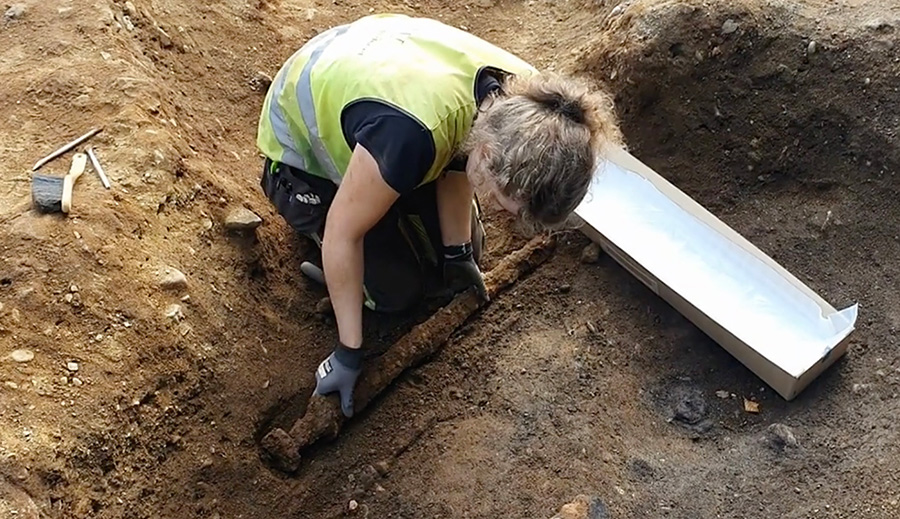 A 9th century Viking sword has been unearthed by archaeologists in central Norway. Read on for the full fascinating story, and some questions that remain.
During the Viking Age, a man was buried with a full set of weaponry at Vinjeøra in the south of what is now Trøndelag county in central Norway. An axe, spear, shield and sword were placed alongside his body in the grave.
Archaeologist Astrid Kviseth recently became the first person to hold the rusty sword in their hands for approximately 1,100 years:
"I'm a little surprised at how heavy it was. I don't exactly know ​​how heavy a sword is, but it had some heft to it. You would have had to be pretty strong to be able to swing this sword!" she said.
An area rich in Viking history
The grave was the latest in a series of archaeological finds in connection with the improvements to Norway's E39 highway.
By law in Norway, archaeological surveys must be conducted in connection with all new construction projects, including roads. This is so that important cultural heritage can be preserved. The rule has led to many fascinating finds including the remains of a historically important church in downtown Trondheim.
A team is now excavating what appears to be a burial ground on a former Viking farm. Last year, remains of a burial house and an unusual double grave were found in the area.
"The fact that he was buried with a full set of weapons tells us that this was a warrior. In Viking times and the early Middle Ages, most warriors were free men who owned their own farms," said Raymond Sauvage, an archaeologist at the NTNU University Museum and project manager for the excavation.
A left-handed owner?
An unusual aspect of the find was that the sword appears to have been placed on the left side of the deceased. Typically, swords are placed on the right-hand side of the body.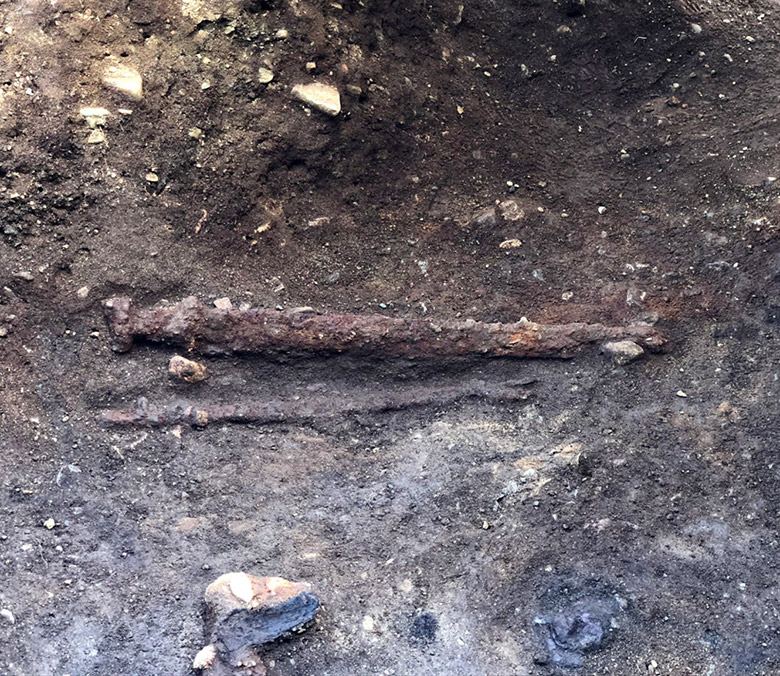 The custom itself is a little odd. That's because warriors would typically carry their sword on their left, in order to allow the right hand to access it easily.
"Why the swords are almost always placed on the right side is a bit mysterious. One theory is that the underworlds you go to after death are the mirror image of the upper world," said Sauvage.
He suggested the sword in the Vinjeøra grave may have been placed on the left to signify the warrior was left-handed.
Read more: Viking History
A ditch burial
The warrior's grave partially overlapped three other graves. They were laid to rest in a ditch surrounding a large burial mound. Sauvage explained that using a grave more than once appears to have been common in the area:
"People were buried in the same grave or partly inside older graves. It was obviously important to lie next to or in the burial mounds and the ring ditches around them."
"We can imagine that this burial practice is an expression of how important the family's ancestors were on a farm in Viking times. In addition to being present on the farm as companion spirits – fylgjur – the ancestors could continue to live physically in the burial mounds."
Another grave with burial gifts
Archaeologists found a fourth grave most likely to have been for a cremated Viking woman.
Burial gifts included an oval brooch, a pair of scissors and beads. But there was a strange addition: a large amount of bones.
"A study done several years ago showed that cremation graves from the Iron Age on average contain only about 250 grams of bone. A dead human body that is cremated, on the other hand, burns down to about 2 kilos of bones," Sauvage said.
So while the cremated woman was buried in her entirety, archaeologists also found bird bones in the material. The team believes this could have been part of a burial ritual.
Lab work to follow
Sauvage said that the sword will now be examined in a Trondheim lab to see what remains under the rust:
"It will be exciting to get the sword into the conservation laboratory and have it x-rayed so we can see what's hiding under the corrosion. Maybe it has ornamentation or pattern welding in the blade," he says.
This article is based in part on the original report by Science Norway.