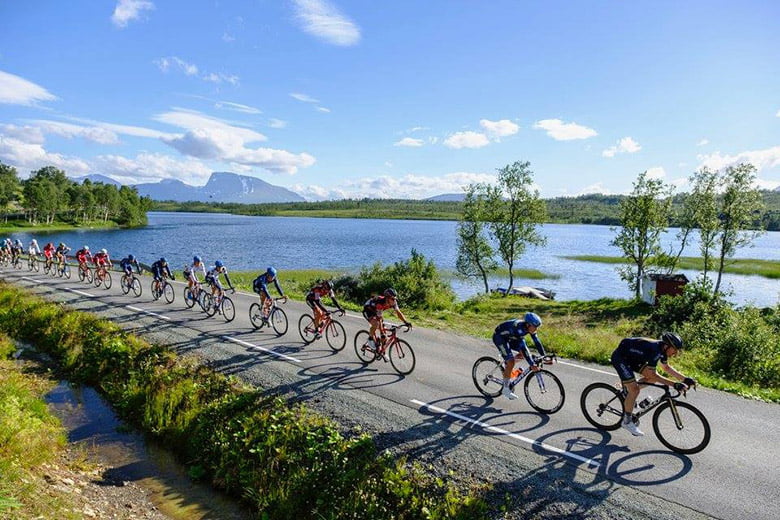 World-class cycling combines with the stunning natural landscapes of northern Norway to create one of the world's most attractive cycle races.
The 2018 edition of the Arctic Race of Norway gets underway this week, so we take a look at what it's all about.
The appeal of a cycle race through the spectacular scenery of northern Scandinavia shouldn't be hard to understand. I mean, just look!
You see those cyclists bunches together down on the road? Focusing on the race can't be easy with all the Norwegian-ness to look at. But these are pros…
Cavendish out
Unfortunately the biggest name, Britain's Mark Cavendish, has just withdrawn from the race the day before its start due to injury. Although a blow to race organisers, the replacement has great things to say about the race.
Bernard Eisel saw unexpected success in the 2017 edition, winning the mountains classification and taking home 500kg of salmon as a prize. Yes, really! He told Cycling News that he's happy to be back on the bike, and back in Norway.
Happy to be back in Norway
"I'm really looking forward to heading back to Norway, I was included last-minute for this race but I'm super-happy. I haven't raced that much this year so I'm very excited to be going back there, and discover more of Norway, especially here in the north near the Russian border."
"It's a great race, a little more adventurous. I've done all the races in Europe and going that far north is always really exciting for me. Let's hope the weather is as nice as last year but it's also nice there when it rains."
After a romp through the county of Troms last year, the 2018 Arctic Race of Norway shifts east and will take place entirely within Norway's northernmost, easternmost and most sparsely populated county, Finnmark.
The 2018 race route
The four stages held on consecutive days between the 16th and 19th of August cover a total of 732 kilometres in Finnmark.
Stage one: Vadsø to Kirkenes, 190.5km
Stage two: Tana to Kjøllefjord, 195km
Stage three: Honningsvåg to Hammerfest, 201km
Stage four: Kvalsund to Alta, 145km
Although northern Norway suffered from record temperatures this summer, the Finnmark region has finally begun to cool, and riders can look forward to temperatures in the 10-16C range.
The race in the cycling world
This is only the sixth year the race will be held, so it still has some way to go to build up a reputation in the cycling world. That said, it is certainly getting more coverage these days.
The race is an official Union Cycliste Internationale (UCI) sponsored event and has been included as part of the UCI Europe Tour. The first two editions were rated as 2.1 events. From 2015 it was been rated as a 2.HC event, reflecting its increase in standing.
How to watch the Arctic Race of Norway
If you live in Norway you can watch all the action on TV2, while coverage is also available across Europe on Eurosport and other networks around the world.
On average, 152,000 Norwegians watch the last hour of each stage, and in previous years there have been an estimated 150,000 spectators along the entire route.