Are you a fan of Norway's Hurtigruten coastal ferry? Then you should check out the equivalent in Greenland for another truly spectacular coastal experience.
When the Arctic Umiaq Line's Sarfaq Ittuk vessel is spotted approaching one of the small coastal Greenlandic communities, excitement builds as local people rush out to greet returning friends and family.
In a country with no roads between any of the settlements, such a ferry is a critical mode of transport for both cargo and passengers. For the keen traveller, the same vessel provides an opportunity to meet the locals while passing icebergs and taking in breathtaking views of the Greenland coast.
Introducing the 'Hurtigruten of Greenland'
For regular visitors to Norway, this concept probably sounds familiar. Norway's coastal ferry has been operating a similar passenger and cargo service along the Norwegian coastline for 130 years.
Arctic Umiaq's history goes back even further. Much further, in fact! In a country with few travel options, a scheduled coastal ferry has served Greenland's west coast since 1774.
While there is a lot in common with Hurtigruten and Havila, Arctic Umiaq is quite different. First and foremost, the vessels carry a much higher percentage of local passengers, they are smaller, and less frequent.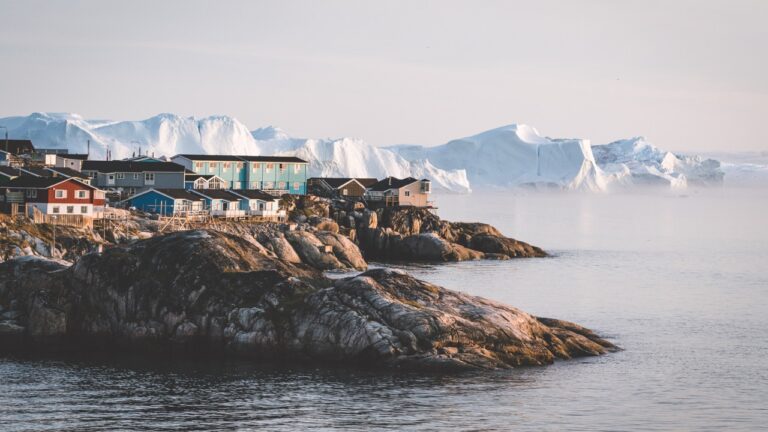 But with advance planning, it's possible to organise a wonderful trip along the coast of Greenland. If you understand that it's much more ferry than cruise, with a basic cafeteria style of service, you could be in for an unforgettable experience of a lifetime.
But I can't emphasise enough that this journey is a different kind of experience. It's not for everyone, so please do your research before diving in. If you're curious about what to expect, read on.
A unique experience
While Norway's coastal route has almost daily departures, Arctic Umiaq Line operates just one vessel. For most of the year, the Sarfaq Ittuk ferry travels between several small ports along the west and southwest coast between Ilulissat and Qaqortoq on a weekly loop.
Because of this focus on local transit, the ferry is a truly unique experience for the curious traveller. Of the 20,000 annual passengers, just 10% are tourists. This might change in the years to come though, as the line has struck a deal with Hurtigruten to help with the marketing of the roundtrip experience.
As I mentioned before, the vessel is much smaller than Norway's equivalents. The maximum capacity at any one time on the Sarfaq Ittuk is just 238 passengers and 22 crew. I'll write more about how this impacts the onboard experience later.
The line can trace its history back to 1774 when it was founded as the Royal Greenland Trading Company. Today it's a subsidiary of Royal Arctic Line, the company responsible for most of the cargo transit to Greenland.
The best of Greenland's coast
Highlights of the trip include the icebergs and whales of Disko Bay, the mighty Paamiut glacier, the unspoilt fjords between Narsaq and Arsuk, and meeting the diverse people from these tiny coastal settlements.
For passengers taking the entire route, the arrival at Greenland's capital Nuuk will feel like sailing into a metropolis.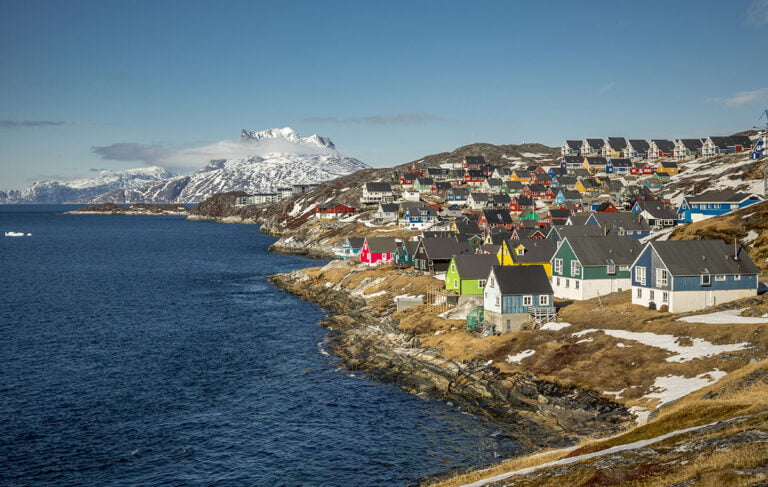 While many of the port stops are too short to leave the ship and explore, the ship spends at least a few hours in Nuuk (much longer northbound), Qaqortoq, Sisimiut and Ilulissat. As long as the ship is running to time, this a great opportunity to stretch your legs and see some more of Greenland.
What to expect on board
First and foremost, the Sarfaq Ittuk ferry is very much a passenger ferry and not a cruise ship. As with Norway's coastal voyage, the primary entertainment on offer is the landscape.
A panorama lounge, outside deck space, small cinema and a cafeteria are the only other attractions onboard.
During the summer months, the number of tourists using the service does increase. From June to August, a guide often gives talks about Greenland onboard and even offers short tours in some of the ports.
Meals are served during very short windows (just one hour each for lunch and dinner) although the cafe remains open for the purchase of snacks and drinks from 7am to 10pm.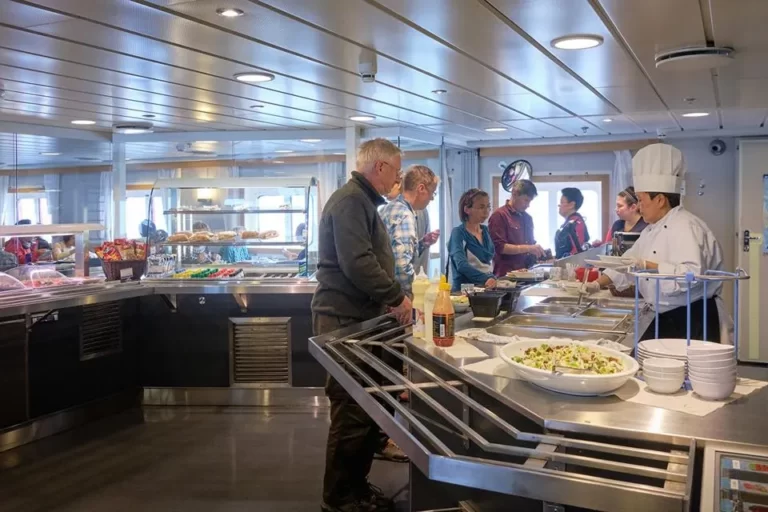 Passengers can choose between two types of basic accommodation for overnight trips or longer. Private cabins sleeping up to four are available, all of which include a private bathroom, TV with movies and tea/coffee facilities.
A much cheaper option is known as a 'couchette', essentially a bed in an open dorimtory that sleeps up to 8 people. Passengers booking this budget option must bring their own sleeping bag or specify blanket rental when booking. Shared bathroom facilities are available, as are lockers for the storage of valuables.
Read more: Erik the Red and Greenland
Recently, the line has launched a small number of 'suites' although there is little luxury about these cabins aside from the extra space and a comfy chair.
Where passengers will spend their time depends very much on the weather. On good days, the outside decks are the perfect place to enjoy the scenery. When the weather isn't so good, the cafeteria becomes a social club of sorts with passengers playing cards and reading newspapers.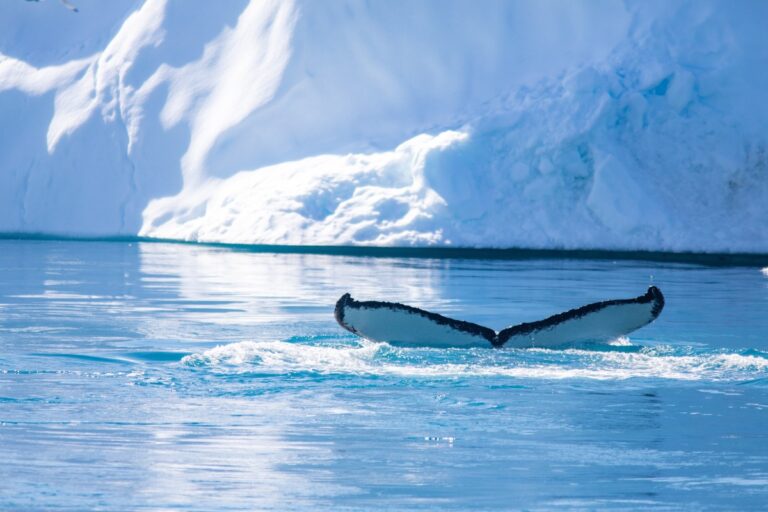 Although a wireless internet connection is available at an extra cost, most people seem to use their time onboard as a chance to disconnect.
How to book the Greenland coastal ferry
If you've taken this ferry before or visited Greenland in the past, you might have some outdated information about how to book transit. Thankfully, things are much easier now.
Gone are the days when booking a ticket was only possible in person, or by making multiple phone calls and a costly bank transfer. As you would expect, tickets are now available online directly from Arctic Umiaq Line and are priced in Danish kroner.
First and foremost, book as early as possible to secure availability, especially if you want a private cabin in the summer season. The route you book will depend on your budget and your circumstances, especially how you travel to Greenland.
Most international flights arrive at Kangerlussuaq so you'll need to factor in the time and cost of travel from there to pick up the ferry at Nuuk or Ilulissat.
Because of the complexity of travel to and around Greenland, it's worth at least consulting with a specialist travel agent to avoid making costly mistakes.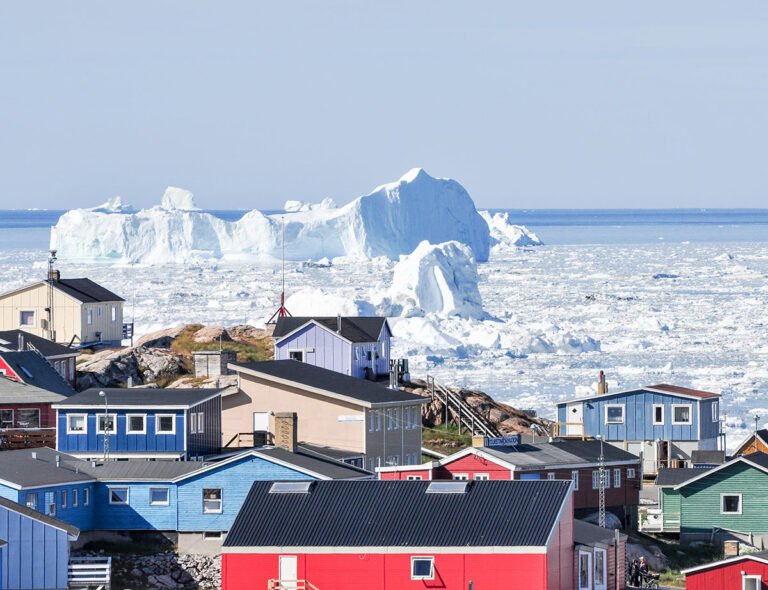 Many offer package deals including air travel from Copenhagen plus all the accommodation and transfers you'll need along the way. The line recommends Greenland Travel but there are other options available, including Denmark-based Arctic Friend and Topas Travel.
New packages available
Booking travel when you're not familiar with Greenland can be a challenge. So, Arctic Umiaq Line and Hurtigruten Norway have announced a collaboration to offer these three unforgettable itineraries:
Full Greenland Voyage: The 14-night Full Greenland Voyage is the definitive experience of Greenland's west coast, used by local Greenlanders to sail to both southern and northern Greenland. The package includes international flights with transfers to and from Nuuk airport.
North Greenland Voyage: The 8-night North Greenland Voyage travels from the capital Nuuk up to Uummannaq island through the Eternity Fjord and visits UNESCO-listed Ilulissat ice fjord in Disko Bay.
South Greenland Voyage:The 6-night South Greenland Voyage starts with a night glamping in the fjords of Nuuk at Camp Kangiusaq, then an overnight in UNESCO-listed Igaliku, and onto Qaqortoq.