The historic Norwegian coastal ferry route offers visitors a 'cruise-like' experience, but it's not for everyone. Here's what to expect on Norway's coastal voyage.
Since 1893, various cargo and passenger vessels have operated a scheduled service along the Norwegian coastline. Hurtigruten and Havila ships still carry both cargo and local passengers, but they are best known outside Norway for their roundtrip voyages aimed at tourists.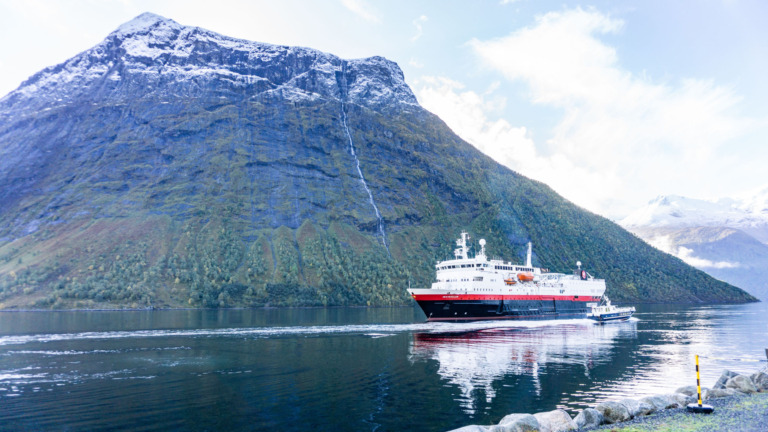 When I first moved to Norway, I quickly got to hear about Hurtigruten despite living in Oslo. As I began to travel around the country, I soon began to recognise the iconic vessels.
But it took me almost eight years before I finally set foot on a Hurtigruten vessel myself. I thoroughly enjoyed the experience and learned so much about the history, the benefits of the voyage—plus the kind of people who won't enjoy it.
So if you're considering taking a coastal voyage or that intro has piqued your interest, this article is for you.
Introducing Norway's coastal voyage
While it's possible to take the Hurtigruten port-to-port as a local ferry service, the full coastal voyage is what we're concerned with in this article.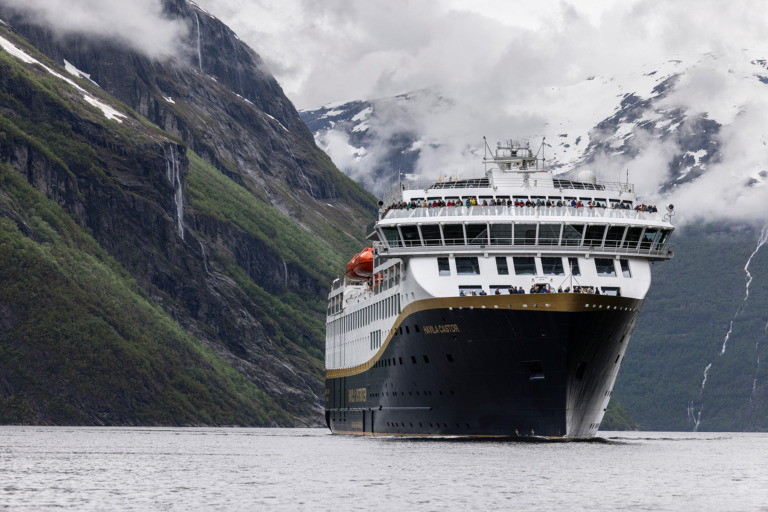 Norway's classic coastal voyage from Bergen to Kirkenes and back to Bergen takes 12 days. Departures are available on most days throughout the year. Many tourists with limited time take a one-way trip and fly the other leg.
Hurtigruten Norway: Check the latest fares and availability on the Norwegian coastal cruise.
For a few decades, Hurtigruten has been the sole operator of the coastal route. But following a government decision to introduce competition on the route, tourists now have some choice.
With its brand new eco-friendly ships, Havila Voyages points towards the future of the coastal voyage and is well worth consideration as an alternative to Hurtigruten.
What to expect on a Norwegian coastal cruise
Hurtigruten and Havila are not necessarily marketed as cruises, rather as "voyages". Nevertheless, they are considered 'cruises' by many in the travel industry and often referred to as such in the media.
While spending a week or two on a coastal voyage has a lot in common with a more traditional cruise, there are some key differences that often trip up even seasoned travellers.
Cruise ships vs. Norway coastal vessels
First things first, the ships. The vessels from both Hurtigruten and Havila are not cruise ships. While they are well fitted out, the ships don't offer a lot of the entertainments you'll find on more traditional cruise lines. It's the ever-changing Norwegian coastline and multiple port calls that are the main attractions.
In fact, I would suggest that Hurtigruten ships have just as much in common with the cruise ferries that shuttle people between countries all over Northern Europe, albeit without the emphasis on partying and duty-free sales.
Port calls
The other biggest difference from a cruise is the number of port calls. Most traditional cruises have one port call per day, if that.
Norwegian coastal voyages are still working ships that transport cargo between the 34 ports along the route. They call at many of the smaller ports for just 15-30 minutes, just enough time to unload and load cargo and local passengers.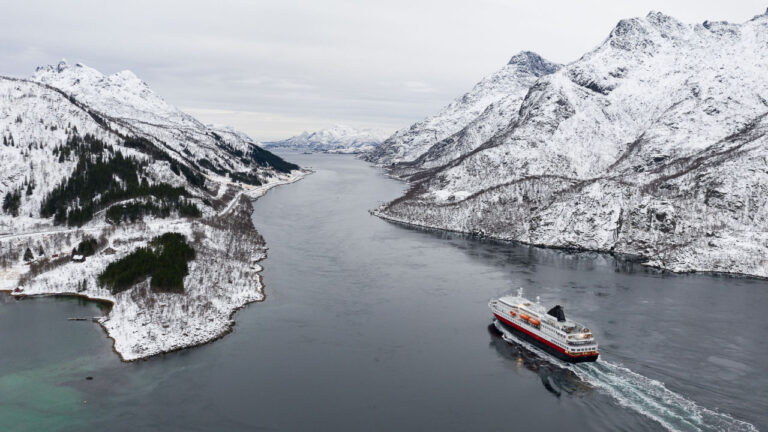 Roundtrip cruise passengers do get a few hours to wander around bigger ports like Ålesund, Trondheim and Tromsø, but that's still much less time than with traditional cruise lines.
This arrangement is a double-edged sword for tourists. With so many port calls, the ships are never far from the coastline, which is why the views of the coastline are so famous.
But if you're the kind of person who likes to spend a lot of time on land, this may not be for you. That being said, organised excursions are available to help you make the most of the limited time in port.
Onboard dining
One thing that the coastal cruise does have in common with cruise ships is the focus on premium, sustainable dining.
Both Hurtigruten and Havila push their local food concepts heavily. Both lines understandably place an emphasis on fish and seafood, together with local food and seasonal ingredients obtained from the various ports along the route.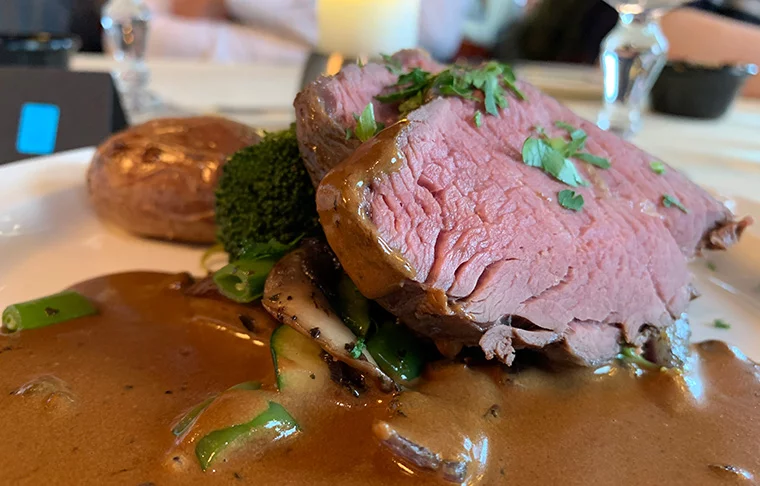 There are a few differences though. Hurtigruten ships feature a classic restaurant with breakfast and lunch buffets and table service for dinner alongside at least one premium dining option. Havila offers table service for all three daily meals.
I haven't experienced dining on Havila, but the food on Hurtigruten was outstanding. Alcohol is expensive on both services, and many people I sailed with chose not to partake in alcohol during their voyage.
Port highlights of the Norway coastal voyage
As mentioned, there are several ports along the route where the ship docks for several hours. Ålesund, Trondheim and Tromsø are particular highlights.
But it also spends an hour or two in some intriguing places. That's enough time for you to have a wander around. These include Bodø and Svolvær among many others.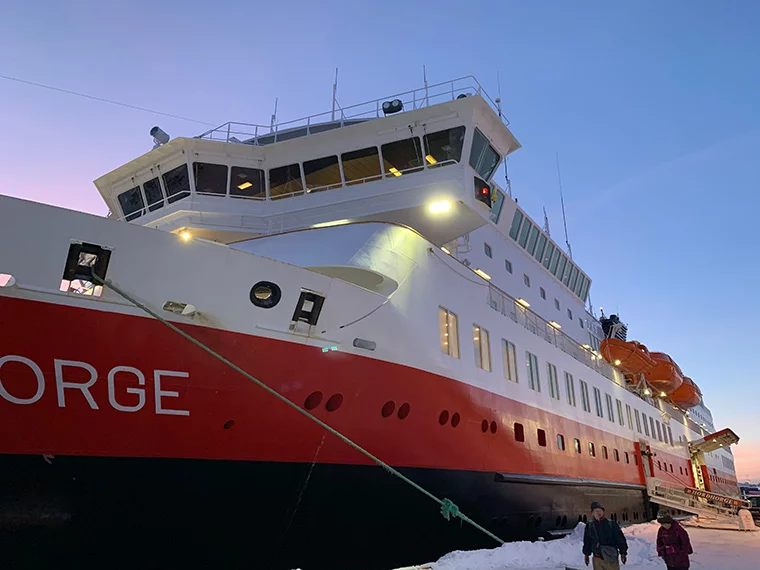 Some of the shortest port calls are well worth being out on deck for, such as Stamsund in Lofoten and many of the other small ports in Northern Norway.
If you want to get an idea of what to expect, consider wading your way through my Hurtigruten Diary from my 2019 trip! It's a day-by-day account of my full roundtrip voyage. Just bear in mind it was done in January at one of the darkest times of the year!
Hurtigruten or Havila?
You can read more about the famous name on the route with this introduction to Hurtigruten. But while Hurtigruten's famous brand is a big part of the appeal of a coastal cruise, don't ignore Havila for that reason alone.
Hurtigruten Norway: Check the latest fares and availability on the Norwegian coastal cruise.
Havila's vessels offer an extremely similar experience with the advantage of being brand new. They can also sail on battery power for hours at a time. If you're concerned with the environmental impact of such voyages, this may sway your decision.
That being said, Hurtigruten is also investing heavily in greener ships. Its fleet is in the process of being retrofitted with hybrid technology, while the company pursues its plan to introduce zero-emissions vessels by 2030.
Ultimately, the line for you may come down to your preferred dates. Daily departures on the coastal route are shared between Hurtigruten and Havila, so if you have a specific date in mind, the decision will be made for you.
Hurtigruten's special itineraries for 2023
To mark the coastal route's 130th anniversary, Hurtigruten has launched two new itineraries set apart from the traditional coastal route. Both routes spend more hours in fewer ports for a more cruise-like experience.
The 'Svalbard Express' offers travelers a return trip from Bergen to the Arctic archipelago of Svalbard, while the 'North Cape Express' is the first ever Hurtigruten itinerary to depart from Norway's capital city, Oslo.
Sister company Hurtigruten Expeditions offers expedition cruises to Svalbard, the Norwegian fjords, Iceland, Greenland and many other destinations around the world. Many of these utilise newer expedition cruise ships.
When to take a coastal cruise
Typically, Norway's 'cruise season' runs from May to September in and around the fjord region. Some cruise lines offer northern lights specific cruises in the winter months.
Read more: The Best Time of Year for a Norway Coastal Voyage
But it's a different story on the Norway coastal cruise. The route's double life as local transport means the voyages run year-round.
If you don't mind a full vessel and budget isn't much of a concern, the summer is a wonderful time to visit the Norwegian coastline. The vessels tend to adjust their itineraries to spend time in the Geirangerfjord as an added bonus.
The main reason to take the voyage from October to March is the opportunity to see the northern lights. Or perhaps I should say the possibility. This is never guaranteed of course, but spending almost a week north of the Arctic circle mostly away from city lights gives you a good chance–if the skies are clear.
Prices tend to be lower, but it's also much colder and of course, the darkness means you'll see less of the coastline during the daytime.
Hurtigruten Norway: Check the latest fares and availability on the Norwegian coastal cruise.
For me, shoulder seasons are where the best value lies. Fares are lower than in the summer and the ships may still be quieter. Of course, the weather may still be uncertain.
A few Hurtigruten employees have told me the autumn is their preferred time. The landscape is golden and you can watch the seasons change as you sail. Plus, most itineraries in the autumn include a sailing down the scenic Hjørundfjord.